What Israel, Liberia, Belarus, and Macedonia Have in Common
Four countries bucking a global trend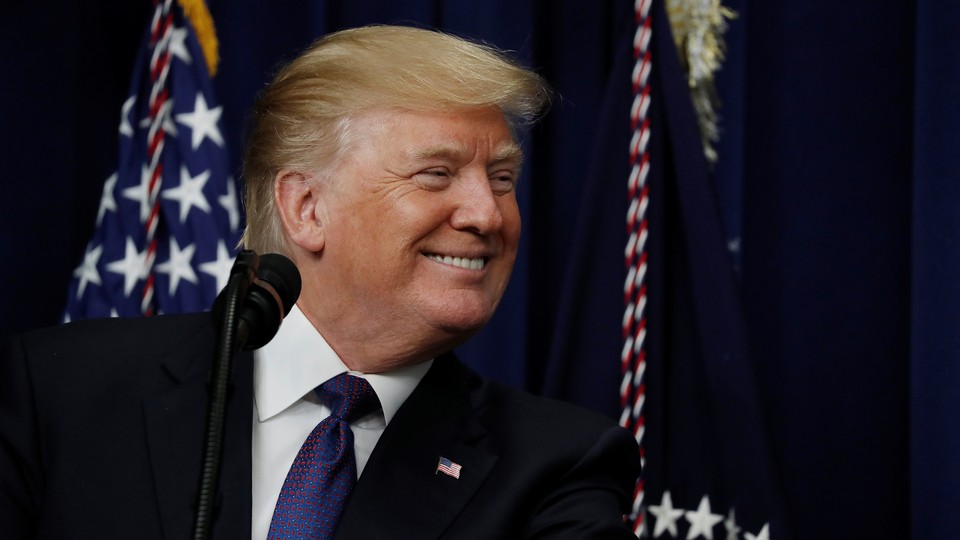 "U.S. slumps in global poll after Trump's 1st year," ran a typical headline when Gallup released its world leadership survey on Thursday. The survey, conducted across 134 countries in 2017, did indeed show a steep drop in median global approval for U.S. leadership—and it saw Germany replace the U.S. at the top of the rankings. But it also showed some surprising exceptions to the global trend.
Specifically, there were spots where approval of leadership actually increased substantially in Trump's first year. That result held in a very exclusive—but somewhat diverse—group of four countries: Belarus, Macedonia, Liberia, and Israel.
Elsewhere, though, the annual poll provides hard evidence to back up the fears of many: That Trump's words and actions have put Washington's global standing at risk.
Among all 134 countries surveyed in 2017, the median approval of U.S. leadership stands at 30 percent, down from 48 percent the previous year under President Obama. It marks the lowest approval rating U.S. leadership has received around the globe since Gallup began tracking the measure more than a decade ago—a record previously set in the last year of George W. Bush's administration, when confidence in U.S. leadership among the countries studied was at a mere 34 percent. The decline was largest in 65 countries, where U.S. popularity dipped by 10 points or more, including longtime allies such as Canada (down 40 points), Singapore (down 32), Australia (down 31), and the United Kingdom (down 26).
Yet in the group of four approvers, confidence in U.S. leadership jumped 10 points or more. And each country had divergent reasons for bucking the global trend.
Some are straightforward. In Israel, for example, the 14-point bump looks closely tied to Trump's foreign-policy decisions. Unlike his predecessors, who more or less maintained long-held U.S. policies vis-á-vis Israel and the Palestinian territories, Trump has taken a different approach to the moribund peace process and the region as a whole—much to Israelis' apparent satisfaction. In addition to decertifying the Iran deal and withholding aid to Palestinian refugees, Trump made the groundbreaking decision to recognize Jerusalem as Israel's capital—a move widely condemned by other world leaders who consider the holy city (or at least its eastern half, which the Palestinians claim) to be disputed territory.
For Liberia, the 17-point bump in U.S. popularity might have more to do with history than policy. "Liberians, because of heritage, tend to be very positive about the United States and remain consistently so," Alex Vines, the head of the Africa Programme at the London-based Chatham House and a former member of the UN Panel of Experts on Libera, told me. He cited the country's founding by freed American slaves in the early 19th century. "The connections with the U.S. are long and significant, and Liberians are very proud of their connection to the United States."
Though the survey noted the U.S. was not the only country to find increasing favor in Liberia last year—China, Germany, and Russia experienced similar increases—it did experience the highest jump, from 44 to 61 percent. (The survey was taken prior to reports that Trump had referred to Haiti, El Salvador, and places in Africa as "shithole countries.")
For Belarus, the 11-point increase is less clear. Relations between the U.S. and Belarus soured following U.S. allegations of human-rights abuses in the country, which culminated in U.S. sanctions in 2006. And while some sanctions targeting nine Belarusian companies were eased under the Obama administration, overall relations weren't mended entirely. Sanctions targeting several top Belarus officials, including against President Alexander Lukashenko, remained in place, and were renewed by Trump for another year in June. Yarik Kryvoi, the editor-in-chief of Belarus Digest, told me Belarusian approval likely has more to do with Trump's leadership style than U.S. policies. "Television is controlled by the Belarusian government and Russian channels are quite popular there, so one explanation could be that the leadership of Belarus sees Trump as a macho type of leader similar to the one Belarus has itself," he said of Lukashenko, who has held power for more than two decades. "He also promotes himself as one fighting the elites on behalf of the people."
In Macedonia, where approval in U.S. leadership jumped 15 points after years of decline, the explanation can be found not in the White House, but with the State Department. In May, Macedonian President Gjorge Ivanov gave opposition leader Zoran Zaev the mandate to form a new government after months of refusal—a decision that followed the urging of Hoyt Yee, the U.S. deputy secretary of state and Obama-era appointee. "That conversation basically paved the way to resolving the crisis," Vessela Tcherneva, the senior director for programmes at the European Council on Foreign Relations, told me of the six-month political stalemate. She added that rising tensions between ethnic Macedonians and ethnic Albanians in the country (who make up 64 and 25 percent of the population, respectively, according to available census data) "could have really been explosive" for the small Balkan republic, as well as the region. Macedonia has since renewed its efforts to join the EU and NATO.
But the broader pattern across the world is one of a decline in American prestige—particularly among other democracies. It's a loss of influence that stands to affect the U.S. in more than just soft power. As Eliot Cohen wrote in the October issue of The Atlantic, "for all the rot that is visible in America's standing and ability to influence global affairs, more is spreading beneath the surface. Even when Trump's foreign policy looks shakily mediocre rather than downright crazy, it is afflicting the U.S. with a condition not unlike untreated high blood pressure. ... The vertigo and throbbing pulse one feels today augur something much worse tomorrow."
Still, Trump's approval rating at home is higher than it is abroad—albeit marginally. His current approval rating stands at 39 percent.