France, Where #MeToo Becomes #PasMoi
Some notable French women are decrying a "puritanical" wave of reckoning over sexual misconduct.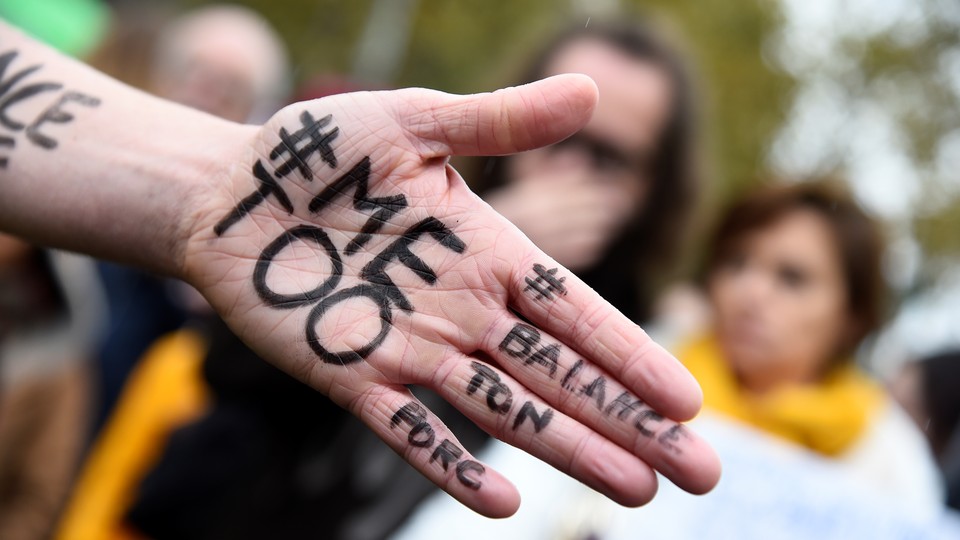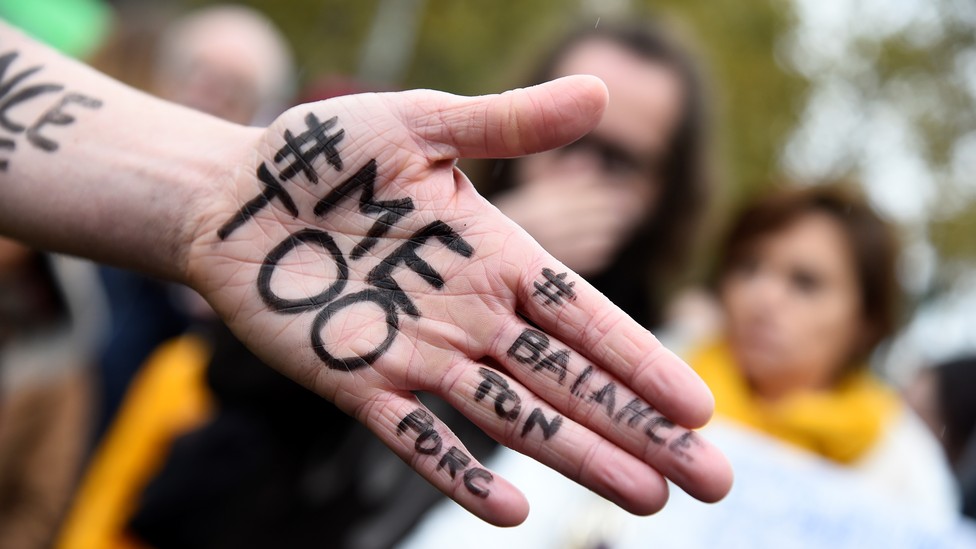 PARIS —Has #MeToo gone #TooFar? Catherine Deneuve thinks so. On Tuesday, the actress and 99 other notable French women from the arts, medicine and business published an open letter in Le Monde calling out what they dubbed a "puritanical" wave of resignations and a group-think—largely in the United States and Britain, since no heads have rolled in France—that they said infantilized women and denied them their sexual power.
"As women, we do not recognize ourselves in this feminism, which goes beyond denouncing abuse of power and has turned into a hatred of men and of sexuality," they wrote. "Rape is a crime, but trying to seduce someone, even awkwardly, is not. Nor is being gallant a macho aggression." They continued: "It is the nature of puritanism to borrow, in the name of the supposed collective good, the arguments of the protection of women and of their emancipation to better chain them to their status as eternal victims; poor little things under the control of demonic phallocrats, like in the good old days of witchcraft."
"We defend the right to seduce, which is indispensable to sexual freedom," the women continued. "We're aware enough today to admit that the sex drive is by nature offensive and savage, but we're also clear-eyed enough not to confuse an awkward pickup with sexual aggression." The signatories also said they regretted that men had been "punished summarily, forced out of their jobs, for touching a knee, trying to steal a kiss, talking about 'intimate' things in a professional dinner or for having sent messages with a sexual connotation to a woman who didn't reciprocate his affections."
It's telling that Deneuve has become a figurehead of the emerging backlash against #MeToo. Now 74, she has been the embodiment of empowered French feminine sensuality from her breakout performance singing (and smoking while pregnant) in The Umbrellas of Cherbourg in 1964; through Luis Buñel's Belle de Jour, in which she plays a bored Parisian housewife who turns a few tricks on the side; to more recent roles dispensing no-nonsense wisdom.
The letter was co-written by Catherine Millet, the author of the best-selling novel The Sexual Life of Catherine M.; Sarah Chiche, a writer and psychoanalyst; Catherine Robbe-Grillet, an actor and writer; Peggy Sastre, a writer and journalist; and Abnousse Shalmanim, a writer and journalist. Its signatories include Elisabeth Lévy, the editor of the conservative magazine Causeur.
Whether it adds a note of discord or depth, the letter is a telling addition to today's chorus. We're living through a disorienting moment in which public shaming has eclipsed due process, as my colleague Michelle Cottle has written. Even committed feminists are skittish about expressing dismay at the guilty-until-proven-innocent approach of naming alleged harassers publicly, for fear of seeming lacking in empathy or solidarity. In The New York Times last week, the writer Daphne Merkin struck a similar note as the French feminists, asking "What happened to women's agency?" It's hard to have a nuanced debate in an atmosphere that can feel, on social media at least, like one of competitive outrage.
There's also a generational divide. Older feminists remember the freewheeling days of the sexual lib of Helen Gurley Brown's Cosmopolitan, which encouraged women to flirt with their bosses as a form of empowerment. Younger feminists, even if they've been sexting since middle school, have a more highly developed sense of workplace boundaries and what constitutes sexual harassment.
In their letter, the French women singled out cases in which #MeToo had clearly overreached, and I agree. They said a suggested law in Sweden that would require any potential partners to agree to their sexual encounter ahead of time, via an app, "verged on the ridiculous." They also expressed dismay about calls to "censure" an Egon Schiele nude on a poster, or to remove a suggestive Balthus painting from the Metropolitan Museum of Art, or for the French national Cinémathèque to cancel a retrospective of films by Roman Polanski, as some French feminists had called for. (It wasn't cancelled.)
For a while, it seemed the fallout from Weinsteingate could mark a shift in France. It was a French journalist who started the hashtag #BalanceTonPorc, or "rat out your pig," calling on women to speak out about abuse, and for months, the #MeToo movement has opened an important national conversation here about sexual harassment. (Although the #MeToo debate has also oddly morphed into a debate about Islam here, after several women accused the Muslim scholar Tariq Ramadan of rape and sexual abuse; he has denied the allegations.) Mostly, French tabloids like Paris Match have been dining out on #MeToo, a chance to talk about sexual harassment in ways they might never have done if the controversy hadn't begun elsewhere. Le Monde has been investigating sexual harassment in various French institutions, most notably uncovering grim patterns in the youth groups of the French Communist party.
The news here has been filled with stories about sexual harassment in schools, offices, businesses, although the tabloids have been more eager to follow the fallout in Hollywood than in the closely-knit French film world. "Hollywood, the black list of sexual predators," reads a tagline on the cover of this week's Paris Match, which has an unrelated cover story on Carla Bruni, the former first lady of France, with the headline, "I still consider myself a young girl." (To have power as a woman in France, apparently you have to act as if you don't have it.) The speaking out continues, but so far no men in France have lost jobs over harassment. Why?
"Maybe there is no French Weinstein," Isabelle Giordano, the executive director of Unifrance, France's national film production and distribution company, said when I posed her the question on Tuesday. The scandal in Hollywood was having a ripple effect in France, she said, but there was a different culture here. "You don't have to say, 'My boss did this and this' on the internet. Maybe you have to go to the courts or the police," she said. "It's normal that this is the way in the U.S. and it's really a real benefit for us," she said of the #MeToo fallout, "But we have our way to do it." That way, as it happens, seems to have little visible effect. At least for now.
Giordano is right that there's a cultural divide. The letter by Deneuve and the other 99 women could be a refreshing reality check in a chaotic debate. But it also comes from a culture of covert or overt sexism. In the Anglo-Saxon world, many women feel there's safety in numbers and solidarity in speaking out. Here in France, there's a fear that naming names will more likely win you accusations of being a "collabo," or turncoat. In the U.S., the Italian actress Asia Argento has been seen as something of a heroine for going on the record about her dreadful experiences with Harvey Weinstein. In Italy, she's been ridiculed, criticized and excoriated—by women as well as men—who have called her an opportunist and worse.
Here in France—which invented the cosmetics industry as we know it—a woman is raised to know herself and to use her sex appeal as she sees fit. But if she feels compelled to do so by the culture at large, is that empowerment or a sign of a deeply sexist culture? Living here as an American, it's a question I ask myself constantly. And haven't yet answered.