Fire and Fury Is a Strange Kind of Coup for Trump Abroad
Even if the president says it's a "really boring and untruthful book"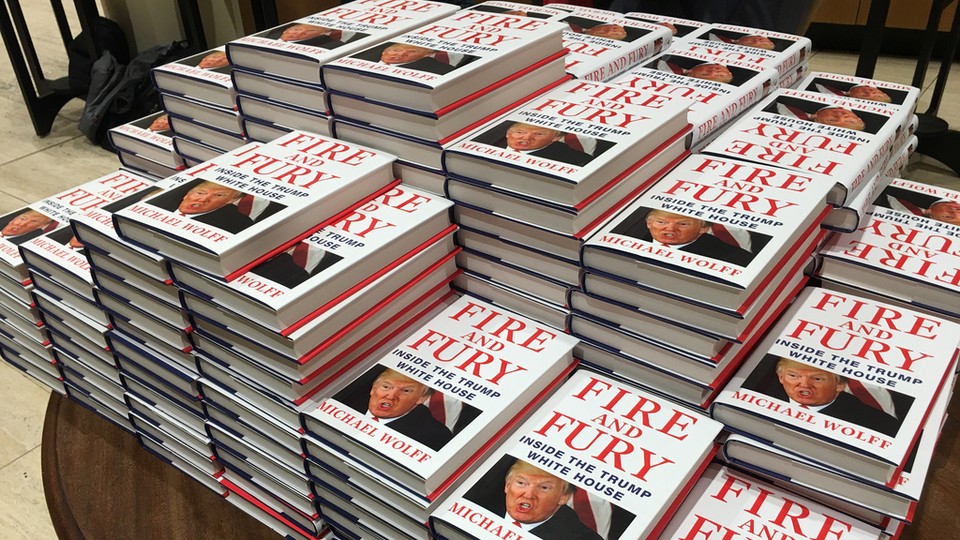 The explosive tell-all about President Trump, Fire and Fury, has been available for purchase for less than a week, but many of its readers are ready to render a verdict on its impact. For the president's detractors, the bestseller offers bona fide proof that Trump is unfit for office; for his supporters, it is nothing more than tabloid fiction written by an author with a questionable reputation.
The salacious and embarrassing details Fire and Fury reveals about the Trump administration's first year in the White House, paired with the book's widespread popularity, has allowed the president to once again engross millions of people—and not just in the United States. The book has managed to clear bookshelves and top bestseller charts across the globe, and it's attention that some have deemed a crisis for a president seemingly obsessed with his image. But the book's global domination is hardly a loss for Trump. If anything, it's a coup.
The book's international popularity mirrored its U.S.-based reception. In Singapore, some bookstores ran out of copies less than 24 hours after it was released. In the U.K., it only took minutes. "Fire and Fury has generated a level of interest that we haven't seen in a political title in quite some time," Sandra Taylor, the head of PR and events for the London-based book retailer Waterstones, told me, adding that the title "is set out to be the biggest political book of the year." That's no small prediction for a country that's facing its own set of political challenges. Meanwhile, Fire and Fury has also topped Amazon's bestseller charts in Australia, Canada, and Germany.
While the Trump administration tried to undermine the book's release, even seeking to block its publication, these efforts only appeared to draw more attention to it. It's not often a publisher is called on to cease and desist publication of a book, and it's even rarer for such a demand to come from one of the most powerful leaders in the world. "Michael Wolff is a total loser who made up stories in order to sell this really boring and untruthful book," Trump said of the book's author, whose exposé he said was "full of lies, misrepresentations, and sources that don't exist." The White House, in a separate statement, called the book "trashy tabloid fiction."
The efforts to keep Fire and Fury off the shelves and its earlier-than-scheduled release have both contributed to its early success. But some overseas observers speculate it would have done just as well without the dramatic prelude. "Given how central the story of Trump's administration has been to the political conversation—certainly in the West and definitely beyond that as well—I think it's fair to say that this book is getting a wide hearing ," Jacob Parakilas, the deputy head of the U.S. and Americas project at the London-based Chatham House, told me. "The commentary in American publications about it, the way it has sort of driven the media narrative, is apparent to audiences far beyond Washington."
Stories of the book's release have been featured around the world, with headlines in Arabic, French, and Spanish dedicated to the revelations inside it. And while hard copies of the book have been more difficult to come by due to high demand, illicit versions have started making the rounds online. Wikileaks posted a pirated copy of the book (though it has since been removed), and PDF versions have made their way across more than a dozen countries via the messenger application WhatsApp. An informal Twitter poll by journalist Siddhartha Mitter revealed that of the 1,440 users who were voluntarily polled, just under half reported that the book was being shared in their WhatsApp circles; 16 percent said the book was being shared by other methods.
Overseas interest in the internal workings of 1600 Pennsylvania Avenue is longstanding under any administration—after all, it's the address of the most powerful person in the world. But this particular White House has amped up the drama, and with it, the public fascination. As I reported in August, internal shake-ups within the White House, such as the departure of Trump's former chief strategist Steve Bannon and former communications director Anthony Scaramucci, dominated global headlines in a way that previous presidential staffing decisions would never have done. Several of Trump's administration officials have become household names around the world. It's an interest that is rooted just as much in palace intrigue as it is in concern over how what happens in the White House could impact things elsewhere.
This is especially true when it comes to the president's foreign policy decisions, to which Fire and Fury dedicates ample space. Much of Israeli media's coverage of the book, for example, focused on Wolff's revelations about the administration's internal debates on Israel, and how Bannon proposed quashing the two-state solution—once considered to be a cornerstone of American diplomacy in the Middle East—by splitting up the Palestinian territories between Jordan (which would retake control of the West Bank) and Egypt (which would assume control over Gaza).
While the book has earned Trump a fair bit of international bad press since its release (the Hong Kong-based South China Morning Post dubbed it a "must-read toxic tale," while France's Le Monde called the book an "embarrassment"), it probably won't lower Trump's standing in foreign countries by any significant margin. As POLITICO's Susan Glasser reported, many have already come to view the administration as "catastrophic," "terrifying," "incompetent," and "dangerous." A survey spanning 37 nations found that Trump's global popularity stands at just 22 percent, and foreign officials aren't particularly fond of him either. As my colleague James Fallows noted, much of what Wolff's book contends about the president's behavior has been an "open secret" in Washington. It's hard to imagine non-American audiences haven't taken notice, either.
"The effect of the book, rightly or wrongly, is to reinforce this narrative of the White House as this center of intrigue and competing fiefdoms and aggressive competition between different ideological and personality-based groupings surrounding the president and the sort of concomitant narrative of Trump's own mental state, his fitness for office, his level of attention to the job," Parakilas said.
Regardless of whether Fire and Fury is remembered as a historic eye-opener or as "trashy tabloid fiction," it stands to be the perfect chronicle for the Trump age. "This administration lends itself to this kind of constant, ceaseless, endlessly amped-up drama that is both a result of and an inevitability of the first reality TV star president," Parakilas said. "Everything becomes narrative and everything becomes a story. And that, in a way, is arguably the greatest success of the Trump administration—the ability of the president and the administration to keep the focus not only in the U.S., but internationally, so squarely upon itself."