Can the Taliban Be Stopped?
The killing of 95 people in Kabul shows the group's continued ability to strike at the heart of Afghanistan. What does that mean for Donald Trump's strategy there?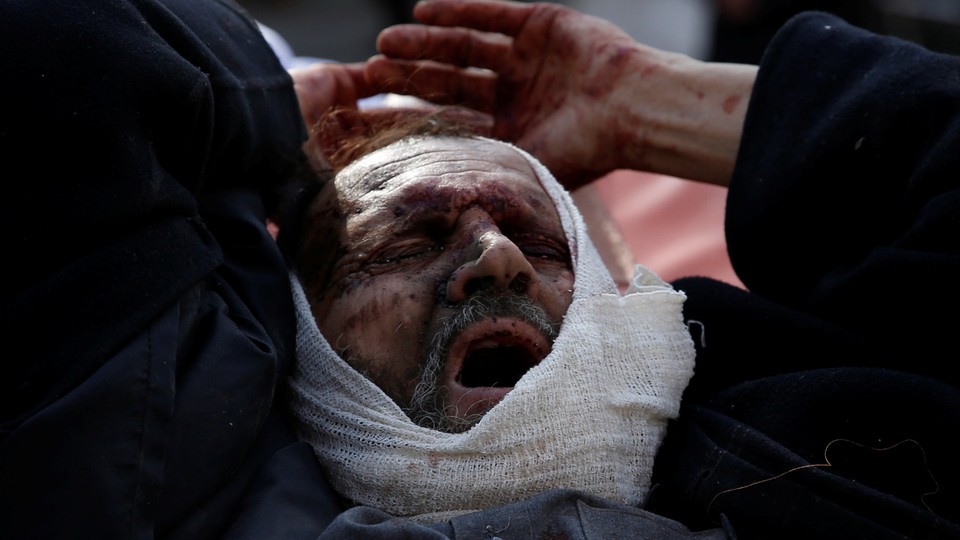 Authorities in Afghanistan said at least 95 people were killed and about 158 others wounded on Saturday after Taliban militants drove an ambulance filled with explosives past a police checkpoint in Kabul and detonated the vehicle on a crowded street open mainly to government workers. Authorities expected the death toll to increase as more victims were being brought to hospitals in the Afghan capital.
The audacity of the attack and its carnage—one Western aid worker in the country described it on Twitter as a "massacre"—would be stunning in most circumstances. But Saturday's suicide bombing, the deadliest attack in Afghanistan in months, came just days after the Taliban targeted a luxury hotel in Kabul popular among Westerners. At least 22 people were killed in that attack, including several Americans.
The Taliban regime was ousted by the U.S.-led invasion of Afghanistan following the attacks of September 11, 2001. But the group's resilience and the apparent ease with which it continues to strike at the heart of the Afghan state underscores the challenge its government faces in bringing stability to the country, even as U.S. military support is set to increase under President Donald Trump.
Trump has, reluctantly, sent more U.S. troops to Afghanistan as part of his strategy to bring security to a country that has enjoyed little of it in recent decades. At present, there are 14,000 U.S. troops in the country, with plans to send an additional 1,000. That's nowhere near the 100,000 U.S. troops that were in Afghanistan at the height of the war on terrorism. Until recently, American troops stationed there worked largely in an advisory capacity. Now, they will reportedly move closer to the front lines in an attempt to degrade the Taliban's ability to function effectively. They face a formidable challenge: The Taliban now controls about one-third of Afghanistan, more territory than at any point since the U.S.-led invasion.
Trump's change in policy represents a significant departure for a president who, at one point, called for the withdrawal of U.S. troops from Afghanistan. Since then, he has let Defense Secretary James Mattis and planners in the Pentagon have final say on troops levels. He has also pressured Pakistan—a country he has accused of giving "safe haven to the terrorists we hunt"—by suspending security assistance to Islamabad. He has also urged India, Pakistan's rival, to do more.
But Trump has suggested that the hopes of victory in Afghanistan are dim. Last year, he reportedly told his top advisers he thought the United States was "losing" in Afghanistan. According to The Washington Post, he reportedly quoted Indian Prime Minister Narendra Modi: "Never has a country given so much away for so little in return" as the United States in Afghanistan.
Now, there is yet another security threat to contend with in Afghanistan: the Islamic State, which routinely targets Shia and other Afghan minorities. Joint Afghan-U.S. military operations against the group have succeeding in killing ISIS militants, but not eliminating the group. U.S. military estimates of the number of ISIS fighters in Afghanistan have increased, suggesting the group continues to draw recruits despite its battlefield losses in Syria and Iraq.
Ultimately, Afghans themselves will have to bring peace to Afghanistan. The Taliban must either be defeated—an unlikely outcome at this point—or integrated into the political process. It has little incentive to join that process as it continues to show the Afghan people and the world that it can wage war. The degradation of the group, combined with pressure on its main benefactor, Pakistan, might offer one path toward a political process. But history offers ample, sobering lessons for how that will likely turn out.