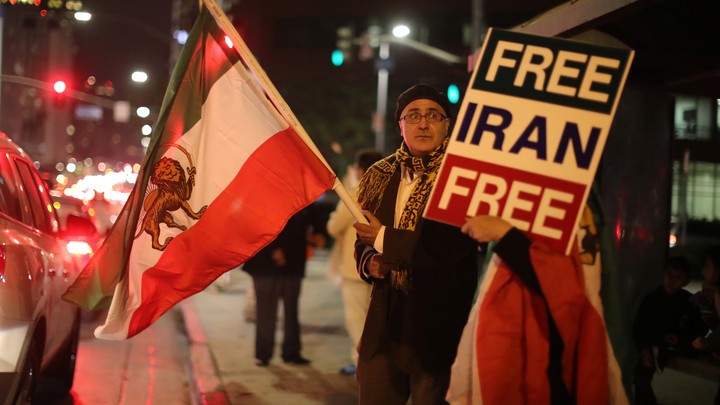 What We're Writing
Change in Iran: Recent protests in Iran did not escalate into the massive popular uprising that some analysts had predicted, in part because Iranian President Hassan Rouhani still has the backing of affluent urbanites. While some experts fear that overt American support does more harm than good to protesters living under anti-American regimes, Shadi Hamid argues that the U.S. has a moral responsibility to speak up for democratic change. President Trump is expected to announce new sanctions on Iran for human-rights violations related to the protests; however, he's reportedly planning to waive nuclear-related sanctions, upholding America's participation in the Iran deal for at least another 120 days.
The Koreas and sports diplomacy: North and South Korean officials met this week for the first time in two years and agreed on North Korea's participation in next month's Winter Olympics in Seoul. The Olympics have provided an opening in the past for diplomacy between the North and the South, notably during the 1988 Summer Olympics in Seoul where, under the guidance of Ronald Reagan, the two sides engaged in talks that laid the foundation for the Clinton administration's 1994 U.S.-DPRK Agreed Framework, which halted the North's nuclear-weapons program. But Krishnadev Calamur argues that sports diplomacy has had limited success in defusing conflicts between nations.    
#MeToo around the world: The #MeToo movement has sparked a global discussion about sexual harassment and gender inequality. In France, a group of 100 women signed an op-ed in a major newspaper, arguing that the movement (called #BalanceTonPorc there) had gone too far in stifling female sexuality and in limiting women's agency about what they consider to be assault. The op-ed caused a backlash, and Rachel Donadio argues that the debate over the op-ed was a symptom of a "more fatalistic culture that seems to believe human nature is what it is, men are what they are, so women are expected to find a strategy, to figure out how to exploit the system to their advantage."
---
Snapshot
Jonathan Schanzer discusses the trial over the biggest sanctions-evasion scheme in recent history, whose cast of characters included a Turkish-Iranian businessman and the governments of both countries. Read about it here.
---
Quoted
"It appears that President Trump got the message from the many Londoners who love and admire America and Americans but find his policies and actions the polar opposite of our city's values of inclusion, diversity, and tolerance," said London Mayor Sadiq Khan, in response to Trump's decision not to attend the opening of the new U.S. embassy in London. Read about the backlash here.
"I have nothing against Norwegians or Norway but this shows that the 'loser immigrants' from yesterday's 'shitholes' tend to turn into excellent, rich Americans after a few generations while their countries improve substantially." Alex Nowrasteh, an immigration-policy analyst with the Cato Institute, tweeted this emphatic statement on Thursday in response to President Trump's alleged desire that the U.S. take in more immigrants from Norway and fewer from what he reportedly termed "shithole" countries. Read about why Norwegian immigrants actually don't want to come to the U.S. here.
---
Our Long Read of the Week
An adapted passage from Max Boot's new book, The Road Not Taken: Edward Lansdale and the American Tragedy in Vietnam, tells the story of Operation Mongoose, the American-led effort to overthrow Fidel Castro's government in Cuba. Read it here:
After having sifted through various ideas to topple Castro, Lansdale on February 20, 1962, produced a detailed, if delusional, plan. The operation was supposed to start in March and culminate in October with what Lansdale described as the "touchdown play": Castro's overthrow. How on earth could Lansdale expect the weak and divided Cuban opposition, decimated at the Bay of Pigs, to prevail within less than a year? He prided himself on being unafraid to tell unpleasant truths "point blank" to his superiors, and he often had in Vietnam, but when it came to Cuba he succumbed to the temptation to tell his superiors what they wanted to hear in the hope that they would allow him to return to Saigon to once again chart American policy in South Vietnam. In his own defense, the best that Lansdale could say was: "I was hopeful and I put it down as a date without believing myself that it was a firm date—it was a prospective date of the early fall of 1962."
---
What We're Reading
The Senegalese Chef Sharing His Cuisine with the World, by Alexandra Marshall, highlights the cooking of Pierre Thiam, the "ambassador of Senegalese cuisine to the wider world." (Via Wall Street Journal)
Pakistan's Martha Stewart, by Saba Imtiaz, tells the story of Zubaida Tariq, "the closest thing Pakistan has to Martha Stewart, but with Stewart's fame dialed up to 11," from the point of view of someone who knew her and benefited from her "3 a.m. wisdom." (Via Roads & Kingdom)
How the Eurozone Might Split, by Mark Blyth and Simon Tilford, makes the argument that a design flaw in the structure of the eurozone might prompt its demise, despite a recent positive economic upturn. (Via Foreign Affairs)
We want to hear what you think about this article. Submit a letter to the editor or write to letters@theatlantic.com.