Nikki Haley's New Best Friends at the UN
Seven countries voted with the U.S. and Israel over the status of Jerusalem, getting an invite to a "friendship" party from the UN ambassador. So who gets to go?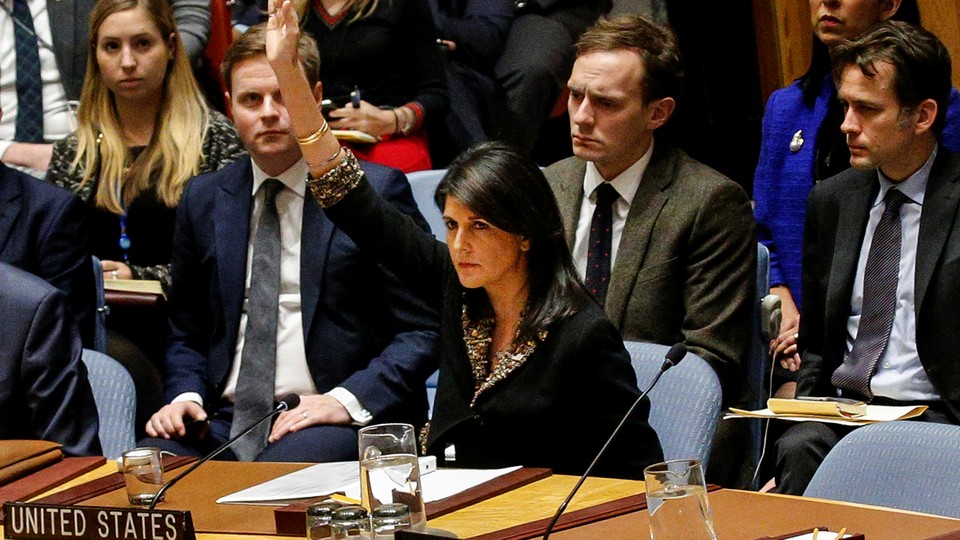 After the UN General Assembly Thursday voted to reject America's decision to recognize Jerusalem as the capital of Israel, Nikki Haley, the U.S. ambassador to the UN, invited everyone who sided with the U.S., by voting "no" or by abstaining, to a reception to thank them for their "friendship to the United States." So who gets to come to the party as official friends of America?
The invite list includes seven countries, mainly on Pacific islands and in Central America, plus one in Africa, that joined the U.S. and Israel in voting "no." That's not necessarily the set of guests one would expect at an American influence party, since America's main treaty allies in Europe and Asia didn't vote with Washington. (Also invited were the 35 countries that abstained, even though some, like Canada, reportedly abstained as a snub to the U.S. One hundred and twenty-eight countries voted "yes" and will not be invited.) But the friends list may not be so much a reflection of American influence as Haley's invitation would suggest. In most of the cases, Israeli diplomacy has been softening the ground for this decision for years, even as President Donald Trump's America First policy alienates world leaders. The vote, in other words, may say more about Israel's global standing than America's.
Let's run through the "no" list, made of up of Guatemala, Honduras, the Marshall Islands, Micronesia, Nauru, Palau, and Togo.
Three of the Pacific island states almost certainly would have been invited to the friendship party in any case. The Marshall Islands, Micronesia, and Palau have historic relationships with the U.S. dating back to the period after World War II, when they were under formal American control. They are now sovereign countries, but they have kept up close ties with the U.S. under "Free Association" agreements with Washington. Those countries get U.S. aid and other benefits, and in exchange, they vote in near lock-step with Washington at the UN. Those agreements have been in place for decades and, for the most part, still have years to run. In other words, it would have been remarkable had any of those three countries not voted with the U.S.
Still, that underplays an important dynamic. Even though those three countries had a combined Jewish population of zero in 2013, Israel has courted them with development aid in exchange for UN votes. A spokesman for the Israeli development agency Mashav told Tablet that year, "the Pacific Islands are countries with great need, and development actions there have proven themselves to be effective in voting in the UN."
Israel's outreach includes the fourth Pacific state to vote "no," Nauru, which doesn't have the formal ties to the U.S. that its Pacific neighbors share. Nauru has only about 10,000 people and few natural resources. Its best strategic asset, arguably, is its seat at the UN. In U.S. terms, Nauru having the same UN vote as every other big country is like Wyoming having the same number of senators as California. That lets Nauru monetize its sovereignty by offering diplomacy in exchange for aid. It is one of a handful of countries that still recognizes Taiwan instead of China, a relationship that wins it badly-needed development aid. It hosts a detention camp for refugees that Australia would prefer stay outside its borders, also in exchange for aid. It recognized Russian-occupied territories in Eastern Europe as sovereign states, and gets Russian money. As of May, that put Nauru afoul of a new American law that forces the U.S. government to cut off aid to any country that recognizes those territories. Meanwhile, Israel is reaching out. Netanyahu hosted Nauru's president in June, which is like hosting, not a senator from Wyoming, but the mayor of Cheyenne—a city that, incidentally, has six times the population of Nauru. A friendly relationship with Israel, in other words, is no surprise.
This is not to say that Israeli diplomacy has focused on these few countries specifically, but only that the pro-Israel UN votes represent unique successes for that diplomacy. Israel has offered similar aid to several African countries, some of whom abstained. It's also recently been solidifying ties with Saudi Arabia and the other Gulf monarchies, none of which resulted in favorable votes at the UN.
But what about Togo? There too, the vote seems to be more about Israel than the U.S. Togo's authoritarian ruler, Faure Gnassingbé, has been outspoken about his love for Israel. "I am dreaming of Israel's return to Africa and Africa's return to Israel," he wrote in a guestbook on a visit to Israel in August, a fact that Israeli Prime Minister Benjamin Netanyahu proudly tweeted. Netanyahu has supported Gnassingbé through a period of political turmoil, a decision that led to the embarrassing scene of having to cancel a planned Israel-Africa summit in Togo after pro-democratic protests against Gnassingbé got out of hand. And though the U.S. provides aid to Togo as well, the Togolese were apparently frustrated by American threats to "take names" of anyone who voted yes on the measure. Togo voted no—in support of Israel—but released a statement saying it had done so "despite the threats" from Washington
Guatemala and Honduras, the remaining two states on the list, share a common element with Togo: a domestic political crisis that puts their heads of state in need of allies abroad. Guatemala's president, Jimmy Morales, has been engulfed in a corruption scandal. Congress has tried to strip him of his immunity from prosecution, and he has tried, and failed, to eject the head of a UN-organized body that investigates corruption from the country. Morales's fight against the corruption investigator, known by its initials, CICIG, has put him at odds with the UN, making this vote an opportunity to give the dovish diplomats a black eye. And while Washington has sided with the UN over CICIG, the evangelical Morales gets along well with Netanyahu, who became the first Israeli prime minister to visit Latin America earlier this year.
And that leaves Honduras. Both Israel and the U.S. play a complicated role in the country's politics. Hondurans voted for president last month, but it's not clear who won. The Organization of American States has said the country should vote again, citing evidence of fraud. The main organizer of the opposition is Manuel Zelaya, a former president who was removed by a coup in 2009, which the U.S. effectively backed. Just after he was removed, Zelaya made the faintly anti-Semitic claim that "Israeli mercenaries" were hunting him. He offered no evidence to support that, but Israel has provided controversial security aid to the current president, Juan Orlando Hernández, an opponent of Zelaya's. U.S. training of Honduran security forces has also raised human-rights concerns. But whatever motivated the Honduran government's decision to vote with the U.S. and Israel yesterday, America has now rendered its judgment on who won the disputed election, with the State Department announcing Friday—in a move expected before Thursday's UN vote—it considered Hernández the winner. In any case, Haley's party will be an intimate one.