The International Incidents Sparked by Trump's Twitter Feed in 2017
From minor disputes with Sweden to major ones with North Korea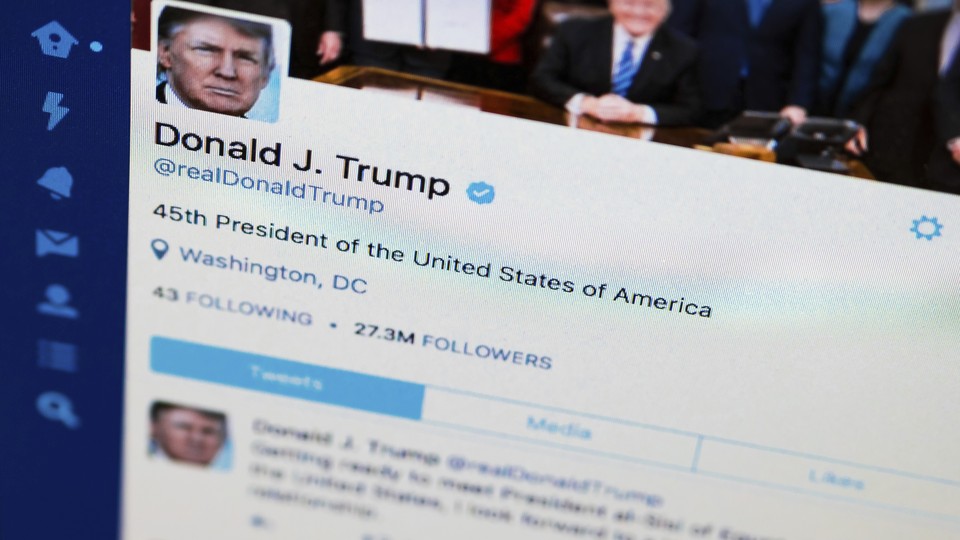 An unscripted moment in foreign affairs can be a dangerous thing, which is why entire bureaucratic apparatuses exist just to avoid them. And even the most on-message president can slip up and cause an international incident, whether it's Ronald Reagan joking into a hot mic that "we begin bombing [the Soviet Union] in five minutes," prompting a brief red alert of Soviet forces, or Barack Obama referring to "Polish death camps" and having to apologize for seeming to conflate the occupied Poles with the Nazis.
The more spontaneous interactions a president has, the greater the chances for the dreaded gaffe, which is why the president's Twitter feed has been known to cause heartburn among U.S. national-security professionals. Trump relies not just on national-security and media-relations teams to craft anodyne public statements, but also on his ability to communicate directly with the world via the internet. But there's a cost to this freedom. Since he became president in January, some of his tweets have caused his administration legal problems; others have resulted in full-blown diplomatic incidents. In some cases, his Cabinet officials have tried to articulate U.S. policy to allies and adversaries alike, only to be undercut by a conflicting tweet from the president.
Here are some of the highlights of the president's unique brand of diplomacy—and its aftershocks.
Tweet
Background
The "dumb deal" the president referred to was an Obama-era agreement on refugees. The U.S. had agreed with Australia to let in 1,250 refugees who, under a controversial Australian policy, were housed in camps in the Pacific islands of Papua New Guinea and Nauru; Australia, in turn, would resettle refugees from El Salvador, Guatemala, and Honduras. By the time he sent the tweet on February 2, Trump had signed an executive order that banned travelers from seven Muslim-majority nations. (That order was blocked by courts, though the Supreme Court has allowed another version of it to proceed while litigation is ongoing.) He had also conducted what's now an infamous phone call with Malcolm Turnbull, the Australian prime minister, in which he accused Turnbull of trying to export the "next Boston bombers" and hung up. The call and the tweet were unusually hostile for an ally that's fought alongside American troops in nearly every conflict since World War II.
Upshot
Despite initial speculation Trump would back out of the deal, the first refugees from the deal were resettled in the U.S. in September. U.S.-Australia relations are holding steady.
* * *
Tweet
Background
At a rally in Florida in February, Trump attacked Europe's policy of allowing in refugees fleeing conflict or persecution in Syria and elsewhere—connecting them to terrorist attacks and vowing to protect the U.S. "We've got to keep our country safe," he said. "You look at what's happening in Germany, you look at what's happening last night in Sweden. Sweden, who would believe this?"
Certainly not the Swedes. A spokesman for Swedish Foreign Minister Margot Wallstrom said "it's hard to say what Trump is talking about." The Swedish embassy in Washington tweeted:
Carl Bildt, the former center-right Swedish prime minister, who before Trump's election was one of the most active Twitter-using global figures, added:
The Fox News segment Trump cited in response to his critics has been discredited. But he's made similar remarks about Germany and France, linking their intake of refugees and migrants to terrorism. Europe more broadly is grappling with the challenge of integrating large numbers of migrants and refugees, and it's an issue that has helped fuel far-right parties in several countries. But this year many European governments, including Sweden, have tightened immigration rules, and far-right parties are once again slipping in the polls.
Upshot
Trump hasn't tweeted about Sweden since February. In April, Sweden suffered what the Times described as its "worst terrorist attack in decades" when a driver plowed his truck into pedestrians in Stockholm; the man who admitted carrying out the attack was an Uzbek national whose asylum application had been rejected the previous year.
* * *
Tweet
Background   
Trump's feud with Sadiq Khan, the London mayor, dates back to the presidential campaign. Following the attacks in Paris and San Bernardino in late 2015, the Republican called for a "total and complete shutdown" of Muslims entering the U.S. Khan, the son of Pakistani immigrants to the U.K., called Trump's remarks about Islam "ignorant," and said he hoped Hillary Clinton, Trump's Democratic rival at the time, "trounces him." Trump told an interviewer that he would "remember those statements. They are very nasty statements." He did. When a terrorist struck London over the summer, Khan told the city's residents not to be "alarmed" by the "increased police presence." Trump seemed to take that remark out of context on Twitter to imply that Khan was underplaying the threat of terrorism.
Trump's feud with Khan fits his pattern of interaction with the London mayor, but his recent put-down of Theresa May was more surprising. It began when, late last month, Trump retweeted anti-Muslim videos shared by a British far-right group. May said the president was "wrong" to have shared the videos, which purported to show Muslims committing violent acts, and which have dubious provenance or have been debunked. Trump tweeted that her efforts might be better spent preventing "radical Islamic terrorism" in the U.K.
Upshot
Khan is one of the most popular political figures in the U.K. May not so much. But Trump is so disliked within the country that Brits were united in outrage against his tweets and his rebuke of May. Calls for Trump's planned state visit to the U.K. to be canceled grew in the wake of the tweets. The lasting damage this particular episode has on U.S.-U.K. relations will likely be small, since, feuds aside, the "special relationship" continues to serve both countries' interests. Still, that relationship has long been more important to the U.K. than to the U.S. Trump's tweets make that even more apparent.
* * *
Tweet
Background
The U.S. has forged close counterterrorism partnerships with Gulf countries, despite some of those countries' historical support for radical Islamist groups opposed to the U.S. This includes Qatar, which not only has oil and gas reserves, but is home to the largest U.S. military base in the region. Qatar also has what could euphemistically be called an accommodating foreign policy: It is close to Western countries but also maintains ties with U.S. adversaries like Iran, Hamas, and the Taliban. This summer, in part to punish what they called Qatar's support for extremist groups and ties to Iran, Saudi Arabia and its Arab allies imposed a broad economic and travel blockade on Qatar and severed all relations with it.
Secretary of State Rex Tillerson, who as chief executive of Exxon traveled widely in the region and has deep personal relations with the royals in Qatar and elsewhere, urged the countries involved "to sit down together and address these differences." Trump's tweet took a different tone and, according to The New York Times, prompted the Qataris to begin "asking American officials whether their longtime alliance was in peril." Despite Tillerson and others' attempts at diplomacy, Trump followed up by publicly calling Qatar a "funder of terrorism at a very high level."
Upshot
Insulting allies may not do too much lasting damage—alliances outlast presidential term limits after all. But there's the separate question of what mixed messages do to short-term foreign-policy goals. Qatar's emir said last month his country was a "thousand times better off" without Saudi Arabia and the other Gulf nations imposing the blockade—suggesting that, if the U.S. wanted to see the split resolved quickly, the goal remains out of reach. And if the U.S. wanted to see Iran's role in the Gulf diminished, that too is unlikely; Qatar has now turned to Iran and others for support.
* * *
Tweet
Background
North Korea's quest for nuclear weapons dates to at least the 1990s, and efforts to contain it go back just as long. But for various reasons, nothing has stopped North Korea from expanding its nuclear and missile programs. Those programs have only accelerated in the Kim Jong Un era. His regime is believed to possess, by one estimate, enough fissile material for 20 nuclear weapons that can strike major targets, including U.S. forces in East Asia. The regime is also believed to be close to fitting a nuclear warhead onto an intercontinental ballistic missile capable of reaching the contiguous United States. These capabilities are a threat under any circumstances, but in the hands of a brutal, insecure dictator they appear even more ominous. Enter Twitter.
Trump has called North Korea a "rogue" nation and Kim "little rocket man" and "madman." But his public dismissal of diplomacy with North Korea, and of his secretary of state, Rex Tillerson, further raised fears he intended to go to war. While most of his Cabinet officials insist that diplomacy offers a way out of the impasse over North Korea's nuclear and missile programs, Trump in both his public statements (vowing, for example, to visit "fire and fury" on North Korea should it continue to threaten the U.S.) as well as his tweets ("Military solutions are now fully in place … should North Korea act unwisely") have suggested otherwise. H.R. McMaster, Trump's national-security adviser, said recently the prospect of war is "increasing every day" the crisis isn't resolved.
Upshot
Trump's tweets, U.S. and UN sanctions, pressure from China, and offers of diplomacy don't seem to have stopped or even appreciatively slowed Kim's race toward a nuclear-tipped intercontinental ballistic missile. They have only prompted more bluster from Kim and his regime. And as my colleague Kathy Gilsinan wrote: "When two leaders each habitually bluster and exaggerate, there's a higher likelihood of making a catastrophic mistake based on a bad guess."
* * *
Perhaps it's easy to overstate the importance of Trump's tweets. After all, the foreign-policy bureaucracy functions at much the same pace it did in prior administrations; alliances—and enmities—are built and maintained over years, not news cycles. Members of Trump's Cabinet can smooth over or downplay the tweets in calls and meetings overseas, and they often do. The long-term effects of the toll this may take on American credibility won't be apparent in 2017; the short-term risks of antagonizing North Korea are of more immediate concern. For now, as long as countries maintain an interest in good relations with the world's pre-eminent military and economic power, there's still no substitute for the United States, no matter what the president says on Twitter. As he told the world on New Year's Eve in 2016: