Foreign Policy by Symbolic Half-Measures
Trump's reported intention to declare Jerusalem Israel's capital, while declining to move the embassy, mirrors a tactic he's used before.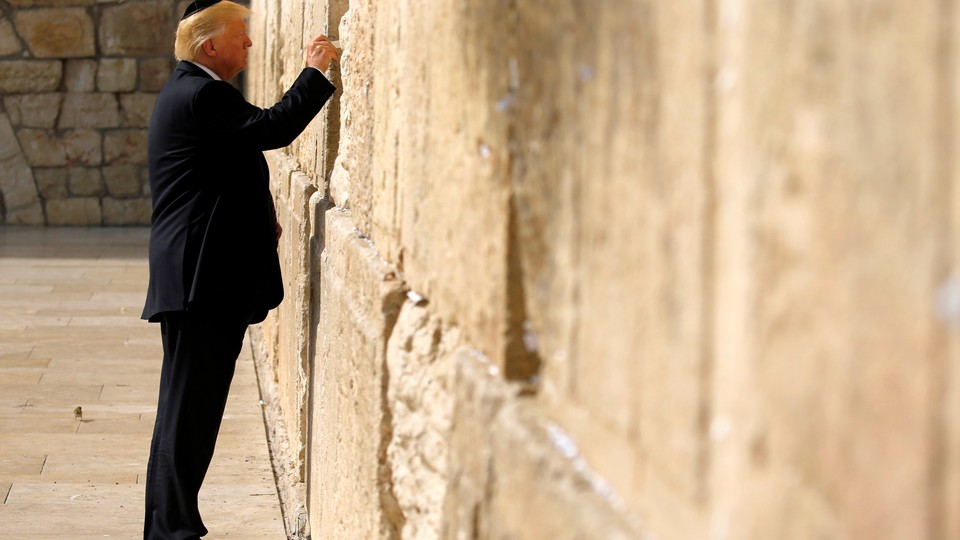 Not least among the many news items this week—Donald Trump's former national-security adviser pleading guilty to lying to the FBI and North Korea "completing" its nuclear-weapons program and the U.S.-U.K. "special relationship" splintering over the American president's anti-Muslim retweets (but becoming even more special thanks to Harry and Meghan) and the U.S. Senate advancing a transformative $1.5 trillion tax overhaul and a convicted war criminal swigging poison in a Dutch courtroom and promptly dying—was another item that could also rightly be called big news: Reports indicating that next week Trump will break with past U.S. presidents and recognize Jerusalem as the capital of Israel.
The White House has yet to confirm that a decision has been made, and the details of the administration's plan are still fuzzy. But early reporting suggests that Trump may reveal the new U.S. position on Jerusalem while simultaneously sticking with his predecessors in waiving a requirement in a 1995 law that the United States relocate its embassy in Israel from Tel Aviv—at least temporarily. (The 1995 legislation, passed by a Republican-controlled Congress, states that Jerusalem should "remain an undivided city" and be considered, as a matter of U.S. policy, the "capital of the State of Israel." In practice the U.S. sidesteps this issue, basing its embassy alongside others in Tel Aviv while Israel conducts its government operations from Jerusalem.)
Presidents Clinton, Bush, and Obama regularly issued waivers on the embassy relocation and refrained from recognizing Jerusalem as the Israeli capital, because its status would likely be settled as part of an Israeli-Palestinian peace agreement. Israel claims the entirety of Jerusalem as its capital and the Palestinians envision East Jerusalem as the future capital of their state. Negotiations might result in the two sides dividing and sharing the city, which is home to Muslim and Jewish holy sites, among others.
If Trump doesn't follow suit, it would fit a precedent he set with regard to the Iran nuclear deal. The basic approach: Make a bold statement that honors his campaign promises without fully fulfilling them. Instead of dismantling the Iran deal as Trump pledged to do during his campaign, he "decertified" it and initiated a process for Congress and U.S. allies to address its weaknesses. In this case, too, Trump would be taking a symbolic half-measure relative to his vow on the campaign trail to move the U.S. embassy.
But half-measures, however symbolic, have real consequences. Trump's threat to terminate the Iran deal if U.S. lawmakers and America's European partners don't revise it to his liking has placed the accord in great peril—perhaps by design. Jake Sullivan, a top State Department official in the Obama administration, has argued that Trump's blows to the deal are a self-fulfilling prophecy: "They decertify so as to destabilize, and then they have the tools to at any moment—in a month, in a year, in two years—say, 'OK now we're done'" with the nuclear deal. Something similar could happen with Trump's Jerusalem decision, which would delight many Israelis and many of his pro-Israel supporters back home, but antagonize the Palestinians. It could thereby endanger an Arab-Israeli peace initiative that his son-in-law, Jared Kushner, has been leading for months. It's easier to move the U.S. embassy when peace talks have broken down than when they're still on the horizon.
Kushner plans to unveil his peace plans at a policy conference in Washington, D.C. on Sunday, but whatever new ideas he has about the age-old conflict are likely to be overshadowed by his father-in-law's anticipated announcement. Another complicating factor: reports on Friday that Kushner worked with Trump's former national-security adviser Michael Flynn, at the behest of Israeli Prime Minister Benjamin Netanyahu, to try to quash a UN Security Council resolution against Israeli settlements in the West Bank and East Jerusalem during last year's presidential transition. Trump casts himself as a pragmatic dealmaker, and has called Israeli-Palestinian peace the "ultimate deal." But striking that deal would require him to let go of a persona he seems to value more: that of Donald Trump, the politician who settles scores and does what he says he'll do. Or at least some of it.