From Trump's Twitter Feed to Dictators' Mouths
A partial list of the world leaders taking their cues from the U.S. president's fight with the press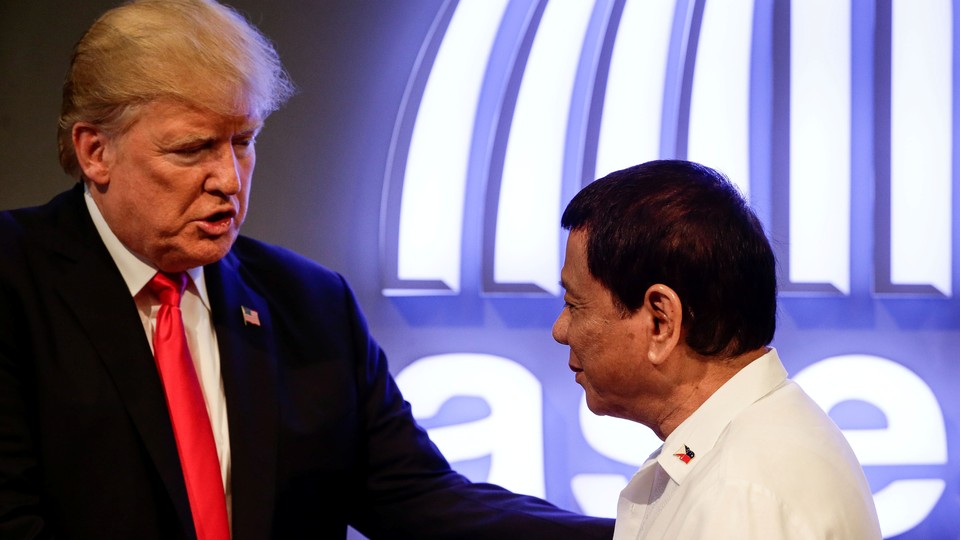 Donald Trump has assailed the media many times since he became president in January. He labeled The New York Times, a publicly traded company in the midst of a subscription resurgence, "failing," threatened to pull NBC's license, and has referred to stories he deems critical or unfair as "fake news."
Criticism of the media isn't new—nor is criticism of the media by an American president. Barack Obama famously feuded with Fox News and other conservative media outlets, in addition to initiating more prosecutions against journalists and whistleblowers; George W. Bush famously distrusted the press; and Bill Clinton's testy relationship with the media has been well-chronicled since the 1980s. What is now new, however, is the frequency with which this American president attacks the press—and how his words are being used by strongmen and authoritarians around the world to justify their own actions. While in the past, the U.S. might have criticized such words, Trump's administration has made clear its desire to avoid lecturing other countries. But authoritarians are learning from the U.S. example now in ways the American-values-promoters of yesteryear would not approve of: Dictators are now describing the press in words so similar to how the U.S. president does that it's sometimes difficult to tell them critiques apart.
Here are some examples:
Quote: "You can forge anything these days. We are living in a fake-news era."
Who said it: Syrian President Bashar al-Assad
Context: An Amnesty International report in February detailed extrajudicial killings by Assad's regime at the Seydnaya Prison between 2011 and 2015. As many as 13,000 people were killed, the human-rights group said. Assad's remarks to Yahoo News also included criticism of the FBI's authentication of photographs used in the Amnesty report. "If the FBI say something, it's not evidence for anyone," he said, "especially for us." Trump, too, has dismissed the FBI's work, in that case when it came to determining Russian interference in the U.S. presidential election.
Quote: The media "spread lots of false versions, lots of lies. This is what we call 'fake news' today, isn't it? The era of post-truth."
Who said it: Venezuelan President Nicolas Maduro
Context: Since he was elected president in 2013, Maduro has overseen the dismantling of his country's economy and its constitution. His actions have been criticized by the vestiges of independent Venezuelan media as well as Western news organizations operating in the country. The remarks in July to RT, the Russian-backed news and propaganda outlet, were connected to his controversial—and ultimately successful—attempt to rewrite the constitution in order to give himself more powers.
Quote: "I know that I have been demonized" by the media.
Who said it: Philippines President Rodrigo Duterte
Context: Duterte was complaining in October about media coverage of extrajudicial killings of drug dealers and users in the Philippines under his watch. The trouble is that Duterte has boasted about personally killing people related to the drugs trade and to giving the police in Davao, the city of which he was mayor before he assumed the presidency, a free hand in tackling crime. Human-rights groups and the press have pounced on those remarks and questioned Duterte's role. But these statements by the Philippines president about the media are part of a larger problem in a country that is among the most dangerous for journalists, where Duterte has labeled them, perhaps jokingly, as "spies," and has said journalists should not be "exempted from assassination if you're a son of a bitch."
Quote: "There is no such thing as Rohingya. It is fake news."
Who said it: U Kyaw San Hla, an officer in the state security minister in Burma's Rakhine state
Context: The remarks this month to the Times by essentially a minor state functionary do not reflect an uncommon view in Burma, where the military has waged a brutal campaign against the Rohingya, the stateless Muslims who have lived in the country for generations. The word "Rohingya" itself is a sensitive one in the country also known as Myanmar—and the military offensive against the Rohingya is widely popular. Many Burmese view the Rohingya simply as Muslim migrants from neighboring Bangladesh. Aung San Suu Kyi, the country's de facto leader, has been criticized by the international community for her apparent silence on the issue.
Quote: "We … know that the media is a double-edged sword. If it is used professionally and lawfully, the media can absolutely promote democracy, human rights, political stability, and development. But if it is straying beyond the lines, it will destroy everyone and the country will fall into war."
Who said it: Cambodian Prime Minister Hun Sen
Context: The Cambodian strongman has been in power since 1993, and has, over the years, crushed dissent, political freedoms, and, more recently, the political opposition and a free press. His remarks last month were made in a letter to a Cambodian media forum. In February, soon after Trump was sworn in as president, the Cambodian leader said he empathizes with the American president's view of the media, saying he "understands that journalists are an anarchic group."
Quote: Trump put a CNN reporter "in his place."
Who said it: Turkish President Recep Tayyip Erdogan
Context: At issue was a CNN report about Russia's efforts to compromise Trump. The report so angered Trump that he declined in January to allow Jim Acosta, the CNN reporter, an opportunity to ask a question during a news conference. Erdogan's own relationship with the media and those voices that are critical of him have become strained since the coup attempt against him. He hasn't hesitated to use force against them—even in the U.S. Erdogan was praising Trump's dismissal of CNN and Acosta—and in the period since press freedom in Turkey has only worsened.
Quote: "I am not saying that all are fake pictures, but some of them are and there have been a lot of alternative facts and fake news."
Who said it: Spanish Foreign Minister Alfonso Dastis
Context: Catalans voted in October for independence from Spain. The government in Madrid has deemed the vote illegal and had warned of consequences if the referendum went ahead. When it did, the government reacted with force. Photographs showed riot police swinging their clubs against voters, grabbing old women at polling stations, firing rubber bullets at protesters, and dragging voters away. The images shocked a world more accustomed to such scenes in developing countries and fledgling democracies. The Spanish government was angered at what it saw as biased media coverage of the vote—and Dastis's comments were a reflection of that anger.