Firing Rex Tillerson Won't Change What He Did
"There is an open question on whether they understand government or not."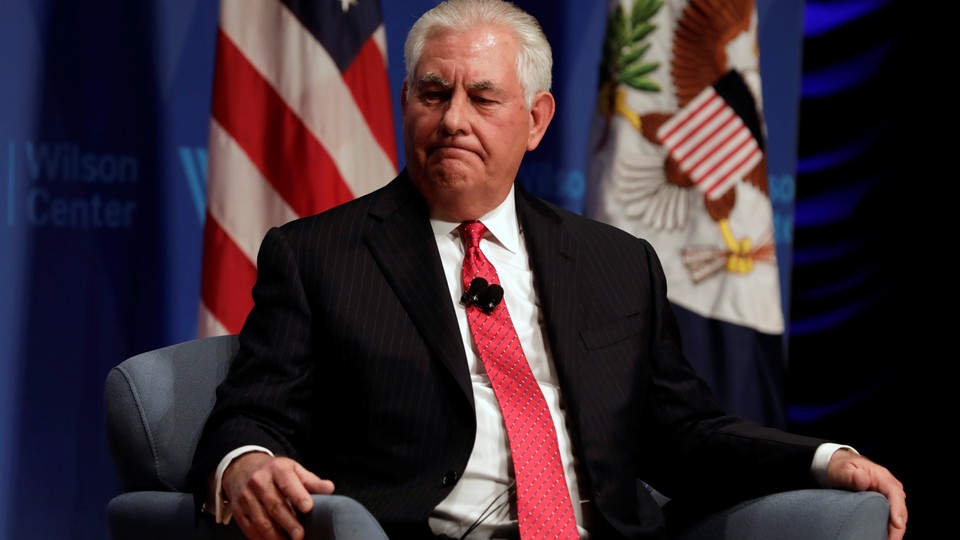 As questions swirl about whether Rex Tillerson is about to be pushed out as secretary of state, there's another more pressing question to consider: Does it matter?
Tillerson and President Donald Trump have both denied the latest reports that the president's staff is moving forward with a plan to replace Tillerson. But the State Department is already under strain, and Tillerson's standing abroad is already complicated by his boss's proclivity for contradicting him in public.
Besides the business of diplomacy, two initiatives have marked—or, depending who you ask, marred—Tillerson's 10 months as secretary of state: a 30 percent budget cut for the department, and efforts to redesign how the department works. While, in theory, these are two distinct endeavors, they have merged in the public imagination, since they've both arguably contributed to frequent reports of poor morale at State. There have been allegations that diplomats are being "pushed out in droves;" the official in charge of the reorganization resigned after three months on the job; and two highly respected retired diplomats accused the Trump administration in The New York Times of "dismantling the foreign service" with its budget cut and hiring freezes. Tillerson's future may be uncertain, but the budget cuts probably aren't; the fate of the reorganization is unclear.
Ronald Neumann, who served as U.S. envoy to Afghanistan, Bahrain, and Algeria, and who is now president of the American Academy of Diplomacy, wrote to me Thursday: "Since the reorganization has been slow, painful and is hurting the Foreign and Civil Service I hope that a change might be better; but who knows."
Tillerson himself was asked about these kinds of criticisms Tuesday at the Wilson Center in Washington, and he defended the budget proposal. He said the reduction would bring department funding in line with historic levels, noting its budget had increased over the past few years to $50 billion. That spending level is "just not sustainable," he said. Debatable, but defensible.
Then came the rest, in which Tillerson seemed to say less money would be needed because there would be fewer conflicts. "Part of ... bringing the budget numbers back down is reflective of an expectation that we're going to have success in some of these conflict areas, of getting these conflicts resolved, and moving to a kind of place in terms of the kind of support that we have to give them," he said.
The reaction from former U.S. diplomats: disbelief.
"The Syrian civil war, probably good for another 10 years," Ryan Crocker, who served as ambassador to Iraq and Afghanistan and who co-wrote the Times op-ed this week, told me. "Afghanistan-Pakistan, no solutions in sight. The Palestinian-Israeli peace negotiations—that would be not be low-hanging fruit. These problems are there because they are so damn hard to resolve. But unless you've got a robust foreign service working these issues, not only are you not going to solve them, you may not be able to manage them. It's precisely because we're looking at a world unglued, particularly in the Middle East, this is exactly the time you need a focused, robust foreign service."
One could add to that list: Just hours after Tillerson made his remarks, North Korea tested its most powerful intercontinental ballistic missile yet—one that is believed to put the entire continental United States in range. Then there's the Saudi-Iranian rivalry, involving among other things proxy fights in Yemen and Lebanon plus the Saudi-led blockade on Qatar. The defeat of ISIS in Iraq could usher in new conflicts, in particular between Arabs and the Kurds. Russia seems determine to destabilize politics in Europe and elsewhere, including the United States.
The world does not seem to fit Tillerson's projections. "It's sort of like someplace in 1944 saying Eisenhower is doing well, so we're going to cut the troops in Europe because we think we're going to win," Neumann told me earlier this week.
Heather Nauert, the State Department spokeswoman, tried Tuesday to clarify Tillerson's statement. "I don't think that's what the Secretary was saying," she said. "I think issues are being conflated there, one with dollars and two with personnel." She said the U.S. expected to spend less on de-mining in Syria and on nation-building around the world. "We won't be in that business anymore," she said. "We won't be spending that kind of money."
That leaves the matter of personnel, which Ambassador Barbara Stephenson, the president of the American Foreign Service Association representing foreign-service employees, wrote recently was being "depleted at dizzying speed" in the leadership ranks. "The Foreign Service officer corps at State has lost 60 percent of its Career Ambassadors since January," she wrote. "Ranks of Career Ministers, our three-star equivalents, are down from 33 to 19. The ranks of our two-star Minister Counselors have fallen from 431 right after Labor Day to 369 today—and are still falling."
Tillerson and others have downplayed those numbers, saying the number of senior foreign-service officials at the State Department is almost the same as the figure in 2016. Additionally, they say that the claim of a 60 percent reduction in the number of career ambassadors is misleading because the figure went from six to two—well within the historic average.
Either way, the effect on morale is palpable. And the uncertainty and anxiety at the department may only be reinforced by continuing rumors about Tillerson's future, which Trump and Tillerson's statements are unlikely to dispel.  Ambassador Laura Kennedy, who served at the State Department for four decades under both Republican and Democratic administrations, said Tillerson "may have figured that he could develop the reform plan, present it, and then leave after declaring 'mission accomplished.'" Even that possibility now appears in doubt, and with or without Tillerson, she said, his plans for a redesign may not "amount to much organizationally."
"They've already picked off the low-hanging fruit with the scrubbing of the bloated ranks of the special envoys—a natural process which virtually every one I know applauded," she said.
On the other hand, the hiring freeze Tillerson has implemented while the reorganization plan is developed has not been cheered. There are U.S. embassies overseas with empty posts, and several senior State Department posts are still vacant. Career diplomats are performing the functions of assistant secretaries that have yet to be appointed or confirmed. Tillerson has praised their work, but Crocker pointed out that "they would be the first to tell you that there is a difference between acting assistant secretary and being assistant secretary with Senate confirmation."
"If there wasn't a reason to have assistant secretaries, then we wouldn't have them. ... You would never have a situation in which you're sending your Army to war with an acting division commander, an acting brigade commander, an acting battalion commander, and an acting company commander. That would be insane. It's the same thing."
"These things just kind of multiply so you have distortions throughout the building because of 10 months of a freeze," Neumann said. "This like basically saying we want to stop all of the trains while we redo the schedule, and 10 months later they're on the siding still."
On Tuesday, Nauert defended Tillerson's approach, saying "the commitment to this building, the commitment to our staff is solid. It is not changing."
The former diplomats I spoke to didn't question Tillerson's commitment, but as Neumann put it: "There is an open question on whether they understand government or not. There's a lot of ideas for reform that could be implemented without stopping everything. What you seem to have looking from the outside in ... is an effort to apply a business model to government—and the model doesn't fit, and it's causing all sorts of dislocation and morale problems."