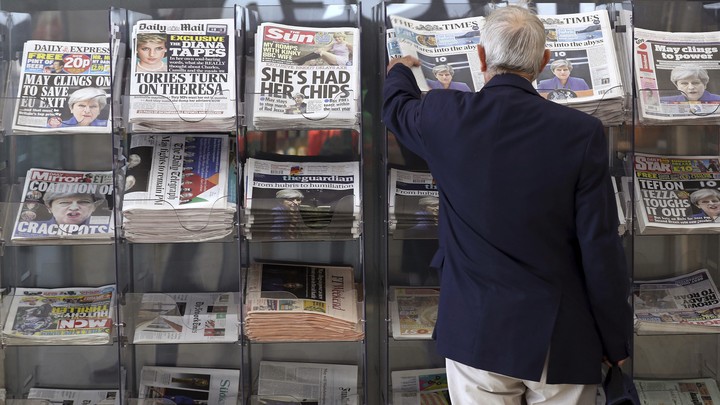 If Britain's biggest right-wing tabloids spent the first half of 2016 pushing hard for the idea of Brexit, 2017 was the first full year they had to cover the reality of it. It was a period that kicked off negotiations between the U.K. and the EU over the terms of their divorce, and one that included a surprise snap election in which Prime Minister Theresa May lost her majority in parliament after gambling she could expand it.
It was also a year of stalling, confusion, and bureaucratic jockeying in Brussels. Whereas advocating for Brexit offered opportunities for sensational headlines about "The Deadly Cost of Our Open Borders" or pun-inflected appeals to patriotism like "BeLEAVE in Britain," the negotiations themselves have presented different challenges. What, after all, is sensational about the U.K. and EU's modest goal this year to achieve "sufficient progress" on certain issues for the next round of talks to start?
It's an important problem for tabloids like The Sun, The Daily Mail, and The Daily Express, which are among the most widely-circulating newspapers in Britain, and whose audience has a great deal of overlap with Brexit voters. "In Britain after the so-called Brexit vote, the power of the tabloids is evident," wrote Katrin Bennhold in The New York Times in May. "Their readers, many of them over 50, working class and outside London, look strikingly like the voters who were crucial to the outcome of last year's referendum on membership in the European Union. It is these citizens of Brexitland the tabloids purport to represent. … [T]hey see themselves as Middle England's embassies in London."
And part of that job, in what the British journalist Charlie Beckett has described as the tabloids' "populist, partisan" approach to the news, is finding drama. So when some Conservative lawmakers considered voting against setting a certain date for the U.K.'s exit, The Daily Mail found the high stakes in this seemingly procedural question: "DON'T BETRAY YOUR VOTERS!" The genuine surprise of Theresa May losing her parliamentary majority in Parliament prompted The Sun to declare "MAYHEM" (Get it? Because Theresa May?) If the tabloids represent an extreme version of the tendency, the rest of the British media is not immune from it. "The media … tends to assume that what we're doing now is the most exciting, the most difficult, and the most contentious thing we're going to be doing," Anand Menon, the director of U.K. in a Changing Europe, an independent research institute, told me last week. "But it isn't." The hard part of Brexit negotiations has barely begun.
So how did the pro-Brexit press cover the story it tried so hard to bring about? Here's a sampling of the year in British tabloids and beyond.
* * *
Six months into her stint as prime minister, and seven months after her country's fateful decision to leave the European Union, Theresa May marked the new year with a speech at London's Lancaster House, in which she famously declared that "no deal for Britain is better than a bad deal for Britain." And while the prospect of a "no-deal Brexit" may no longer be as popular as when May first said the now-ubiquitous phrase (a September poll found that 34 percent of people polled support walking away from the EU without an agreement if necessary), the speech offered an image of a U.K. that was ready for a fight. The pro-Brexit Daily Mail was ready to essentially declare May a new Margaret Thatcher:
DAILY MAIL: Steel of the new Iron Lady #tomorrowspaperstoday pic.twitter.com/wlD6oFT1FJ

— Neil Henderson (@hendopolis) January 17, 2017
But it wasn't until a Wednesday afternoon in March that the U.K.'s plan to leave the EU was officially set into motion. At 12:30 p.m. on March 29, the British government sent a hand-delivered letter to European Council President Donald Tusk in Brussels notifying him of the U.K.'s intention to leave the bloc and formally beginning the process of talks over its exit. "Brexit Day," as it would come to be remembered, was highly-anticipated by those backing the campaign to leave the EU and much-dreaded by those who supported efforts for the U.K. to remain. For the center-right Daily Telegraph, a broadsheet that supported Brexit, it was "magnificent":
Daily Telegraph news paper front page Thursday 30th , March 2017 #ThursdayThoughts #p ... https://t.co/8fbqR7JfcI pic.twitter.com/EaTK6HjO5u

— Internet Set Of News (@IntSetOfNews) March 30, 2017
Nearly a year after the U.K.'s Brexit referendum passed in June 2016, the country's attention was focused not on negotiations with the EU, but to a far more pressing political issue: Elections. In April, Theresa May made the surprise call for a snap general election, to take place in June. At the time, a nationwide vote seemed like a promising move for May: Her ruling Conservative party was ahead in the polls. But her 21-point polling lead evaporated with the actual vote, which delivered a hung parliament and a badly beaten May. The prime minister managed to keep her job with the help of Northern Irish Democratic Unionist Party (DUP), which agreed to throw its support (and 10 parliamentary seats) behind the Conservatives in a "confidence and supply" deal. Still, it didn't look good. As the right-wing Sun put it on its June 9 cover, the prime minister's performance was cause for "DISMAY."
3am edition front page: Theresa Dismay #GE2017 pic.twitter.com/8QvFeeU5mc

— Sun Politics (@SunPolitics) June 9, 2017
Brexit talks between U.K. and EU negotiators formally kicked off over the summer, complete with deep divisions on key issues relating to the U.K.'s eventual withdrawal: the citizens' rights of EU citizens in the U.K. (and vice versa), the U.K.'s "divorce bill" from the EU, and the fate of the Irish border between Northern Ireland (a U.K. member) and the Republic of Ireland (an EU member). While the U.K. attempted to outline its stance on these major issues and others through a series of position papers, EU negotiators accused their British counterparts of being unprepared—a perception that wasn't helped by months and months of negotiations ending with neither side reaching "any decisive progress." The right-wing Daily Express put a warning to the top EU negotiator, Michel Barnier, on its September 1 cover:
DAILY EXPRESS FRONT PAGE: YOU CAN'T BULLY US MR BARNIER #skypapers pic.twitter.com/j46QwzbPCb

— Sky News (@SkyNews) August 31, 2017
In October, Brexit was overtaken in the British press by a global and industry-wide sexual-harassment scandal—and the U.K. government itself was not immune. Lawmakers on both sides of the House of Commons were implicated in the scandal, prompting several calls for investigations and sackings against those accused, as well appeals for British leaders to address the "warped and degrading culture" both within Westminister and throughout society. The center-right tabloid Metro dubbed the outcry a "Pestminster Crackdown" on its October 31 cover:
Tuesday's Metro: "Pestminster Crackdown" #tomorrowspaperstoday #bbcpapers (via @hendopolis) pic.twitter.com/2QxggTCJlZ

— BBC News (UK) (@BBCNews) October 30, 2017
The sexual-harassment scandal wasn't confined to the House of Commons. By November, it reached May's own Cabinet—implicating two ministers, and ending with the resignation of one. On November 1, former U.K. Defense Minister Michael Fallon quit his post after claims emerged he had inappropriate contact with a journalist 15 years ago. But Fallon was only the first domino to fall in May's Cabinet that month. His departure was followed one week later by that of U.K. Secretary of State for International Development Priti Patel, who resigned after it was revealed she breached the ministerial code during a family vacation to Israel in August. In its November 9 cover, the left-wing Daily Mirror called the back-to-back cabinet reshuffles "Priti shambolic."
Tomorrow's front page: It's Priti shambolic#tomorrowspaperstoday https://t.co/5GzIJPw8bv pic.twitter.com/JPODdHtwZz

— Daily Mirror (@DailyMirror) November 8, 2017
The best of 2017 Brexit came last. In early December, the sides announced they had struck a last-minute deal that not only addressed all the major withdrawal issues dominating the first phase of talks, but that would also allow both sides to advance to the next phase. While some British lawmakers and media were jubilant over the news—The Daily Mail told readers to "Rejoice! We're on our way" on its December 9 front page—others were quick to point out just how much was left to be done. Here is how the center-left Independent, which opposed Brexit, covered the deal on December 9:
Tomorrow's @independent front page #tomorrowspaperstoday To subscribe to the Daily Edition: https://t.co/XF8VnDpHYF pic.twitter.com/3djeIfeePL

— The Independent (@Independent) December 8, 2017
But even with a deal on phase one of the negotiations secured, May is battling her own Brexit crises at home. Last Wednesday, British lawmakers gave the prime minister a new hurdle by passing an amendment to the European Union (Withdrawal) Bill that guarantees British lawmakers will have a final say on whatever deal is struck between the U.K. and Brussels. The amendment narrowly passed by four votes—a loss opposition Labour party leader Jeremy Corbyn called a "humiliating loss of authority for the Government." On its December 14 cover, the Daily Mail was even more scathing:
Thursday's @DailyMailUK #MailFrontPages pic.twitter.com/kjHhRnpzSn

— Daily Mail U.K. (@DailyMailUK) December 13, 2017
We want to hear what you think about this article. Submit a letter to the editor or write to letters@theatlantic.com.