Pressure North Korea, Antagonize China
How U.S. policy risks creating another crisis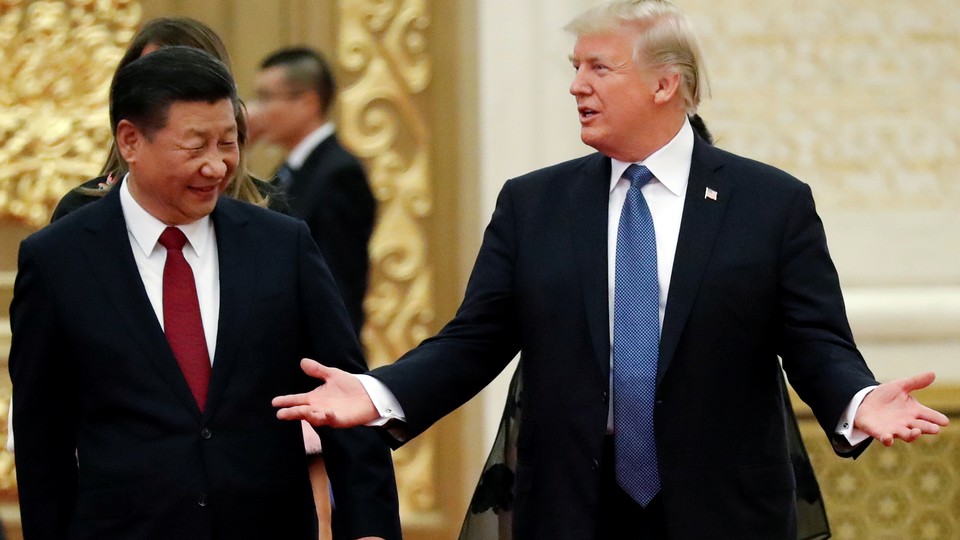 Not long after North Korea test-fired its longest-range missile yet, the Trump administration settled into its familiar diplomatic routine of putting pressure on China—or blaming the country outright. It started out somewhat subdued on Wednesday, when President Trump tweeted that he had spoken to Chinese President Xi Jinping about additional sanctions on North Korea, and that "This situation will be handled!" But if that seemed restrained, it escalated from there, with a follow-up tweet from Trump on Thursday saying the Chinese envoy to North Korea "seems to have had no impact on Little Rocket man." A Treasury official weighed in too, publicly declaring China was not doing enough on North Korea, or trade.
The comments were emblematic of a side risk posed by North Korea's missiles—raising tensions between the world's two most powerful economies. "If the U.S. continues to pressure China ... there is an increased chance that there will be a confrontation between U.S. and China because China feels it has no available option to pressure North Korea," Tong Zhao, a fellow at the Carnegie-Tsinghua Center for Global Policy in Beijing who studies North Korea's nuclear program, told me in a phone interview. "So we run the risk of making a problem between North Korea and the international community into a U.S.-China problem."
In Beijing following North Korea's missile test, Geng Shuang, the foreign ministry spokesman, expressed "grave concern and opposition to the DPRK's launching activities"—about as strong language as you're going to get from the Chinese government. Geng also noted that China "fully, accurately, earnestly and faithfully implements" UN resolutions against North Korea, and did not explicitly rule out participating in more sanctions. But as I've previously noted, North Korea is already under multiple rounds of U.S. and UN sanctions, and it's not clear what additional diplomatic steps can compel it to change its ambition, which it now appears to have achieved: having an ICBM that can hit the contiguous United States, theoretically with a nuclear warhead.
But realistically, if there were an economic way to exert more on pressure North Korea, it would have to come from China. (China, for its part, argues that its influence over North Korea is limited—and Beijing and Washington are at odds over the nature of the crisis.) Zhao said China has already taken some important steps that could hurt North Korea economically, but it can still limit the number of North Korean workers in China, a major source of foreign exchange for the regime in Pyongyang, and stop the export of crude oil and oil products to North Korea; the exports provide an economic lifeline to the North Korean regime.
"I think China will be okay to further cut the North Korean laborers working in China—or even agree to completely prohibit North Korean workers. But that's not something really big," Zhao said. "The oil supply is something really big, but I think China would still face a lot of difficulties in cutting off the oil supplies given the potential that cutting oil supplies could really destabilize the regime."
In Washington on Thursday, Rex Tillerson, the U.S. secretary of state, said China was "doing a lot" on the North Korean issue, but added: "We do think they could do more with the oil, and we're really asking them to please restrain more of the oil—not cut it off completely. That was the most effective tool the last time the North Koreans came to the table, was cutting the oil off."
Writing in Axios Thursday, Bill Bishop, the China expert, argued that if China doesn't take the kinds of strong steps the U.S. wants it to take, Washington could sanction Chinese financial institutions. Bishop argued that would be counterproductive, "as the anger in Beijing may lead China to halt any cooperation with the U.S. over North Korea."
The U.S. wants North Korea to commit to denuclearization before it begins talks, something Pyongyang will not do. But China has another worry: regime collapse in North Korea, which could create a refugee problem on its border and, ultimately, a reunified Korean Peninsula allied with the United States.
This means that China perceives its security threatened from several different directions—not just from the North Koreans. "North Korea's continuous provocation directly undermines China's security interest, [and] provides an excuse, from the Chinese perspective, for U.S., South Korea, and Japan to strengthen their security alliance," Zhao said.
He said China will likely send a strong signal to North Korea that it is unhappy. Indeed, in recent weeks and months, China suspended Air China services between Pyongyang and Beijing and closed the Friendship Bridge in  Dandong, on the border between the two countries.
Yet Zhao said that if the North now launches some sort of diplomatic offensive, "that's something very important, potentially. If that happens, Beijing will be happy to slow down their imposition of new sanctions in order to promote this opportunity.
Still, even if  China is willing to take more steps against the North, Zhao said, "but realistically I don't think there's much left for China to do."