Religious Bias Is Distorting American Foreign Policy
The administration is imperiling the very minority communities it claims to want to protect.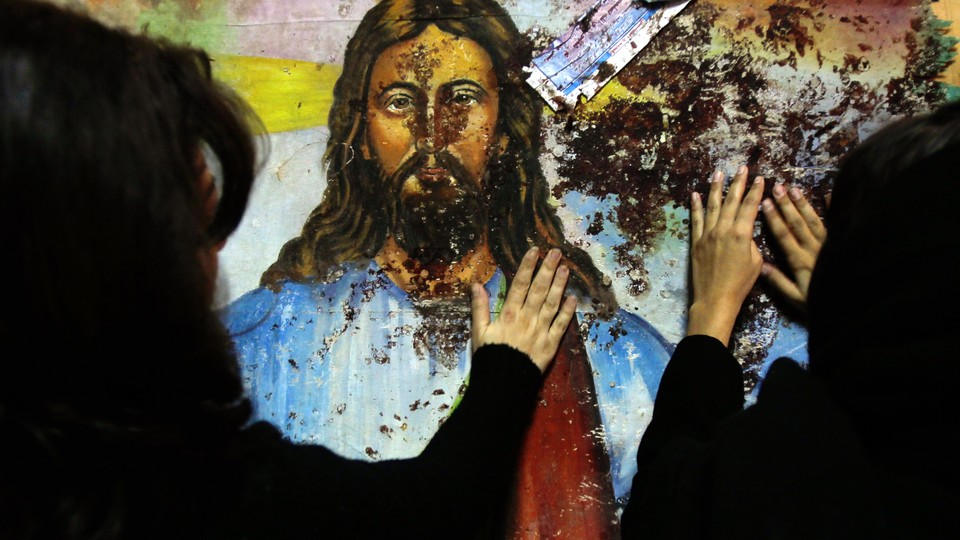 Among the many odd elements of President Donald Trump's announcement that the U.S. Embassy in Israel will move to Jerusalem is that it comes precipitously in advance of Vice President Mike Pence's trip to region. The purpose of the trip was to show solidarity with the plight of Christians in the Middle East, yet Christian leaders—including the Coptic Pope—are refusing to meet with Pence. What those leaders understand, which the Trump administration seems not to, is that Christians in the Middle East have lived and will continue to live in societies where Muslim majorities determine political and social outcomes, and those outcomes become less tolerant when religious minorities are perceived to be the exclusive beneficiaries of U.S. policy.
In October, speaking at an annual solidarity dinner for the advocacy organization In Defense of Christians, Pence committed the Trump administration to "work hand in hand from this day forward with faith-based groups and private [organizations] to help those who are persecuted for their faith." This was wonderful news. Faith-based organizations are some of the best and most active means by which Americans reach out into the world.
The problem is that the Trump administration—and Republicans in Congress like Ted Cruz—seem when it comes to Muslim countries to want to help only Christians and minority groups. Such a blatant religious bias is actually harmful to Christians, Jews, and other minorities living in the Middle East. They live amid Muslims who are also suffering persecution and violence. Muslims are, in fact, the main targets and victims of terrorism in the Middle East. Fostering commonality among sectarian communities on the basis of that sad legacy can help advance America's goal for the region, which is to foster capable and tolerant multi-sectarian states.
I saw fissures widening already when I was in Iraq at the invitation on the UN High Commissioner for Refugees earlier this year: Christian communities are receiving financial assistance from the global faithful and therefore able to rebuild their houses of worship and their communities faster and more opulently than their Muslim neighbors. It is breeding resentment.
That resentment extends beyond those living in Iraq to those providing the assistance: The narrative is taking hold that the U.S. doesn't care about Muslim lives or sorrows, only about Christians—which will make advancing America's interests in the region more challenging.
President Trump's announcement about relocating the U.S. Embassy reinforces that story line. By speaking only of Israel's claims and underscoring their religious basis, the Trump administration demonstrated its indifference to the religious and political claims of Palestinians. The president could easily have also spoken of an embassy for Palestine to be located in East Jerusalem, as Martin Indyk has recommended. But he did not.
The administration's discomfort with multinational institutions further aggravates the problem. By arguing that "our fellow Christians and all who are persecuted in the Middle East should not have to rely on multinational institutions when America can help them directly," Pence ensures that the U.S. will not be associated with multilateral assistance that is received by Muslims.
The administration is acting on that bias by holding up funds pledged to the UN by USAID. Which is a shame, because the UN is doing work the government of Iraq badly needs done, and on which U.S. policy depends. The UN provides assistance to refugees on the basis of need and vulnerability, and that assistance is urgently needed by the victims of ISIS.
Would all of the UN's projects meet stringent criteria for effectiveness? No. But development assistance never does—efficiency is not the right metric for judging development programs. Reach is a better metric—how many people are receiving assistance? Effectiveness is a better metric—is the assistance what the recipients want and need? The UN Development Program has 1,200 projects underway in Iraq, with assistance directed toward priorities established by the Iraqi government. Those priorities reach across religious communities to build the multi-sectarian Iraq that Iraqis, and the United States, want. Targeting assistance and attention to Christian communities to the exclusion of their Muslim fellow citizens is ultimately bad for Christian communities and bad for American interests in the Middle East.