The Strange Case of Lebanon, France, and a Prime Minister's Unresignation
The Saad Hariri saga is key to understanding Emmanuel Macron's foreign-policy vision.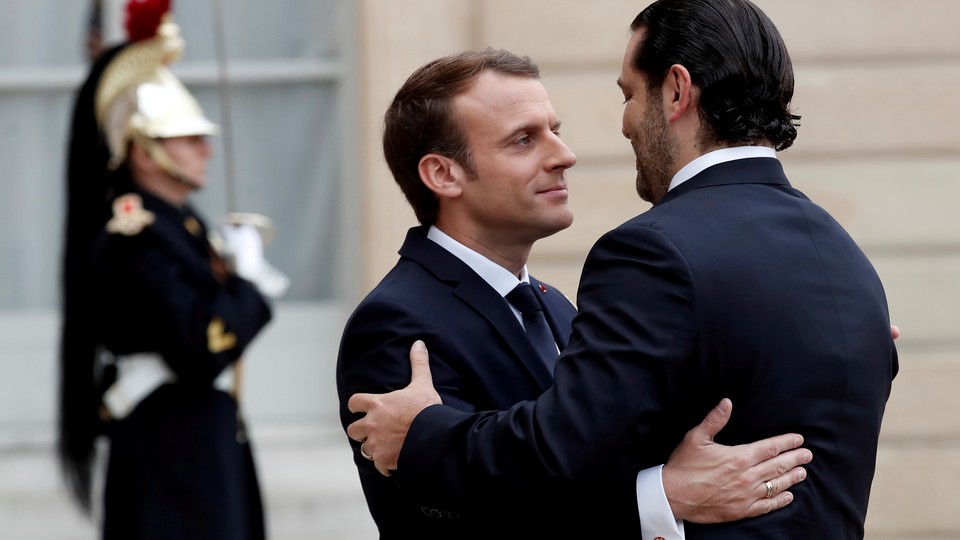 Saad Hariri is back.
The prime minister of Lebanon, who unexpectedly resigned from his post in November under mysterious circumstances in Saudi Arabia, returned to Beirut last week, and this morning announced that he was revoking his resignation. The announcement came following a consensus deal reached with rival political parties in the course of coalition talks, widely seen as move to isolate Hezbollah from the current government. For this, he has made clear, he has one person to thank: Emmanuel Macron, the president of France.
This morning's announcement was yet another strange moment in an eventful month for Lebanon. The saga's cast of characters alone would make for great television: The new Saudi crown prince, Mohammed bin Salman, who allegedly orchestrated Hariri's resignation from Riyadh, and proceeded to arrest some 500 people on corruption charges; the Lebanese president, Michel Aoun, a Maronite Christian and a domestic ally of the Iranian-sponsored Hezbollah, who claimed that Hariri had been kidnapped by the Saudis; Hariri himself, a dual Saudi-Lebanese citizen who went to Riyadh without notifying his own advisers and has extensive business holdings in, and personal ties to, the Gulf kingdom; and, finally, Macron, who convinced Mohammed bin Salman to let Hariri come to France (where he stayed in the official presidential residence for three days) and, last week, to go back to Lebanon, ending a three-week-long standoff between the Saudis, the Lebanese, and the Iranians.
Macron's decision to insert himself into this crisis surprised many. France, after all, is no longer the great power of the region, as it once was. But his motivations for doing so were rooted in a shared history, one based on mutual economic and strategic interests. Lebanon was a French protectorate from 1920 to 1944 and retains strong economic, cultural, and political ties with its former colonial power (French is Lebanon's second language, after Arabic). Lebanon hosts a French military base and 900 French soldiers under UN mandate. France is one of Lebanon's largest trading partners, and Lebanon is the biggest beneficiary of French foreign aid in the region. Lebanon is also a crucial partner in the refugee crisis and the fight against the Islamic State. There are good reasons that Macron is deeply invested in Lebanon's stability.
For Hariri, Macron's backing gives his weakened government a lifeline. Burdened by an widening public deficit, an unprecedented influx of refugees into the country, and the Syrian civil war at its border, Lebanon's economy has worried analysts and elicited comparisons to that of Greece in 2009, at the verge of the eurozone crisis. In September, after Lebanese President Michel Aoun's visit to Paris, Macron pledged to organize two international conferences, one in support of the Lebanese army and the other for potential investors. He has also maintained France's pledge (made by his predecessor, François Hollande) of €100 million to help strengthen the Lebanese military over three years. Macron's support, in short, helps buy Hariri legitimacy, both in Lebanon and in the international arena, at a time when his country has become a battleground in the proxy war between Saudi Arabia and Iran.
What Macron gets out of supporting Hariri is perhaps less obvious, but crucial to understanding his policy towards the Middle East and North Africa region. Hakim El Karoui, an expert on Arab politics at the Paris-based Montaigne Institute, argued in a recent paper that France should reclaim its historical role as a "stabilizing force" in the Middle East, including through mediating regional conflicts, as it has in the past. "Macron has understood that," he stressed. Of Hariri's shock resignation in Saudi Arabia, Karoui said, "A few years ago, France would never have allowed this to happen."
In helping Hariri, and mediating between the Saudis, the Lebanese, and the Iranians, Macron seems to also be taking advantage of America's seeming retreat from regional diplomacy. President Donald Trump has not yet nominated ambassadors to either Saudi Arabia or Lebanon. "A space has opened up due to America's absence," El Karoui said.
As for what France plans to do in this space, Macron gave a few hints in a press conference last month. France, he said, would focus on "peace building," and avoid "interfering in any national or regional divisions, or choosing one side against the other." He warned that, "where many would like to drag the Western powers into the growing opposition between Sunnis and Shiites," he would resist the temptation.
But it is unclear how he plans to square his wish to be a major player in the region with his aversion to getting involved in sectarian battles, or even how he plans on convincing the Middle East that it should welcome France's return. France's track record in the region is not particularly good, and presidents before him (most notably, Nicolas Sarkozy) have promised and failed to reform relations with the region. What makes Macron think he can do better?
Regardless, the Hariri family might not be the best partner to start with. Their relationship with the French presidency has been plagued with accusations of corruption and influence-peddling since the 1990s. Rafiq Hariri, Saad Hariri's father, was a businessman and prominent politician in Lebanon, who was assassinated in 2005, and enjoyed a close friendship with former French President Jacques Chirac. In 2007, at the end of Chirac's presidency, he and his wife moved into a €4.4-million ($5.2 million) apartment reportedly loaned to them by the Hariri family, for a "temporary" stay that continued until last month. French media outlets, including Libération and Le Figaro, have reported on their close ties, with some alleging that Chirac's policy towards Lebanon was influenced by his friendship with the late Hariri. Both men repeatedly denied all allegations of impropriety, but the rumors have resurfaced amid this latest Lebanese crisis.
Macron has taken great care to show that, on this and other issues, he is different from his predecessors, notably by emphasizing that he comes from a younger generation of politicians, untainted by previous scandals. Still, it would be difficult for him to dodge this past entirely with the emergence of a new Hariri on the French political scene.
And Macron already has a Hariri scandal of his own. When the Hariris' construction company, Saudi Oger, went bankrupt in July 2017 and fired thousands of its employees, 240 French workers were laid off and are now claiming roughly €20 million ($23.7 million) in back pay and social security taxes. When asked about the matter in his recent interview, Hariri stated: "They will be paid as soon as we get paid [by the Saudi government]."
But not everyone was convinced. Caroline Wasserman, the lawyer representing some 85 of the ex-Saudi Oger employees in France, told me that "Hariri's attitude has been completely irresponsible … If Saudi Arabia pays him, it's not certain he will then forward the payments to his employees, because I do not trust him to do so," she said. She told me that the Élysée's diplomatic arm reached out to her this week about the case, indicating that Macron is interested in finding a solution for the workers—good timing, since Hariri now owes him a favor (or two).
Macron scored a major diplomatic win in the Middle East by engineering Hariri's return to Lebanon, but there is a cost to every victory. If he intends to fill the diplomatic space left in the region by the United States, it's likely he'll have many more opportunities to try out conflict mediation—and like the United States, will find that the big wins are rare.