Jared Kushner Responds (Very Briefly) to Flynn's Plea Deal
His reaction challenged the U.S. political norm of "one president at a time."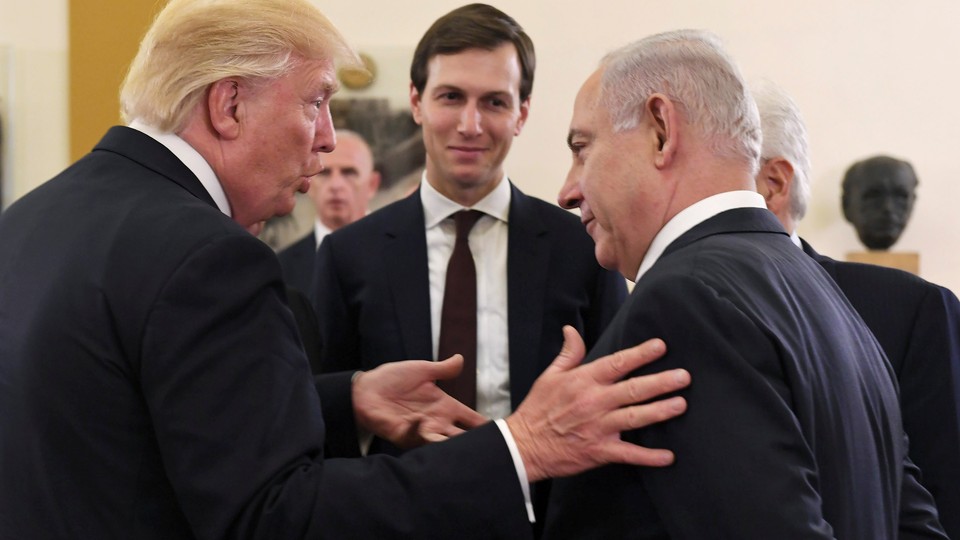 When Jared Kushner, Donald Trump's son-in-law and all-purpose aide, made a rare public appearance on Sunday in Washington, D.C., it didn't take long for the investigations engulfing the White House to come up.
Two days earlier, Trump's former national-security adviser, Michael Flynn, had pleaded guilty to making false statements to federal investigators about his conversations with former Russian Ambassador Sergey Kislyak during the presidential transition, including one in which he urged Russia to delay or vote against a UN Security Council resolution condemning Israeli settlements in the West Bank and East Jerusalem. The plea-deal documents indicated that "a very senior member of the Presidential Transition Team" had instructed Flynn to contact officials from several countries, including Russia, in an attempt to defeat the resolution. Journalists subsequently reported that this senior transition official was Jared Kushner.
"You and your team were taking steps to try and get the United Nations Security Council to not go along with what ended up being [an] abstention by the U.S.," said the Israeli-American billionaire Haim Saban shortly after Kushner took the stage at the eponymous Saban Forum, an annual gathering of U.S. and Israeli leaders organized by the Brookings Institution. "As far as I know there was nothing illegal there. But I think that this crowd, and myself, want to thank you for making that effort." It was a stunning way to open the discussion—not with a pointed question of a man at the center of a churning news cycle, but with pointed praise.
Kushner nodded, smiled tightly, and seemed to mouth "thank you" as the applause rolled in. He said nothing else on the matter. Notably, he didn't refute reports of his involvement in Flynn's outreach.
That there was "nothing illegal" here isn't a universally held view; some point to potential violations of the obscure, nearly-never-enforced Logan Act, which prohibits unauthorized private U.S. citizens—which Flynn and Kushner were back in December 2016 when the UN resolution came up for a vote—from negotiating with foreign governments. But more remarkable than Saban's observation about the law was the subtle statement that he and Kushner made about the long-held, seemingly unshakeable political norm that the United States has one president at a time. The message from their brief exchange on the Flynn news was that if the cause is worthy enough, there's no problem with having two presidents at once.
In this case, the incoming Trump administration had opposed the outgoing Obama administration's decision to abstain from (rather than veto) the UN resolution—a last-ditch effort by Barack Obama to register his disapproval of Israel's policy of permitting Jewish settlements on land that could one day be incorporated into a Palestinian state. Israeli officials reportedly lobbied Trump to undermine President Obama's plan and the president-elect appeared to oblige, tweeting that the United States should veto the resolution and speaking by phone with Egyptian President Abdel Fattah el-Sisi, whose government had introduced the resolution. Now we know that Flynn, and perhaps Kushner as well, were also engaged in the campaign to counter Obama at the United Nations. (Also opposed to Obama's action was Saban, who donated millions to Hillary Clinton's campaign and once described Trump as a "conman" who would be "disastrous for Israel," but who nevertheless argued that Obama was chipping away at America's "long-standing support for Israel" by not fighting the "biased" resolution.)
The Trump transition team's gambit ultimately failed. The United States abstained from the UN vote and every other country on the Security Council, including Russia, backed the resolution. But in so publicly and vigorously seeking to thwart the president he would succeed, Trump defied a standard of conduct that, while far from inviolate, had served as a guide for the presidents-in-waiting who preceded him.
This tradition informed President-elect Bill Clinton's reflection, just a day after his defeat of President George H.W. Bush in 1992, on continuity in American foreign policy. "During the transition that is now beginning, I urge America's friends and foes alike to recognize, as I do, that America has only one president at a time, that America's foreign policy remains solely in his hands, that even as America's administrations change, America's fundamental interests do not, that the greatest gesture of goodwill any nation can make toward me is to continue their full cooperation during this period with our one president, George Bush, and that the greatest mistake any adversary could make would be to doubt America's resolve during this period of transition," Clinton said.
The tradition was also invoked by President-elect George W. Bush in his dismissal of a question about Clinton's plan for Israeli-Palestinian peace in 2000. "We have one president, and we'll have one president, and the current president is President Clinton. And our nation must speak with one voice, and therefore, his is the voice that needs to speak." It resonated again in President-elect Barack Obama's refusal to comment on talks to end the 2008-2009 Gaza War. "I will continue to insist that when it comes to foreign affairs, it is particularly important to adhere to the principle of one president at a time, because there are delicate negotiations taking place right now, and we can't have two voices coming out of the United States when you have so much at stake."
In his conversation with Saban on Sunday, Kushner offered few details about the Israeli-Palestinian peace initiative he's leading. But in accepting Saban's thanks, he was accepting gratitude for departing from the vision that had animated Clinton, Bush, and Obama's foreign policies—one in which the institution of the presidency trumps the individual president, where America's interests abroad take precedence over policy differences at home.