Germany's Perilous Political Dance
Can its two most-powerful parties reconcile their differences and stave off a rising far-right?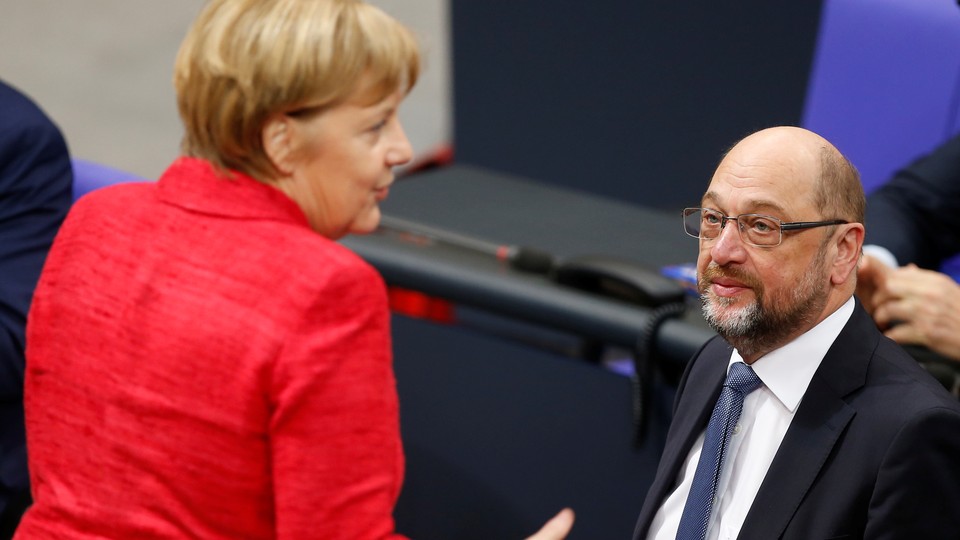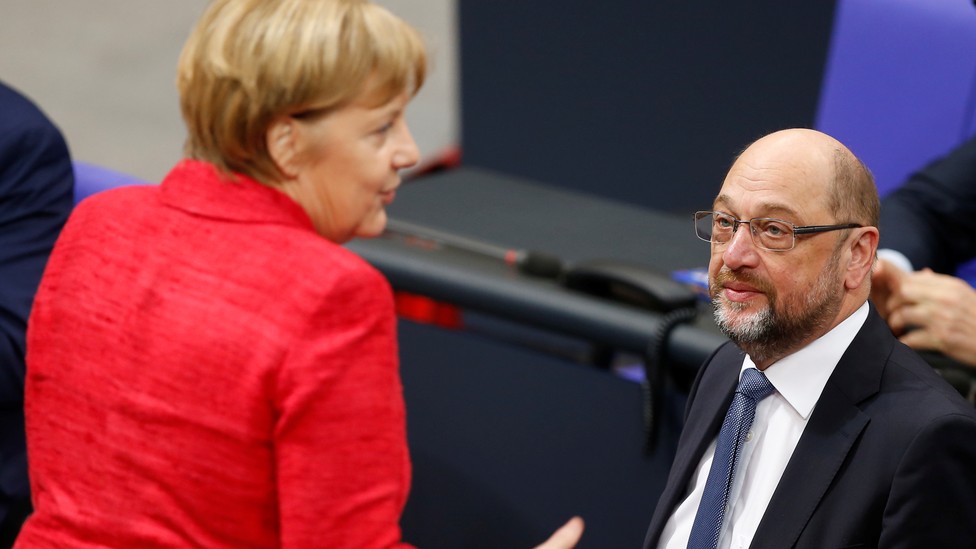 Early Thursday afternoon, Martin Schulz, the head of the center-left Social Democrats (SPD), Germany's second-largest party, strode onto the stage in Messe Berlin, the city's trade fair center, as hundreds of delegates crowded in. It was the party's national convention, and Schulz hoped to be re-elected as its leader. Equally important, however, was his proposal to begin talks with Chancellor Angela Merkel's conservatives on possibly forming a coalition government together—the same coalition that has governed Germany over the last four years.
As Schulz implored delegates to back him, just outside the sprawling convention hall, the party's youth wing had erected a white board plastered with multi-colored notes listing all the reasons why they virulently opposed another four years of sharing power with Merkel: No political common ground and A grand coalition would strengthen the far-right, read two of them; another stated I already have a mommy—a reference to Merkel's nickname, Mutti Merkel, or "Mommy Merkel." Conscious of the dissent, back inside the convention hall Schulz emphasized the importance of reversing the party's fortunes while holding open the option of working with Merkel again. "We don't have to govern at any cost, but we also can't refuse to govern at any cost—the crucial point is what we are able to implement," he said. After hours of fiery open debate, a broad majority of delegates cleared the way for Schulz to resume talks with Merkel.
Despite their recent shared history, the two sides have had a remarkably difficult time finding their way back to each other. Both Merkel's center-right and Schulz's center-left blocs are wary of reviving a political marriage that many believe has run its course. But with Germany experiencing an unfamiliar bout of political uncertainty, their fates are bound once again.
The SPD is still reeling from Germany's national election in September, in which it won just 20.5 percent of the vote—its worst result since the end of World War II. Merkel's Christian Democratic Union (CDU) and its sister party, the Christian Social Union (CSU), also sputtered, dropping nearly nine percentage points. The far-right populist Alternative for Germany party (AfD), meanwhile, won nearly 13 percent, entering the Bundestag for the first time.
The anger between Schulz and Merkel's camps is real. Back on election night, a grim-faced Schulz announced the SPD would lead the opposition. He accused Merkel of refusing to engage in any real debate, allowing the right-wing populists to flourish. Merkel fired back, deeming the SPD unfit to govern. But when her efforts to cobble an unlikely coalition with the Greens and the pro-business Free Democrats imploded, the chancellor acclaimed for winning hard-wrought compromises on the international stage found herself diminished at home.
Merkel now faces the prospect of forming a minority government—unprecedented in German history. She would be forced to corral votes among opposition parties in order to push legislation through both houses of parliament. The SPD has floated the possibility of tolerating a minority government in lieu of joining a coalition—in other words, they would pledge their votes to Merkel on policy issues where they concur, but would not be compelled to compromise on issues where they do not. Yet in a parliament where the AfD holds 94 seats, this could force Merkel to rely on the far-right's votes, a prospect she has spurned.
Defense Minister Ursula von der Leyen, a close ally of Merkel's within the CDU, said a minority government, while not their first choice, would "significantly elevate the importance of our parliament—it would mean putting forth proposals every time and then ask who is on board," she told me. "It is indeed uncommon for Germany, but it would truly put our sincerity and duty to voters to the test."
Germany's President Frank-Walter Steinmeier, a Social Democrat before taking the post, is tasked with solving the stalemate. He could dissolve parliament and call for fresh elections—an option he has rejected. Instead, he has appealed to major parties to rethink their positions and duty to the country. Especially the SPD.
Ralf Stegner, one of the party's deputy chiefs, argued that it is on Merkel, who failed to build a coalition government, to find a way out of the mess. "If there is one party that does not need to be attacked for putting party interests over those of the country, it is us," he told me. "It's not us that want something from the conservatives, but the other way around." And so a leery SPD will enter talks with Merkel seeking to extract concessions: embracing French President Emmanuel Macron's plans for closer cooperation and integration on the European level; dramatically increasing education spending; abolishing short-term or limited work contracts; closing the gender pay gap; and discarding private health insurance. (German healthcare works as a dual private-public coverage system.)
Yet even if Schulz can secure guarantees on all of these issues, many Social Democrats will be reluctant to join Merkel's conservatives. The party has long championed social and economic justice issues, from workers' rights to fairer income distribution and women's suffrage. But over time it has shifted towards the center, embracing a market-economy system and expanding its traditional base beyond blue-collar laborers and low-income earners to include academics, white-collar workers, and the self-employed. Consequently, the party struggled to define itself, and saw its share of the vote shrink. A rupture came in 2003, when former SPD Chancellor Gerhard Schröder passed his Agenda 2010 reforms, slashing unemployment benefits, limiting workers' job security, and paring back the welfare system. For the party's low-income earners and trade unionists, this was a bitter betrayal. A splinter party of disillusioned Social Democrats emerged, which eventually became Die Linke, or The Left party.
Since then, the SPD has wilted in Merkel's shadow. She has accommodated shifting public opinion and adopted center-left positions, leading the Social Democrats to accuse her of opportunistic appropriation. The party helped her push through Germany's first nation-wide minimum wage and a lower retirement age for some Germans, for example, with her government taking the credit. If the SPD has been the government's engine, as former SPD chief Sigmar Gabriel once posited, Merkel is at the wheel. "What do Social Democrats stand for in the 21st century? Our biggest problem is that we've lost our identity," Schulz lamented on Thursday.
Jan Techau, director of the Richard C. Holbrooke Forum for the Study of Diplomacy and Governance at the American Academy in Berlin, told me the Social Democrats have internalized all this as a sort of trauma. But they also allowed Merkel to shine at their expense. "The Social Democrats were plowed under because they were actually too weak to dance with Merkel. The SPD's problem is not Merkel's strength—it's their weakness," he said.
Yet Merkel, too, has seen her power ebb. The coalition government of the past four years came to be viewed by some as a union of stagnation: an opposition too weak to resist, and Merkel's conservatives out of touch with voters' needs, too concerned with maintaining the status quo and clinging to power, goes the argument. Critics accuse the grand coalition of undermining German democracy and fueling the rise of extreme parties. Another four years, they warn, would spell outright doom.
For a grand coalition to succeed now, both the Social Democrats and Merkel's conservatives must assess how much they can achieve together, and how fast, Jan Techau said. Their failure could further embolden the AfD. "It's the big risk and one of the reasons why some of the SPD are so fundamentally against a grand coalition," Techau said.
In the end, Merkel still holds the mandate to build a government. "There are few heads of state in the world who have as much experience in managing crises, solving problems, and bringing people together ... And that is reflected in the polls as well: People trust her more than anyone else," Ursula von der Leyen said.
Merkel could, of course, spin this political instability into a success. The day after coalition talks collapsed, the chancellor, cloaked in her usual implacable calm, told a journalist: "I'm not afraid of anything." Not even fresh elections. The Social Democrats insist all options are on the table as they initiate talks with Merkel's conservatives. If there is a new vote, however, there is little indication any of Germany's parties would stand to gain or lose very much, likely prolonging the current deadlock.