Palestinians Are Facing Their Worst Fears About America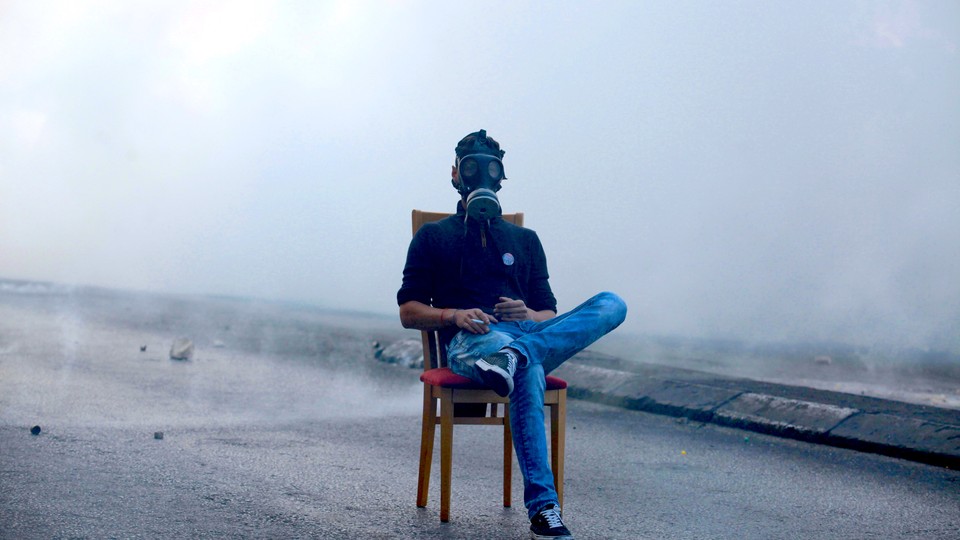 President Trump's decision to recognize Jerusalem as the capital of Israel and move the U.S. embassy there stunned many observers. Who would've thought we'd see such a dramatic break from U.S. policy on the city's status? What about the implications for the two-state solution, the hallmark of the decades-long peace process between Israel and the Palestinians? How could this happen?
A better question is: How could this not happen? For the last 25 years, the peace process has been hurtling toward this very moment. Decades of playing the lopsided negotiations game has brought us face-to-face with the simple truth that the Palestinians pay a serious price for not negotiating—indeed, their lands are taken by Israeli settlements, some people are jailed and killed, and many are forced to eke out an existence on the margins of the Israeli economy—while the Israelis do not. Israel has had comparatively little motivation to negotiate when, with U.S. cover, it has been allowed to continue the status quo of occupying the West Bank and blockading the Gaza Strip.
For many ordinary Palestinians, the move simply reinforced what they already believed: The U.S. was never an honest broker between the two parties, and the pipe dream of pursuing statehood under a historic peace deal is over. The peace process was always just a fig leaf foisted upon the Palestine Liberation Organization, which was left with very few other options but to participate as Arab countries expelled it from their capitals throughout the 1970s and 1980s.
Trump's move places Palestinian leaders in a tight spot: Without any pretense of neutrality left in a U.S.-led peace process, the Palestinian leadership must finally concede that the charade is over and no outside help is coming—not from the Americans, not from the Europeans, not from anyone. Palestinian President Mahmoud Abbas can no longer use the peace process and foreign aid to pacify Palestinians in the face of the daily indignities experienced living under Israeli occupation. Palestinians are demanding a new plan that veers away from American dictates, including achieving a real reconciliation between the primary political parties Fatah and Hamas, which have been at odds for years. At the same time, Abbas cannot push back on the U.S. without jeopardizing the crucial financial support that it gives the PA, which employs one third of the West Bank and Gaza Strip's Palestinian population.
Although Trump made sure to leave the door open to future peace talks, saying the move would not affect "any final status issues, including the specific boundaries of Israeli sovereignty in Jerusalem or the resolution of contested borders," the announcement seemingly precludes a special administration for the city under UN auspices, which had been a part of previous negotiations.
Palestinians also noted the absence of a mention about their rights and aspirations to make East Jerusalem the capital of their future state. Trump made no reference to the western and eastern parts of the city, even as he spoke of the landmarks holy to the three monotheistic religions—which are situated in the Old City in East Jerusalem.
Because of this lack of specificity, many ordinary Palestinians are sure to interpret the U.S. announcement as dismissing their historical, political, and cultural ties to Jerusalem, and as disputing their right to independence and self-determination. In their eyes, it condones Israel's occupation of East Jerusalem in 1967 and implies that the city is solely Israeli.
Palestinians, especially of the younger generation, have been questioning the feasibility of a two-state solution for some time. This is a generation that came of age during the second intifada and watched its land be swallowed up by settlements and the separation wall as the years slipped by. Young men and women witnessed their own policemen arrest fellow countrymen at the behest of their occupier, while leaders placated them with empty words and slogans. They're done playing this game.
Now, they're looking at other options. Many would want the PA to cease its security coordination with Israel as a first step, while others call for the PA to be dissolved altogether. Some have turned to the movement to boycott, divest from, and sanction Israel (BDS) for guidance.
Abbas, who has long championed peace talks instead of more aggressive options like participating in the BDS movement, said Wednesday that the U.S. had effectively abandoned the peace process by recognizing Jerusalem as Israel's capital and deciding to move its embassy there.
Chief negotiator Saeb Erekat went further: He called for discarding the two-state solution entirely and shifting to a "struggle for one-state with equal rights for everyone living in historic Palestine, from the river to the sea"—a statement that would have been unimaginable just one year ago, especially coming from a man who'd been a fixture of the peace process since its infancy and made it his life's mission to negotiate (his book is even titled Life Is Negotiations).
It's this push toward a one-state model with full civil rights for all living in it that will likely garner further momentum now.
Because Palestinian national aspirations were never realized, the idea of sovereignty and self-determination still looms large in the national discourse. The vision of a single state from the Jordan river to the Mediterranean Sea was not taken seriously at first and was rejected by the majority of Israelis and Palestinians since the Oslo Accords and the two-state peace process began. It was often ridiculed as a fanciful notion of the far-left or as an academic exercise that would never be feasible in real life.
But after years of entrenching a civilian and military population in the West Bank, and spending millions of dollars on infrastructure to support them, Israel is so intertwined with its settlements and army bases there, that now pulling out is seen by many as the impossible fantasy.
Indeed, in February, according to a poll carried out by the Tami Steinmetz Center for Peace Research at Tel Aviv University and the Palestinian Center for Policy and Survey Research in Ramallah, 44 percent of Palestinians said they back the two-state solution, a decline from 51 percent who supported this approach in a similar survey from June 2016. Further, just over one-third of Palestinians and a majority of Arab Israelis supported one state as well as a confederation, while 24 percent of Israelis backed one state and 28 percent a confederation.
If there is a silver lining to Trump's announcement, it's that it provides clarity and a unifying objective for Palestinians. Last summer, a wave of civil disobedience by Palestinians on both sides of the Green Line forced Israel to give up on its unilateral measures regarding Jerusalem's Haram al-Sharif compound (also known as the Temple Mount), which houses the Al-Aqsa mosque. The PA had no say in the matter, and it was religious leaders who took their cues from ordinary Palestinians when they rallied for support. These events showed ordinary Palestinians that they have some power to change what's happening on the ground: They can rally, strategize, and mobilize. And with a vision for a one-state solution unimpeded by a sham peace process and finally able to gain traction, a new reality seems possible.