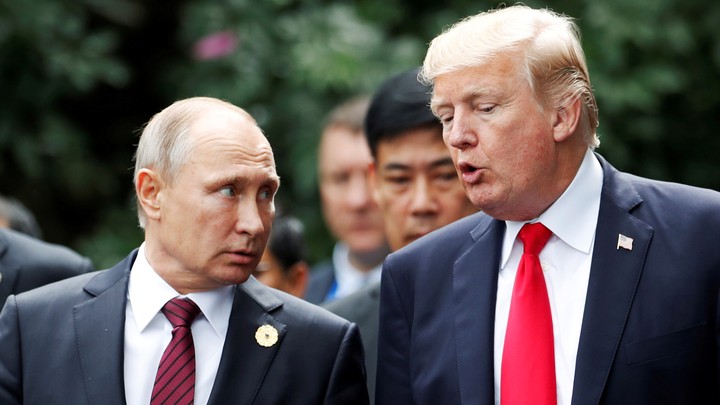 What We're Writing
The United States and Russia: In her new magazine cover story, Julia Ioffe posited a simple thesis about Vladimir Putin: that he is not the manipulative mastermind America thinks he is. In a video, Julia explains how Russia hacked the U.S. presidential election—and why it will happen again. Russian cyber warfare will only get better; the question is how willing Americans are to defend themselves against Russian attacks on their democracy. Julia also joined our podcast, Radio Atlantic, to discuss her cover story and the recent announcement that Putin will run for reelection as president of Russia. Meanwhile, policymakers ranked the possibility of a conflict between Russia and another NATO country as a high-priority threat and one of the global conflicts to watch in 2018.
Trump's Unpredictability: An administration staffer's preview of the Trump National Security Strategy (NSS) offered a glimpse into a national-security vision that is divorced from the reality of the president's first year in office, writes Kate Brannen. National-Security Adviser H.R. McMaster also provided an advance overview of the plan this week, outlining a vision of American foreign policy devoid of the traditional emphasis on values, according to David Frum. And Krishnadev Calamur writes that Trump's criticism of the media has, through his Twitter feed, encouraged dictators and authoritarian leaders around the world to lambast the press.
---
Snapshot
Japan's demographic crisis is forcing the country to adapt to its aging population. Amid this elder boom, a new multi-billion-dollar industry has emerged to cater to this segment of the population. It is known as "the silver market." Read about it here.
---
Quoted
"Christian communities are receiving financial assistance from the global faithful and therefore able to rebuild their houses of worship and their communities faster and more opulently than their Muslim neighbors. It is breeding resentment," writes Kori Schake. Read why she thinks the Trump administration is wrong to favor Middle Eastern Christians over Muslims here.
"You can forge anything these days. We are living in a fake-news era," said Syrian President Bashar al-Assad, one of several leaders around the world who have taken a page from the Trump playbook in criticizing the media. Read about the others here.
---
Our Long Read of the Week
Uri Friedman interviewed Senator Lindsey Graham this week about his views on the crisis with North Korea, the Iran nuclear deal, and how he thinks the Trump administration will respond to the nuclearization of the Korean peninsula. The senator put the chances of Trump ordering a military operation against North Korea at 30 percent. Read why here.
The South Carolina Republican—a brutal critic of Trump's during the 2016 presidential campaign who has since become an unlikely ally on issues like countering North Korea and plugging holes in the Iran nuclear deal—expressed greater certainty about a related matter. Graham says Trump "has 100 percent made up his mind that he's not gonna let Kim Jong Un break out," which Graham defined as achieving the capacity to "marry up a missile and a nuclear warhead that can hit America effectively."

Many experts think North Korea has essentially reached this milestone already through its increasingly sophisticated nuclear and missile tests, while others argue that the North is still months or years away from that goal. But Graham bypassed these technical debates to focus on a central tension in the Trump administration's approach to the issue: The Kim regime is sprinting toward breakout, while the Trump administration's diplomatic campaign to persuade China and other countries to impose stiffer sanctions and other forms of pressure on North Korea is moving forward, but slowly. It's a race. And there's currently a clear frontrunner.
---
What We're Reading
Radio Nowhere, by Amandas Ong, is the story of a Syrian radio station and how it conducts its civic activism from Istanbul, Turkey, spreading information about the Syrian civil war. (Via Roads & Kingdoms)
The Secret History of the Russian Consulate in San Francisco, by Zach Dorfman, explores the storied past of a recently-closed consulate, which ran a sophisticated network of espionage in an unlikely location. (Via Foreign Policy Magazine)
Inside China's Vast New Experiment in Social Ranking, by Mara Hvistendahl, explores the privacy implications of the Chinese online payment platform Alipay and the three-digit credit score it assigns its users—a measure of social ranking that has immense implications for the way we conduct our financial transactions and our lives. (Via Backchannel)
We want to hear what you think about this article. Submit a letter to the editor or write to letters@theatlantic.com.