A Week Around the World With The Atlantic
North Korea's nuclear progress, Burma's papal visit, and more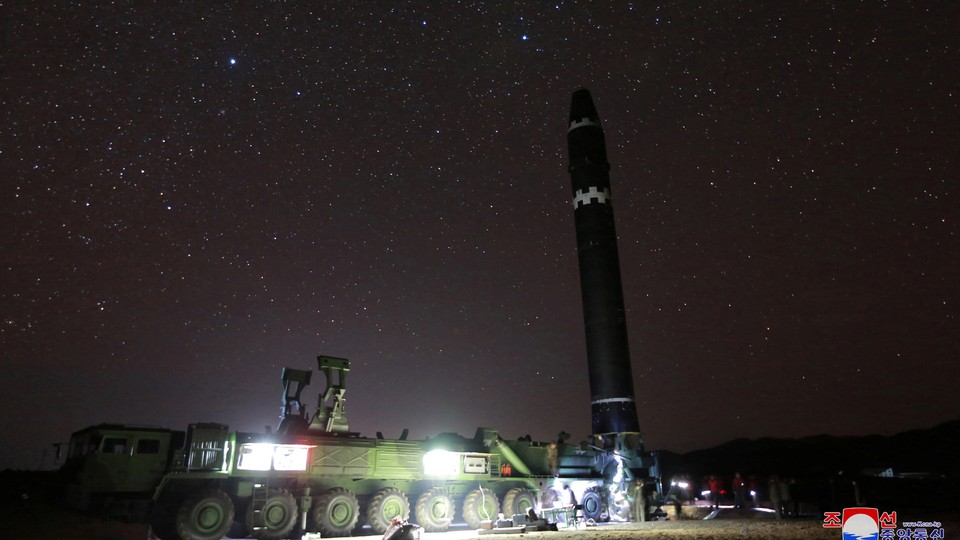 What We're Writing
North Korea Is Back: North Korea launched an ICBM on Tuesday after a 74-day pause in its missile testing activities. The initial response it elicited from the Trump administration was limited to a tweet promising to "take care of it." After the test was concluded, North Korea declared itself a fully-developed nuclear power and is believed to have the capacity to launch a missile that would hit the continental United States. This new reality needs a strong U.S. response—and Mira Rapp-Hooper argues that the Trump administration needs to understand that demanding disarmament is no longer on the table. Any future negotiation on the North Korean nuclear program will need to involve China—but, as Krishnadev Calamur explains, the U.S. and China differ greatly in their evaluation of the threat North Korea poses.
Deception in the Hands of Autocrats: Amy Zegart argues that great-power deception has evolved, and autocratic powers are now armed with viral platforms like Facebook or Twitter—and the capacity to take their misinformation campaigns global. Julia Ioffe explains that Vladimir Putin already uses the tools of misinformation and corporate pressure to censure freedom of the press in Russia, and she's worried that the same thing is happening in Trump's America. And Turkish President Recep Tayyip Erdogan is also using a denial and negative-press campaign to forestall the effects of the trial in the United States of Reza Zarrab, a Turkish-Iranian businessman accused of enabling sanctions-avoidance with the help of Turkish authorities.
Religious Extremism: In light of an Islamist attack that killed more than 300 people at a Sufi mosque in Egypt last week, H.A. Hellyer argues that both detractors and admirers share the same dangerous misunderstanding of Sufism as a heterodox form of Islam. A subset of Muslims is also in danger in Burma, where violence against the Rohingya is driving accusations of ethnic cleansing. Pope Francis, who visited this week, chose not to use the word "Rohingya" while in the country, possibly in order to avoid endangering the Christian minority. And in India, Harrison Akins argues, Hindu nationalism is visible in the way Uttar Pradesh's Bharatiya Janata Party government is pushing Hindutva—an ideology that puts Hindu faith and culture at the center of Indian identity—and writing out the sizable contributions of Indian Muslims, including the Taj Mahal.
---
Snapshot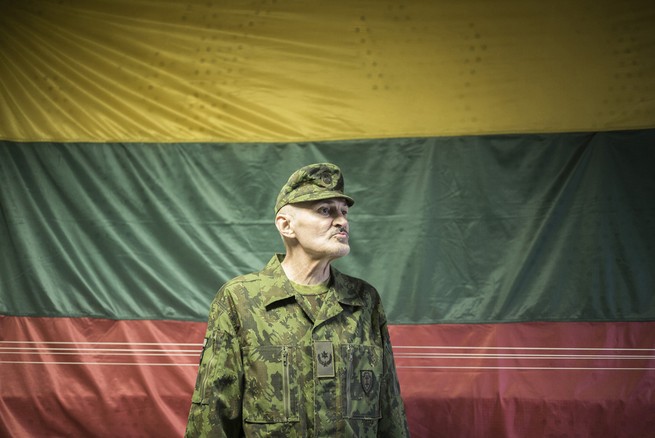 Read about the Baltic paramilitary groups who are preparing the next generation of soldiers to defend their countries against what they see as an inevitable Russian invasion, in this photo essay by documentary photographer Tomaso Clavarino.
---
Quoted
"You don't counter racism and prejudice by backing down to it," said Mark Farmaner, director of the Burma Campaign U.K. lobby group, about Pope Francis's decision not to use the word "Rohingya" while in Burma.
"Weeping, evidently, is quite a thing among jihadists," writes Simon Cottee in an essay about Thomas Hegghammer's recent book, Jihadi Culture.
"She's managed to get the [royal] family to move with the times," said Prince Harry of England as he praised the Queen's willingness to celebrate his recent engagement with American actress and activist Meghan Markle. Read about the significance of the engagement here.
---
Our Long Read of the Week
Annabelle Timsit wrote about feminists in France who are trying to make French more gender-neutral as a way to fight gender inequality. The question of whether language affects perception, which is at the center of the debate, is controversial. Read about it here.
"My homeland is the French language," author Albert Camus once wrote—and many French people would agree. That's why any attempt at changing the language is often met with suspicion. So the uproar was almost instantaneous when, this fall, the first-ever school textbook promoting a gender-neutral version of French was released.

It was a victory for a subset of French feminists who had argued that the gendered nature of the language promotes sexist outcomes, and that shifting to a gender-neutral version would improve women's status in society. Educating the next generation in a gender-inclusive way, they claimed, would yield concrete positive changes, like professional environments that are more welcoming to women.

Many others found this idea outrageous. They complained that implementing it would badly complicate education, and that there's not enough evidence that changing a language can really change social realities. Clearly in the second camp, the office of Prime Minister Edouard Philippe announced this week that it's banning the use of gender-neutral French in all official government documents.
---
What We're Reading
From North Korea, With Dread, by Adam B. Ellick and Jonah M. Kessel, is the video-based account of a trip the authors took with New York Times columnist Nicholas Kristof and editorial writer Carol Giacomo. Their plea to the international community is heartfelt: "We hope this video can serve as a call for politicians on both sides to seek exit ramps for peace." (Via The New York Times)
A People Without Refuge, by Zeenat Nagree and Hashim Badani, is a vivid depiction of a Rohingya settlement in India, where refugees await a  forthcoming court decision on whether they pose a threat to national security and will need to be deported. (Via Roads & Kingdom)
The Abandoned Children of Morocco, by Ali Berrada, tells the story of the thousands of abandoned children who are getting a second chance at a decent life, thanks to organizations like La Ligue Marocaine Pour la Protection de l'Enfance and their volunteer caregivers. (Via Pacific Standard Magazine)