The Unyielding Paranoia of Recep Tayyip Erdogan
A major sanctions case could further imperil an already fraught relationship between Washington and Ankara, and reveal the Turkish president's illicit dealings.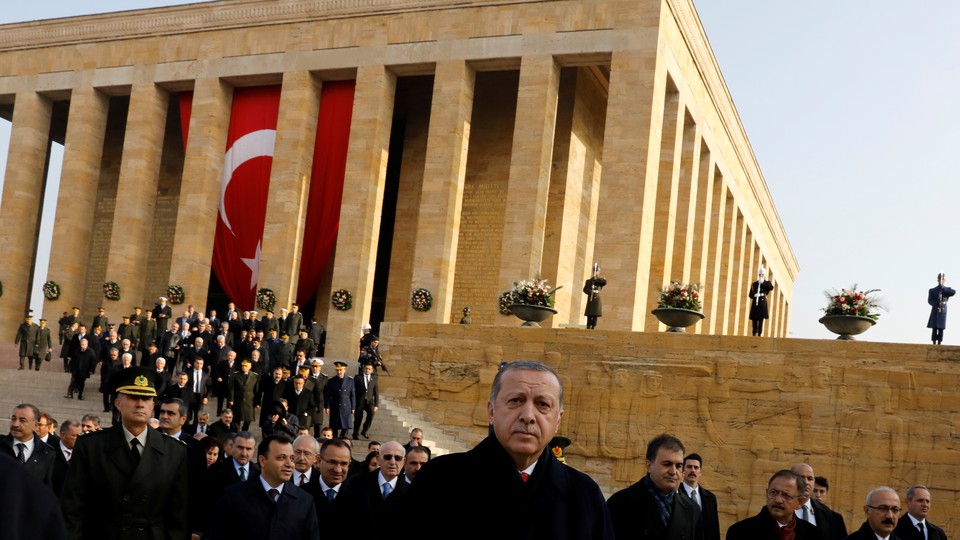 A key defendant in an Iranian sanction-busting case has now become its "most important witness." Following weeks of speculation, Reza Zarrab, a Turkish-Iranian businessman, pleaded guilty on Tuesday to charges of helping Iranian entities evade U.S. sanctions through his international network of businesses, possibly with the help of Turkish banks and government officials. Today, Zarrab is expected to testify in a Manhattan court. His testimony is likely to implicate prominent figures in both Turkey and the United States. Zarrab played a central role in setting up schemes that enabled Iran to purchase gold with oil and gas revenues at a time when the country was under crippling U.S. sanctions. He was indicted along with Mehmet Hakan Atilla, a Turkish banker in U.S. custody, and seven additional defendants, some of whom held cabinet positions under Recep Tayyip Erdogan, the president of Turkey.
Since Zarrab is now cooperating with U.S. prosecutors, his testimony is likely to damage Erdogan's international and domestic standing, ahead of Turkey's 2019 presidential elections. For this reason, Erdogan has bashed the trial, casting it as a U.S. plot to undermine Turkey's economy and unleashing a torrent of anti-American rhetoric on Turkish airwaves. Of course, ties between the Unites States and Turkey, long-time NATO allies, have been strained since Washington threw its support behind Kurdish militants in Syria, and refused to extradite exiled cleric Fethullah Gulen, who Erdogan claims fomented last year's failed coup attempt.
Aside from rattling Turkey's most powerful figures, Zarrab's testimony may also expose attempts at cooperation between the Trump administration and the Turkish government. Earlier this month, The Wall Street Journal reported that Michael Flynn, Trump's former national security adviser, who is currently under investigation for his dealings with Russian officials, and his son were to be paid $15 million to forcibly remove Gulen from his home in Pennsylvania and deliver him to Turkey. These revelations have prompted U.S. officials to investigate whether Flynn was in talks with Turkish officials to extradite Zarrab as well, though no clear links between Flynn and Zarrab been made public.
After being dismissed from his role in the Trump administration, Flynn revealed he had received $530,000 for lobbying work which the U.S. Justice Department said has "principally benefitted the Republic of Turkey." Such lobbying from the Turkish government via Flynn could have severe implications if linked to political decisions in the United States. The most prominent point of contention is Trump's firing of former U.S. Attorney Preet Bharara, who originally filed the Zarrab case and has been cast by Turkish officials as a Gulen supporter working to undermine the Turkish government. Nicholas Danforth, a senior analyst at the Bipartisan Policy Center, said he believed any evidence connecting Bharara's dismissal to pressure from Turkish officials "would be not just explosive for U.S.-Turkish relations, but for U.S. domestic politics as well."
To understand how Zarrab's case spiraled, one need only look back to Turkey, where evidence of his foul play first surfaced in 2013 and was quickly snuffed out. In December of that year, police raided the home of Suleyman Aslan, former chief executive of HalkBank, a state-owned bank, and seized $4.5 million—allegedly bribes from Zarrab—stashed away in shoeboxes. Recordings from a phone-tapped conversation from this same period, in which then-Prime Minister Erdogan allegedly instructed his son to hide large sums of cash, also surfaced. Despite the seemingly damning nature of the revelations, they were quickly dismissed in Turkish courts. Erdogan belittled the apparent graft scandals as Gulenist conspiracy. In response, government officials demoted or reassigned the judges and police officers involved in the investigation. Only three government officials tied to Zarrab's businesses eventually resigned without facing charges. They denied any wrongdoing.
Now, Erdogan fears that the evidence and testimony in the Zarrab case could give credibility to the long-dismissed charges against his government, if they are deemed valid by a U.S. court. He is also likely concerned that the trial could lead to sanctions or fines on Turkish banks, possibly weakening an already unstable Turkish economy, while paving the way for further indictments on Turkish officials.
In a speech before the Turkish parliament on November 21, Erdogan referred to the raid on Aslan's home as "one of the greatest traps in history." He has suggested Gulen and his followers are influencing U.S. prosecutors in a plot against Turkish sovereignty—a message that plays well to supporters of his Justice and Development Party (AKP), who have become increasingly dissatisfied with U.S. policy towards Turkey and the Middle East.
But these accusations don't quite square with recent history. The case against Zarrab has been building since March 2016, when he was arrested shortly after arriving in Miami—reportedly to visit Disney World with his family—though some analysts have suggested he may have negotiated his move out of Turkey with U.S. prosecutors. The coup, and Erdogan's subsequent purge of government officials suspected of Gulenist ties, occurred in July of that year. "The United States did cooperate with Turkish prosecutors, presumably some linked to the Gulen movement, in its efforts to prosecute Zarrab," Danforth told me. "But at the time the United States did this, those prosecutors were employees of good standing of the Turkish legal system who had been appointed by the AKP government." Erdogan, in other words, seems content to ignore chronology in order to suit his reading of history. For those living outside the world of Turkish politics, this might be the most important, most difficult aspect of the case to understand.
Every day, Turkey's politicians and pro-state media push conspiracy theories—stories of foreign actors trying to weaken the Turkish Republic. The intensity of the rhetoric far exceeds what westerners have come to know as "fake news," instead creating an alternate reality propped by half-truths that depict Erdogan and his government as the saviors of the oppressed people of the world, and everyone else as the enemy. When Erdogan fails, he and his coterie blame that failure on foreign actors.
Since the 2016 coup attempt, this "politics of the victimized" seems to be Erdogan's only mode. While the coup posed a very real threat to Turkey's democracy, and many people lost their lives in its chaos, the purges of thousands of people on accusations of dubious links to terrorist organizations—such as downloading a specific phone messaging application known to be used by Gulenists—is testimony to just how far the falsehoods can go.
Furthermore, Turkey's ongoing purges have put his country at odds with NATO allies, some of which have seen their citizens arrested or detained over the last year and a half. Currently, about a dozen American citizens are being held in Turkish prisons on thin allegations of collaborating with the coup plotters. More recently, two staff members of U.S. consular missions in Turkey were arrested on similar charges, prompting some analysts to claim Erdogan's administration has taken a "hostage diplomacy" approach to bilateral negotiations.
The term refers to Erdogan's unsuccessful appeals to have Gulen extradited to Turkey, and he seems to have interpreted the lack of U.S. cooperation on the matter as a personal insult, as well as additional proof that Washington is aiding his adversaries. "Erdogan puts a premium on personal relationships and, at the core, believes that relations between states are reciprocal and transactional," Howard Eissenstat, an associate professor at St. Lawrence University and nonresident senior fellow at the Project on Middle East Democracy (POMED), told me. "If I were to make a critique of U.S. policy, it would be that they over-promise and under-deliver," he added. "All these warm embraces from President Trump to Erdogan have exacerbated the situation by misleading Erdogan as to what the real capabilities of the U.S. [government] were on some of these issues."
The ongoing tensions have sent the Turkish lira tumbling in recent weeks, as few analysts expect positive developments from the Zarrab case. In a worst-case scenario, Erdogan's government could escalate the crisis by refusing to bow to foreign pressure in the form of sanctions or to pay fines imposed on Turkish entities, Eissenstat said. He could escalate, too, by limiting access to Turkey's Incirlik Air Base, which America has used for operations against ISIS in Iraq and Syria.
While some U.S. policymakers believe economic pressure could persuade Erdogan to restore U.S.-Turkey relations, Selim Koru, an analyst at TEPAV, an Ankara-based think-tank, said AKP supporters will likely be emboldened by such moves, and Erdogan's government will get a much-needed domestic boost ahead of elections in 2019.
"The more pressure the outside world puts on the Erdogan government, and the more they threaten or even seem to threaten Turkey's sovereignty, the less likely it is for the country to have a democratic future," Koru said.