Yanis Varoufakis, the Bad-Boy Former Finance Minister, Is Back
In a new book, a star of the European left argues that Greek's financial crisis prefigured the fissures afflicting Europe today.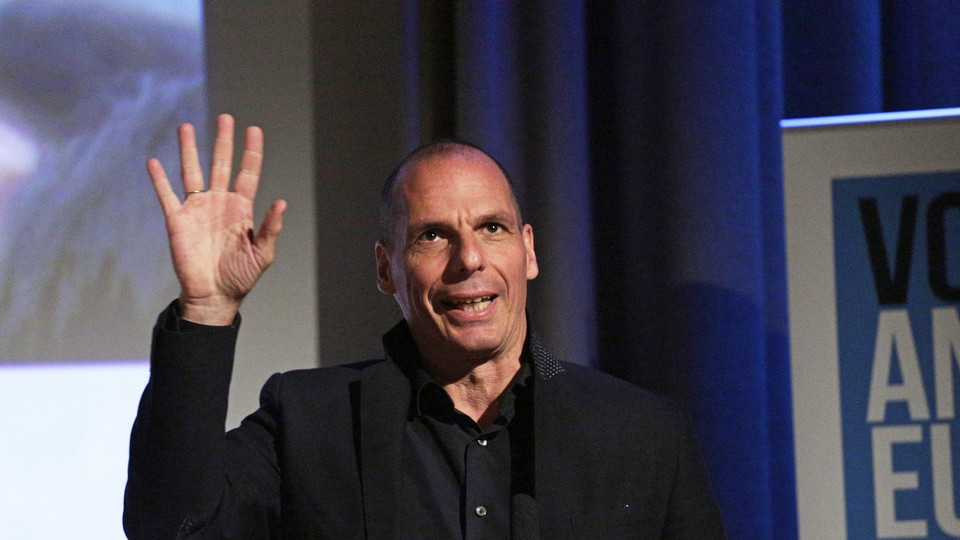 PARIS — In the often-dismal European landscape of technocrats and party hacks, few figures are as colorful and polarizing as Yanis Varoufakis. Remember him? The bad-boy Greek finance minister who, in a heated moment in the European debt crisis in 2015, showed up to meet the chancellor of the exchequer in a long black leather coat, like the Goth who crashed the garden party, before eventually being ousted from his job?
Well, Varoufakis is back. And he's got a dishy new book, Adults in the Room, which was just published in the United States. In it, the author casts himself as someone who dared speak truth to power and who is now trying to translate his leftish critique of European governance and global capitalism into a grassroots political force, DiEM 25, ahead of elections for the European Parliament in 2019. The movement is based in no small part on the personal charisma of Varoufakis, who since leaving office has become something of a star of the European left. Costa-Gavras, the Paris-based Greek director of Z, is making a film based on Adults in the Room. When Varoufakis was here recently to promote the French edition of the book, a popular radio commentator suggested he could play himself, calling him "a cross between Jeff Goldblum and Vin Diesel."
When I spoke to Varoufakis about his book, he freely admitted he'd written it to settle scores—but also to make a larger point: "That the establishment has remained clueless ever since 2008 about how to handle a crisis of its own making," he said. "Its cluelessness," he continued, "has yielded a toxic combination of authoritarian and incompetent economic and social policies, and this spiral is never-ending across Europe and on the other side of the pond in North America." Also, he added, the postwar order is over. "The U.S. is no longer capable of stabilizing global capitalism."
Greece, as Varoufakis sees it, was the canary in the coal mine. Its bailout from the so-called troika of lenders—the European Commission, European Central Bank, and the International Monetary Fund—came with politically impossible terms that not only gave the country Europe's largest increase in poverty rates between 2008 and 2016 but also helped bring down three Greek governments between 2009 and 2015, when the leftist Syriza came to power. Those terms, Varoufakis and others argue, weren't necessarily designed to restore Greece's economic heath—today its finances are still far from solid.They were designed to send a message to larger European countries with problematic finances (Italy, France) to keep their houses in order.
Before Varoufakis was elected to Parliament with Syriza in the snap elections that brought the party to power in 2015, he was an economics professor with a popular blog. His many critics—from Greek citizens to foreign investors—believe his dangerous and losing game of chicken cost Greece valuable time, political leverage, and billions in capital flight. His book displays his self regard and penchant for conspiratorial thinking, and also provides ample evidence that clever critics don't necessarily make good leaders. But it also confirms his place as an astute, vocal, and early critic of Europe's troubled management of the debt crisis.
Varoufakis was right about some fundamental issues. Europe's mistakes handling the Greek crisis continue to shape the contours, limits, and fissures of Europe. They also prefigured the bloc's difficulties—even powerlessness—in contending with subsequent crises: refugees, Brexit, Catalonia. Integration may be a glorious idea, but in the end, countries protect their national interests. And while Greece may be the most extreme and troubled case in Europe, it is not alone. The euro is often the Deutschmark in disguise, and the 18 other countries using it often struggle to keep pace with Germany's economy. The tension between what might make sense in theory—such as debt restructuring—and what is politically viable, let alone possible, within the single currency, is possibly fatal. There is no easy way around this.
"The great contradiction of our times, especially in Europe, is of how the most powerful or seemingly powerful figures of authority have become entrapped in circumstances of their own making and therefore present themselves to us and to history as tragic combinations of supreme power and supreme powerlessness at the same time," Varoufakis told me. "So it's effectively the stuff of tragedy."
Back in 2015, the period that Varoufakis calls the "Greek Spring," he rose to international prominence with a perilous gamble: that Greece should announce it would default on its debt. That didn't happen. In the end, Prime Minister Alexis Tsipras backed down. Defaulting might have resulted in Greece being kicked out of the euro, and might not have. Varoufakis's bet was that Chancellor Angela Merkel and Mario Draghi, the president of the European Central Bank, would have acted to stop a "Grexit."  "And if they didn't, then the blame would all fall on their shoulders," Varoufakis told me. (We may never know; it's highly unlikely, at least for now, that anyone in Merkel's famously tight-lipped circle would write a Varoufakis-style tell-all.)
Rather than forcing Greece's lenders' hands, Tsipras held a fraught referendum on euro membership—Greece voted to keep the euro—then ultimately signed another loan agreement with the troika. Varoufakis considered this nothing short of capitulation, as the loan conditions, he argued, would keep Greece caught in a debt spiral and deprive Greeks of dignity. (He says he now has "zero contact" with Tsipras.) After  Varoufakis left the government, Tsipras replaced him with a less abrasive finance minister—one with a penchant for reading Jane Austen on the plane en route to important summits, Varoufakis writes—Greece's creditors, especially the IMF, eventually began acknowledging the design flaws and impossible targets they had set in the loan agreements.
In the book, Varoufakis calls the debt crisis "a failed economic policy founded on unethical moralizing." The source of the moralizing in question was that bailing out Greece had to be sold to German voters. The German tabloid narrative essentially boiled down to: Don't let our hard-earned money bail out lazy Greeks. That was an easier sell than explaining how German (and French) banks had lent Southern Europe money to buy German goods, which for years profited Germany.
A central dramatic tension in Adults in the Room is the one between Varoufakis and Wolfgang Schäuble, the German finance minster on whose watch Europe first tackled the debt crisis. In Varoufakis's telling—he says he reconstructed private conversations to the best of his ability—the German finance minister was open to the idea of kicking Greece out of the euro. (Varoufakis, too, had been exploring a "parallel currency" in case that were to happen.) In June 2015, Varoufakis traveled to Berlin and, in a private meeting, asked Schäuble if he would sign the loan agreement if the German were in his place. "He turned and stunned me with his answer," Varoufakis writes. "'As a patriot, no. It's bad for your people,'" he quotes Schäuble as saying. Did Schäuble really want Greece out? Or was he just playing the part, knowing Merkel would never allow it, for geostrategic reasons as well as European cohesion? Maybe some day Schäuble will tell his side of the story. (He recently told Agence France-Presse that Varoufakis' book was "so far removed from reality that I cannot really deal with it.")
Schäuble stepped down as finance minister last month and was elected president of the Bundestag, the lower house of the German Parliament, whose members have had to approve various elements of Germany's participation in European bailouts of Greece. When I asked Varoufakis what he thought of him, he sighed audibly. "Schäuble is a tragic figure," he said. "He used to be a staunch pro-European with some federalist ambitions, but he ended up being the finance minister in the hot seat during Europe's worst crisis. He actively misjudged and misread the costs of the crisis and through a disciplinarian, almost Biblical, Old Testament approach, inflicted massive costs, political and economic and social, on the European economy. And that has caused a great deal of discontent in Europe—disintegration, populist movements."
In an exit interview this month, Schäuble told the Financial Times, "I was never a big economist. I'm a German lawyer." Adults in the Room is effectively about that, about how European integration will live or die on the skills of technocrats and politicians—and risks falling victim to German legalism, a certain inflexibility of mind without the finesse to weather the unpredictability of larger historical forces.
Varoufakis isn't the only person to question Europe's, and Germany's, handling of the Greek debt crisis. The book is peppered with conversations between Varoufakis and his main interlocutors in the United States: Bernie Sanders, who Varoufakis says has been supportive of his anti-austerity arguments; the economist Jamie Galbraith, a professor at the University of Texas; the economist Lawrence Summers; and Jeffrey Sachs, the economist and head of Columbia University's Earth Institute. In one intriguing scene, Varoufakis contends that Sachs, after speaking to Varoufakis about the then-finance minister's idea for Greece to miss a payment to the IMF, got a phone call from the National Security Council. "They asked me if I thought you meant what you'd said!" Varoufakis quotes Sachs as saying. "I told them that you did mean it and that, if they want to avert a default to the IMF, they'd better knock some sense into the Europeans."
Varoufakis, who told me Julian Assange was "a close personal friend," seems to see himself in a tradition of leftist revolutionaries. At the presentation in Athens of the Greek version of Adults in the Room, the speakers included Vassilis Vassilikos, whose novel is the basis for Costa-Gavras's 1969 film, Z, about the Greek leftist politician Gregoris Lambrakis, who was killed in 1963 on the eve of the Greek dictatorship by right-wing operatives. Varoufakis told me he had sent Costa-Gavras every chapter of the book before publication for guidance on how to heighten the drama. Not easy, considering key scenes hinge on moments in anodyne conference rooms in Brussels in which Varoufakis tries to convince Greece's European partners to tweak a press release to refer to an "amended" loan agreement versus an "adjusted" one.
Since 2015, new figures have emerged on the European political scene. But they face similar challenges. When French President Emmanuel Macron delivered a rousing speech about Europe in September, it was his way of asserting himself as a statesman and of staking a claim for European values in the face of rising populism. But it was also a message to Germany's governing parties—Merkel's conservatives, the Free Democrats, and the Greens—not to rule out discussions of a joint European budget. That idea appears to be a non-starter in Germany.
Macron is an establishment figure. His left-wing critics accuse him of being "the president of the rich." He doesn't sport leather jackets. He isn't pushing a nuclear option the way Varoufakis was with his calls for a Greek default. But he may have just as difficult a time attempting to shift the balance of power in Europe. It's less about the cut of the suit or even the measure of the man but about the rules of the game. Varoufakis is not the first and won't be the last character in the European drama to discover that it may be Germany's Europe—we just live in it.