The 'Harvey Weinstein Effect' Reaches the U.K.
Defense Secretary Michael Fallon quit, following claims that he repeatedly touched a journalist's knee during a dinner 15 years ago.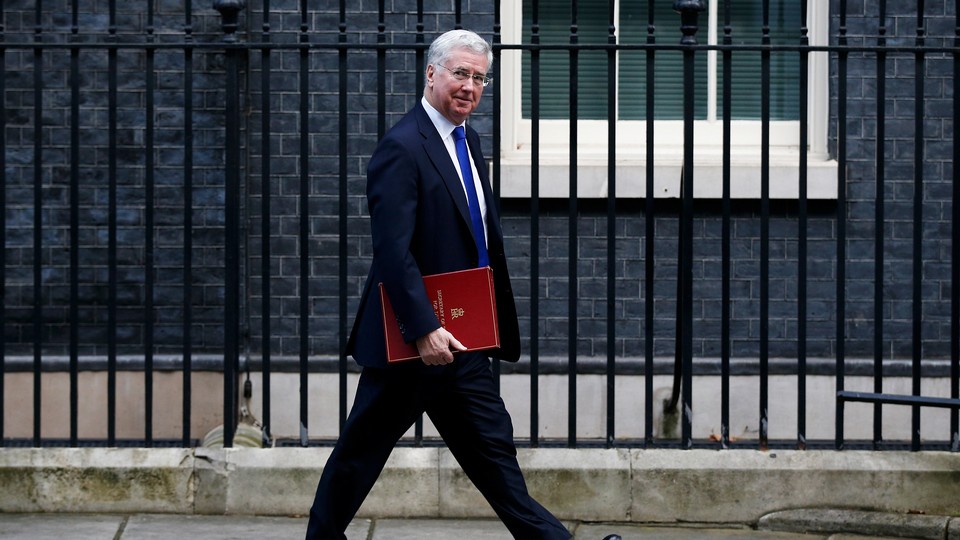 It is traditional to express remorse when you've lost your job over allegations about your behavior toward women. But Michael Fallon, the newly departed U.K. defense secretary, while apologizing for his behavior, told the BBC: "What might have been acceptable 15, 10 years ago is clearly not acceptable now."
At issue are allegations by the journalist Julia Hartley-Brewer that 15 years ago Fallon repeatedly, and without her consent, touched her knee. The BBC added that after those allegations, Prime Minister Theresa May's office had been "approached directly by several women with concerns about" Fallon. By Wednesday, he'd "Fallon his sword," as one British tabloid put it—though it's unclear whether he fell or was pushed. (Hartley-Brewer called Fallon's resignation "ridiculous," adding: "I doubt my knee was the reason.")
Stories about powerful men acting improperly—or worse—with women aren't new, nor is a political resignation in the U.K. sparked by what another tabloid labeled a "sex-storm." What is notable, however, is that the Fallon case appears to be the first in the U.K. following the allegations against Harvey Weinstein, the famed Hollywood producer who has been accused of sexual assault, rape, and improper behavior. That scandal has prompted several women in other industries, including the news media, to name men who over the years have acted inappropriately with them. Allegations have been made, claims have been published, and jobs have been lost—though so far there has been no legal consequence for the men at the center of the often-criminal allegations.
U.K. politics have a long tradition of political scandals. This, after all, is the country where the combination of privilege, politics, and passion gave us the Profumo affair in the 1960s, in which John Profumo, a senior cabinet minster, had an affair with a younger woman who at the same time was reportedly in a relationship with the Soviet naval attaché. Other sex scandals have emerged in more recent times, many involving extramarital affairs, including within the cabinet; secret gay relationships; and the frequenting of both male and female prostitutes. The regularity with which such scandals emerge prompted the BBC in 2016 to write a story with the headline "Why Political Scandals No Longer Shock." In it, Nicola Sturgeon, the head of the Scottish National Party, defended two of her members of parliament for refusing to quit when it emerged that they were both having an affair with the same woman. Sturgeon said, "I think we've ... moved on quite some distance from the sense that personal issues, issues relating to someone's private marriage and private life, necessarily affect someone's ability to do their job."
But consensual relationships are one thing, and nonconsensual contact—of the kind alleged with Fallon—is quite another. Indeed, Ruth Davidson, the head of the Conservative Party in Scotland, urged May to clean house. She told the BBC, "The dam has broken and these male-dominated professions, where the boy's own locker room culture has prevailed and it's all been a bit of a laugh, has got to stop."
The British press speculated that May, whose minority government has been seen as weak as it negotiates Brexit with the European Union, would use the opportunity offered by Fallon's departure to name a woman to the post—the first time this would have been done. Instead, Fallon was replaced Thursday by Gavin Williamson, 41, the chief whip. News coverage of Williamson's appointment featured the kind of backstabbing for which British politicians are especially well known, and highlighted his lack of political experience—as well as the fact that while chief whip he kept a pet tarantula named Cronus on his desk.