'These Are Not The Actions of an Innocent Man'
Trump's after-the-fact complicity in Russia's election meddling is abundantly clear.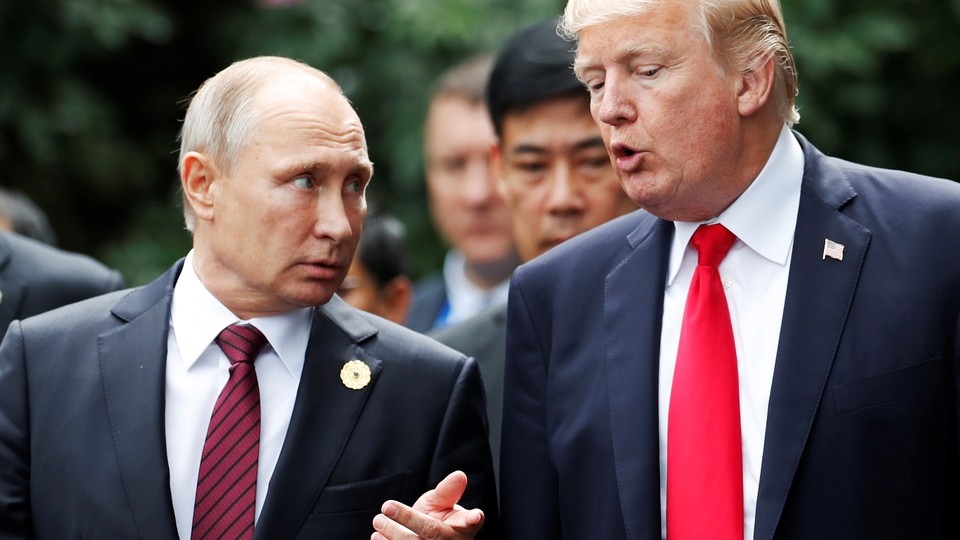 "Every time he sees me he says, 'I didn't do that,' and I really believe that."—Donald Trump on Vladimir Putin, en route to Hanoi, November 11, 2017.
So, to put it bluntly: At this point in the proceedings, there can be no innocent explanation for Donald Trump's rejection of the truth about Russian meddling in last year's elections. Earlier, it may have been suggested, sympathetically, that the case had not yet been proven. That Trump's vanity blocked him from acknowledging embarrassing facts. Or—more hopefully—that he was inspired by some Kissingerian grand design for a diplomatic breakthrough. Or that he was lazy. Or stubborn. Or uninformed. Or something, anything, other than … complicit. Not anymore.
As yet, it remains unproven whether Trump himself was personally complicit in Putin's attack on U.S. democracy as it happened during last year's presidential campaign. What is becoming ever-more undeniable is Trump's complicity in the attack after the fact—and his willingness to smash the intelligence and counter-intelligence agencies in order to protect Putin, Russia, and evidently himself. Consider what the president said to reporters on Saturday: "Then you hear it's 17 agencies [who agree that Russia meddled in the elections], whoa, it's three. And one is [former CIA Director John] Brennan, and one is whatever. I mean give me a break, they're political hacks. … So you look at that and you have President Putin very strongly, vehemently says he had nothing to do with that."
A year after the 2016 election, the Trump administration has done nothing to harden U.S. election systems against future interference. It refuses to implement the sanctions voted by Congress to punish Russia for election meddling. The president fired the director of the FBI, confessedly to halt an investigation into Russia's actions—and his allies in Congress and the media malign the special counsel appointed to continue the investigation.
These are not the actions of an innocent man, however vain, stubborn, or uniformed.
"Beyond a reasonable doubt" is the standard for criminal justice. It's not the standard for counter-intelligence determinations. The preponderance of the evidence ever-more clearly indicates: In ways we cannot yet fully reckon—but can no longer safely deny—the man in the Oval Office has a guilty connection to the Russian government. That connection would bar him from literally any other job in national security except that of head of the executive branch and commander- in-chief of the armed forces of the United States.
At any time, this situation would be dire and ominous. It's graver still at a time when this president seems determined to lead the United States into a preventive war in the Korean peninsula. President Trump may soon demand that this country incur terrible risks and accept heavy sacrifices—even as he leaves Americans in darkening doubt over whose interests he is serving, and why.