When Donald Trump Heads East
The president's five-nation, nine-day trip to Asia will be the longest by an American leader to the region since 1991.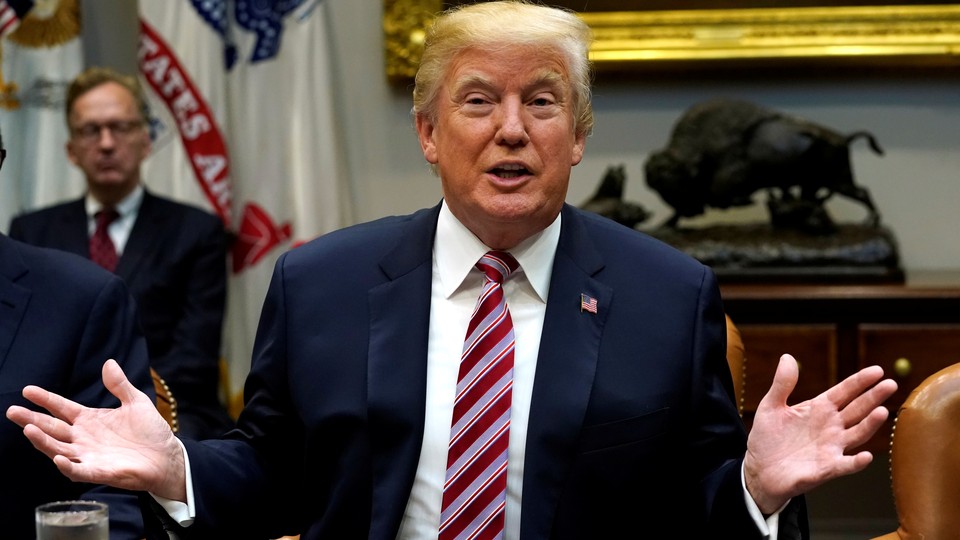 In 1991, President George H.W. Bush was about to embark on a trip to Asia that was advertised as a pitch for American jobs. Japan, the dominant Asian power at the time, enjoyed a $41 billion trade surplus with the U.S. (the figure is now $54.9 billion); American businesses and politicians railed against what they saw as unfair Japanese trade practices; and, as the The New York Times reported at the time, Japanese "opinion polls suggest that the United States increasingly is seen as a declining economic power demanding handouts from its more robust Japanese competitors." Sound familiar?
More than 25 years later, another American president is making his way to Asia at a time when obituaries are once again being written for U.S. dominance. President Trump's nine-day, five-nation trip (to China, Japan, Philippines, South Korea, and Vietnam) will be the longest by a U.S. president to the region since Bush's visit. The political optics haven't changed much—with one significant exception: China has replaced Japan as the dominant regional player and whipping boy for American (and the Trump administration's) concerns about trade imbalances. The U.S. trade deficit with China is $309.6 billion. But Ciu Tiankai, the Chinese ambassador to Washington, said he was confident of "significant outcomes on the economic and trade fronts" during Trump's visit. He said China wanted more balanced trade relations with other countries because a trade surplus "in the long run, will not help China's economy." (Economists are split on whether trade deficits are bad or not, but the Trump administration believes they hurt U.S. workers in the long run.)
The trip is Trump's third overseas since he became president. His first official trip was in May to the Middle East, a visit perhaps best remembered for a glowing orb and a regional commitment to fight terrorism; the next was to Europe, where his failure to reaffirm NATO's mutual-defense commitment caused regional consternation. Trump then traveled in July to Poland, Germany, and France. It was during that trip that Trump asked "whether the West has the will to survive," criticized Russia's "destabilizing" role in Europe and the Middle East, and also reaffirmed U.S. commitment to NATO.
Trump has several advantages over Bush as he visits Asia. He is a relatively new president. The U.S. economy has grown for the past eight years. The next presidential election is three years away. Bush, by contrast, embarked on his trip with an election looming (which he lost to Bill Clinton), amid a recession, and as a familiar, if out of touch, establishment figure (he was vice president from 1980-1988 before his one-term presidency). What Bush did enjoy was the relative global stability in the wake of the end of the Cold War, the kind environment in which he could champion free-trade deals like NAFTA, and focus on business during his Asia visit.
Trump does not have that luxury. The "end of history" euphoria of the 1990s turned out to be presage a decline in the dominance of nation states in driving world events. Besides the North Korean crisis, terrorism, cybersecurity, and humanitarian crises loom over Trump's trip to Asia—and he is expected to address all those issues during his attendance at the summit of the Association of South East Asian Nations in the Philippines. Trump, who has championed an "America First" trade policy, will push what he calls win-win trade with regional nations. At the same time, though the U.S. maintains a massive regional military presence, Trump has pressed American allies in the region to do more to protect themselves against belligerent states and terrorist groups.
China will perhaps be the most important stop in Trump's visit. Not only will trade be a massive focus—executives from 29 mostly energy and commodity firms will accompany Trump to Asia—but China's regional role, both positive and otherwise, will be at issue. As the U.S. steps back from some multilateral commitments—such as the Paris climate-change accord and the Trans-Pacific Partnership trade agreement—China has shown itself willing to step forward. It has made significant commitments to both reducing greenhouse emissions as well as regional economic cooperation through its Belt and Road initiative, the massive infrastructure initiative that aims to connect the world's second-largest economy to its Asian neighbors.
Trump views China as indispensable to resolving the impasse over North Korea's nuclear-weapons and missile programs. He has in the past accused it of not doing enough to curb North Korean leader Kim Jong Un, though he has more recently lauded China's cooperation. While it is true that Beijing says its influence on Pyongyang is overstated, it is also true that China opposes any move that would destabilize North Korea; it fears the possible spillover effects into its territory and views the North as a buffer against South Korea and Japan, both of which are avowedly pro-U.S. The U.S. and China may be united on the need to resolve the crisis (if not on exactly how), but they are at odds over the South China Sea, which China claims largely as its own, but parts of which are also claimed by Vietnam, the Philippines, and other countries. The U.S. and its allies have repeatedly warned against the militarization of the area, but China says it is well within its rights to build bases in the sea. The U.S. also finds the Belt and Road initiative worrying. Administration officials have labeled the terms of the loans China offers countries that have signed onto the project "predatory economics."
At ASEAN, Trump is expected to call for a resolution of the Rohingya crisis in Burma. The crisis pits ethnic Buddhists against Muslims in Rakhine state. Nearly 1 million Rohingya have escaped the violence and fled to neighboring Bangladesh, where they have live in squalid conditions. ASEAN is famous for resolving contentious issues through consensus, but the Rohingya crisis could test that reputation: Malaysia and Indonesia, both majority-Muslim countries and ASEAN members, have been especially critical of their fellow member Burma for its handling of the crisis. Trump is also expected at ASEAN to call for joint action on cybersecurity and against terrorism.
But the security issue that will dominate is North Korea.
Trump will hope to persuade Japan and South Korea that the U.S. has a policy to deal with the threat posed by Kim's nuclear-weapons and ballistic-missile programs. The trouble is it's not quite clear what the U.S. policy actually is.  Trump and his senior Cabinet officials have often sent conflicting messages over what can be done to persuade North Korea to renounce its illicit programs. The president has suggested that dialogue with North Korea, which is being prompted by his Cabinet officials, is a waste of time. North Korea is believed to possess between 20 and 60 nuclear weapons, and is said to be close to being able to fit a miniaturized nuclear weapon onto an intercontinental ballistic missile capable of reaching the contiguous U.S. That threat has dramatic consequences not only for the U.S., but for Japan, South Korea, China, and others.
As Trump prepares to depart for Asia, it might be worth examining one assessment of Bush's 1991-1992 trip to the region. "For all their economic rivalry, the United States and East Asia have a common interest in regional security," a Japanese academic wrote in the Times. "The United States must maintain its military presence if it is to buttress its economic engagement and political influence in the Western Pacific. Asia needs a continued U.S. military presence for stability, to protect vital sea-lanes and as insurance for continued economic prosperity."
The world might look different since that trip, but many of the U.S. priorities in the region appear similar.