This Isn't the End of the Merkel Era
The collapse of coalition talks puts Germany in political limbo—but its chancellor has overcome crises much worse.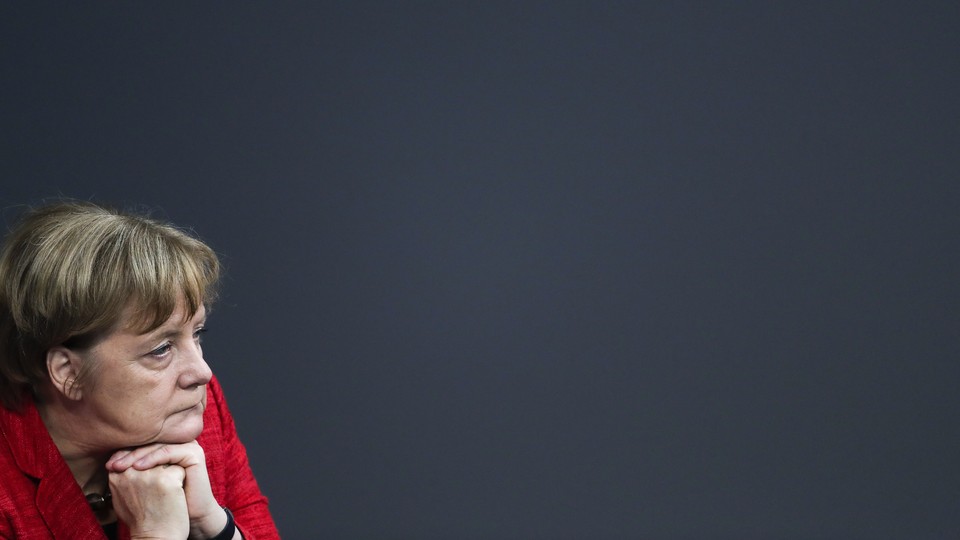 Angela Merkel has been chancellor of Germany for 12 years to the day, and many observers are predicting this anniversary could be her last. Murmurs about the "beginning of the end" of the German chancellor and a "world without Merkel" gained volume this week after Germany's coalition talks to form its next government collapsed, following the unexpected exit by the pro-business Free Democrats (FDP) from the negotiations. The crisis has led to speculation about whether this setback will lead to an unfavorable minority government or new elections—and whether Merkel can ultimately survive either.
It comes just two months after Germany's last general election, during which Merkel's Christian Democratic Union (CDU) party, with its Bavarian Christian Social Union (CSU) sister party, failed to earn enough parliamentary seats to form a government on their own. Faced with the center-left Social Democrats' (SPD) refusal to revive their "grand coalition" and her party's own refusal to enter into coalition with the far-right Alternative for Germany (AfD) party, the chancellor was left with no other choice than to attempt to form a three-way coalition with two smaller parties, the FDP and the Greens. This so-called "Jamaica" coalition (which derives its name because the involved parties' colors collectively correspond with the Jamaican flag) "could have gotten a lot done," Merkel said in the days following FDP's decision to leave the talks.
When asked if she would resign, she noted that she had campaigned on the promise of serving Germany for another term and sees "no reason to go back on that promise." When asked if she was afraid of what might happen if Germans returned to the polls for a repeat election, she said: "I'm not actually afraid of anything."
Fear isn't a feeling many would likely attribute to Mutti, or "Mother," as Merkel is affectionately known. "She is a great survivor, she is a great problem solver," Quentin Peel, an associate fellow with the Europe Program at Chatham House, and the Financial Times's former chief correspondent in Berlin, told me. "She is not a great visionary, but she is very steady." In fact, it was Merkel's reputation as a "safe pair of hands" for Germany in times of global political instability that many cited when explaining her fourth-term electoral victory in the country's September election. But with the makeup of the country's next government suddenly in limbo, there is growing doubt whether Merkel's hands are all that safe after all.
The most alarmist of these doubts are overstated, according to Peel, who noted that while Merkel "is clearly wobbled and ... clearly weakened," it's still a far cry from her being replaced at the helm of German leadership—in part because she lacks a clear successor within her party, but also because she remains extremely popular among the German population. "She survived as her party's champion as long as she was a winner," Peel said, noting that more than half of Germans would prefer for Merkel to remain chancellor. "The moment she looks like no longer being a winner, the rebels will start to mutter. And that's where you're getting this muttering coming from, I think. But they've got no alternative candidate."
Merkel's confidence that she will not resign suggests she knows this. But it could also stem from the fact that she's weathered crises far worse. "This is definitely a challenge and this has weakened her as a leader, but it's not as big as the refugee crisis," Marcel Dirsus, a political scientist at the University of Kiel, told me in reference to Merkel's 2015 decision to open Germany's borders to hundreds of thousands of refugees. That move prompted similar predictions of her political demise. "When the refugee crisis was unfolding, there was a legitimate fear … that Merkel was going to fall."
The eurozone crisis also caused doom and gloom forecasts for the chancellor's future. "That was the most complicated, the most prolonged, and the most difficult," Peel said of the multiyear debt crisis that implicated multiple European states. "At the end of the day, she, with the enormous help of Mario Draghi at the European Central Bank, stabilized the markets … at a cost of the austerity backlash and so on. But nonetheless, she was a huge stabilizing factor."
If Germany were to take the drastic step of holding another round of elections, there's no indication it would lead to Merkel's fall. If anything, polls suggest it would result in the same divisions delivered by the first election—an outcome that would force the parties back to coalition talks where they started. Dirsus said this could be avoided if the SPD withdrew their refusal to join the government for another grand coalition—a move the party's leader Martin Schulz has thus far ruled out. "There is now a lot of pressure on the Social Democrats to at least start coalition talks with Merkel because people are reminding them of their responsibilities to the country," Dirsus said, adding that: "there is no guarantee that [Schulz] would be the candidate again if there are new elections, so he doesn't really have an interest in new elections."
While there's no telling where Merkel will go after Jamaica, or how long her time as chancellor will last, it's unlikely this current political crisis will mark its end—at least not anytime soon. "We are seeing that the Merkel era is coming to an end, but I would be surprised if it is yet at an end," Peel said. "I would expect she would still be the chancellor for one more, possibly shorter government than before."
"At this point in time," Dirsus said, "she'll soldier on."