Theresa May's 'Profoundly Weak, Surprisingly Stable' Leadership
One factor keeping the British prime minister in power is, paradoxically, her own unpopularity.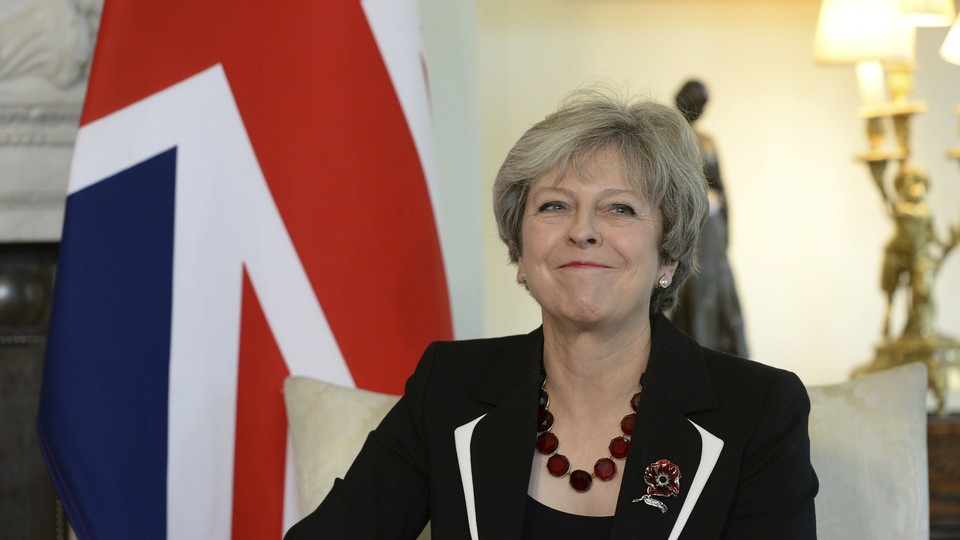 A far cry from the kind of leadership she promised on the campaign trail over the summer, Theresa May's week has been anything but "strong and stable." Over a seven-day period, the U.K. prime minister lost two members of her cabinet—one to a sexual-harassment scandal that has implicated leaders on both sides of the House of Commons, and another to a breach of the ministerial code that ended in what some have dubbed the "longest walk of shame in British political history."
And while the week may be over, May's troubles are far from gone. Damien Green, another cabinet minister who serves as May's de-facto deputy, is among those being investigated in Westminister's sexual-harassment scandal over allegations of inappropriate behavior that, if proven true, could make him the third minister to step down, following Michael Fallon, the former defense secretary, and Priti Patel, the recently-departed secretary of state for international development. Boris Johnson may not be far behind, either. The foreign secretary is facing calls to resign after making a claim about dual British-Iranian national Nazanin Zaghari-Ratcliffe that Iranian officials are threatening to use to add an additional five years to her prison sentence (Zaghari-Ratcliffe is already serving five years as a political prisoner in Tehran).
Yet despite the upheaval that has plagued her cabinet and the other challenges that lie ahead, May's job as Tory leader is safer than one might expect—in part because no one else wants to do it. "Even people who desperately want to be prime minister at some point can see that right now is not the ideal moment to go for it," Rainbow Murray, a professor of politics at Queen Mary University of London, told me. "With Brexit looming in just 16 months and crisis after crisis after crisis, people can see that anyone going for leadership right now would be forever on the edge of a precipice."
Before she can deliver the "smooth and orderly" withdrawal from the European Union that she promised, May must first go about clearing the EU Withdrawal Bill through the House of Commons, which is expected to begin debating on November 13 the crucial legislation that is needed to convert EU law into British law after the U.K. leaves the bloc. She also faces the resumption of Brexit negotiations, which concluded its sixth round on Friday with an ultimatum from EU Brexit negotiator Michel Barnier, who said the U.K. must offer more "clarifications or concessions" on its "divorce bill" from the EU within the next two weeks if it wants to begin the second phase of negotiations by December.
But there's another factor paradoxically keeping May firmly in 10 Downing Street: unpopularity. With recent polls predicting that another general election, if held today, would result in a Labour Party victory, there is little incentive for Conservative lawmakers to risk losing their already-slim parliamentary majority to the opposition if they don't have to. "The life-expectancy of the prime minister is a function of the feelings of the parliamentary Conservative party," Anand Menon, the director of the London-based research institute U.K. in a Changing Europe, told me. "That is the crucial determinant of [May's] state and the fact of the matter is that the parliamentary Conservatives in general … don't want a Brexit leadership election."
"There is no appetite to rock the boat in that direction because it'll just tip the boat over," Murray said. "It's not that people are happy with her performance, it's not that people support her—it's just that they're short of alternatives right now."
"Jeremy Corbyn is the Conservatives' worst nightmare made flesh," Menon said of the opposition leader, for whom another election could mean a rise to the premiership. "The notion that by doing something you make a Corbyn government more likely is enough to make your average Conservative feel faint. … And if your opponent is the bogeyman, people are more likely to be loyal to you."
As May attempts to steer attention back toward negotiations for Brexit, which she announced will officially take place on March 29, 2019 at 11 p.m., the threat of her cabinet returning to the spotlight remains. With the fate of her secretary of state tied to the results of the sexual-harassment investigation and the fate of her foreign secretary tied to the decision-making of the Iranian judiciary, another cabinet reshuffle isn't out of the realm of possibility. And while the party may be able to survive one or two cabinet losses, a third or fourth could send voters running in another direction. "'Strong and stable' government is not a government where you shuffle everyone around every week," Murray said, noting that a ministerial loss and reshuffle would "obviously be another disaster for her."
But for all the unpredictability within British politics, May's ability to withstand the turmoil seems to be one of the few certainties left. "When the going got tough, she didn't run away—she dug in," Menon said. "On the other hand, I do think she is very, very weak … profoundly weak and surprisingly stable."