Theresa May and the Terrible, Horrible, No Good, Very Bad Week
With two ministers suddenly gone, is the British premier's government unraveling?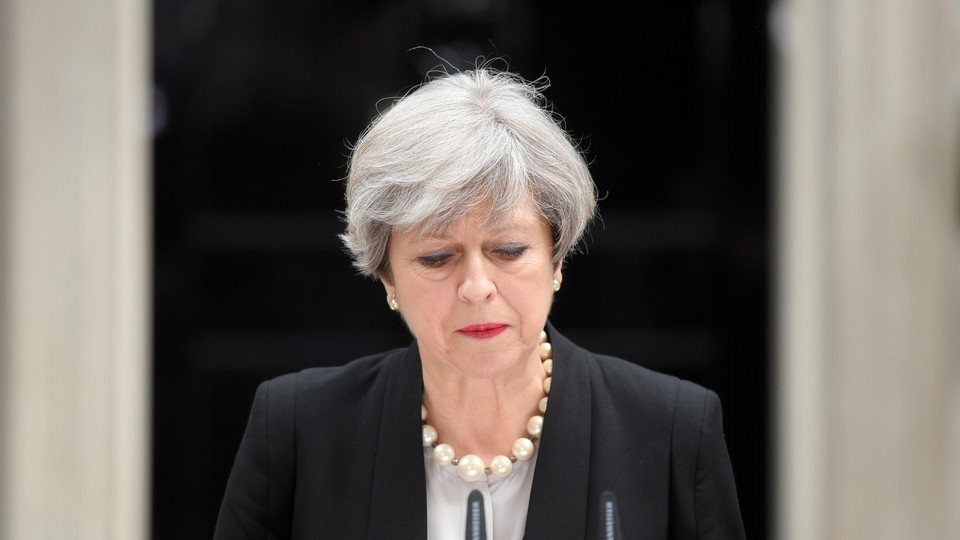 Theresa May had already lost one cabinet minister this week, and now she's lost another. On Wednesday, U.K. Secretary of State for International Development Priti Patel submitted her resignation from the prime minister's cabinet over her breach of the U.K.'s ministerial code during a family vacation to Israel in August. "I accept that in meeting with organizations and politicians during a private holiday in Israel my actions fell below high standards that are expected of a Secretary of State," Patel wrote in her resignation letter. May, in response, said: "Now that further details have come to light, it is right that you have decided to resign and adhere to the high standards of transparency and openness that you have advocated."
Patel's resignation comes exactly one week after the ouster of former Defense Secretary Michael Fallon, who stepped down amid Westminister's ongoing sexual-harassment scandal, which has so far implicated dozens of men on both sides of the House of Commons. But it also comes during a week of chaos for May, who, in addition to losing her defense secretary, has been faced with political crises across her cabinet. Soon after the resignation of Fallon, it was revealed that Damien Green, her secretary of state and de-facto number two, has also been implicated in Westminster's sexual-harassment scandal after allegations surfaced that he made inappropriate advances toward a young woman, coupled with claims that "extreme" pornography was found on one of his work computers nearly a decade ago. Green has denied the claims, which he dismissed as "political smears."
Then along came Boris Johnson. The British foreign secretary, known for his proclivity for diplomatic gaffes, faced criticism and multiple calls to resign this week after it was revealed that comments he made about dual British-Iranian national Nazanin Zaghari-Ratcliffe, who is currently serving a five-year sentence in Tehran as a political prisoner, could extend her sentence by another five years. Speaking to the U.K.'s foreign affairs select committee last week, Johnson noted that Zaghari-Ratcliffe, a charity worker with the Thomson Reuters Foundation who was visiting family in Tehran at the time of her arrest, "was simply teaching people journalism." The claim earned Zaghari-Ratcliffe an unscheduled court hearing four days later, when Iranian authorities cited Johnson's comments as proof she was guilty of spreading "propaganda against the regime" and "had visited the country for anything but a holiday." Johnson has since admitted his comments "could have been clearer."
Both scandals, however, were ultimately overshadowed by Patel after it was revealed this week that her unofficial visit to Israel included more than a dozen meetings with Israeli officials, including Prime Minister Benjamin Netanyahu. Though it certainly isn't out of the norm for a cabinet minister to meet with foreign leaders, it is considered odd—and a violation of the country's ministerial code—for them to do so in an unofficial capacity without consulting the U.K.'s Foreign Office and, by extension, the prime minster.
While it's not entirely clear who knew what about Patel's trip and when—she originally claimed the Foreign Office was given advance notice of the trip, but later clarified that this was not the case—10 Downing Street has insisted that it was kept in the dark about Patel's meetings with Israeli leaders. The Jewish Chronicle has disputed this claim, however, reporting Wednesday that sources familiar with the situation said Downing Street was aware of Patel's meetings, but allegedly advised her not to disclose them. A Downing Street spokesman called the allegations "categorically untrue."
As several observers awaited Patel's pending removal from the government (approximately 22,000 people were recorded tracking Patel's flight back to London), others had already begun speculating about who might replace her. John Springford, the director of research at the London-based Centre for European Reform, told me that when it came to deciding whether or not to ask Patel for her resignation, May was without any good options. "If she sacks [Patel], she's got a disgruntled Leaver on the backbench who might make it difficult for her in Brexit negotiations," he said, noting that recent polling has shown public trust in May's ability to negotiate a good Brexit deal has fallen to record lows. "If she doesn't, she looks weak because prime ministers should use their authority to ensure that breaches of the ministerial code are punished."
But if May's ability to weather political storms is any indication, another cabinet reshuffle may not necessarily mean the end of her premiership. "In the sense that the scandals mean the government is in crisis, it's not as though they mean that Theresa May's authority has been sapped massively—because she didn't have a huge amount already," Springford said. "The fact that there's no one better and the fact that she appears to be willing to lay down her political life for her party … She may well continue to stumble on."