Trump Has Raised an Ultra-Nationalist British Group Out of Obscurity
The far-right 'Britain First' party maintained a low profile—until President Trump promoted it on Twitter.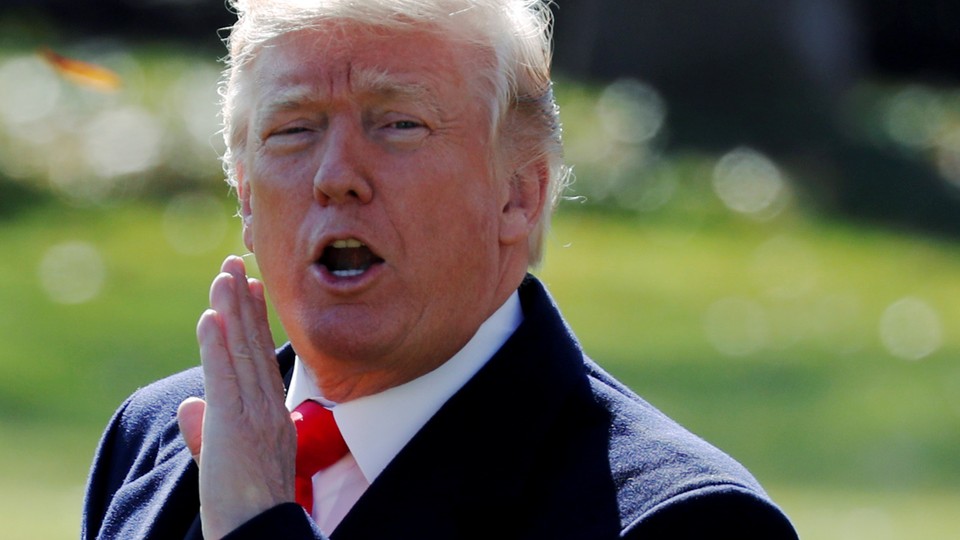 President Trump tweets most mornings, but Wednesday was different. In addition to doling out the usual kind of fare about CNN, the stock market, and North Korea, the president, or whoever was tweeting on his behalf, also decided to retweet three videos from an account belonging to a leader of a far-right ultranationalist British political group "Britain First." The unverified videos purport to show Muslims committing acts of violence, from beating up a boy on crutches to destroying a statue of the Virgin Mary. One depicts a mob pushing someone off a roof.
While it's unclear where or when these videos were made, or even if they're real, the offensive content wasn't what made the tweets unusual for the president (as my colleague Peter Beinart noted, Trump has associated with anti-Muslim voices, and made many of their same arguments, long before he ascended to the presidency). Neither was the dubious and seemingly obscure nature of the accounts they came from (in fact, just this week the president tweeted his thanks to an account known for promoting conspiracy theories). Yet one thing they did do was lift up a formerly obscure group in another country.
"THE PRESIDENT OF THE UNITED STATES, DONALD TRUMP, HAS RETWEETED THREE OF DEPUTY LEADER JAYDA FRANSEN'S TWITTER VIDEOS," read one of the tweets by Jayda Fransen, the deputy leader of Britain First. Another tweet, this time addressing Trump directly, thanked the president for retweeting her posts before noting that she is "facing prison for criticizing Islam," in an apparent reference to her conviction last year after she was found guilty of verbally abusing a Muslim woman wearing a hijab.
Such attention is a major boost for Fransen and her far-right ultranationalist political movement, Britain First—whose official policy platform calls among other things to "reject and deport all 'asylum seekers' who do not originate from countries bordering Britain," and "introduce a comprehensive ban on the religion of 'Islam' within the United Kingdom." Though known for its online activism (through which it advocates anti-immigration and anti-Islam views to its approximately 25,000 and 1.7 million followers on Twitter and Facebook, respectively), the group has a minimal presence in British political life offline. Founded in 2011, it has unsuccessfully contested elections to the European Parliament, the U.K. House of Commons, and even London's 2016 Mayoral race before being deregistered as a party by the country's Electoral Commission earlier this month after it failed to confirm its registration details and pay a standard 25-pound fee. As Buzzfeed political editor Jim Waterson noted, the group had been "increasingly ignored" until the president promoted Fransen's tweets.
Now Britain First is international news. The president's tweets drew comments from British leaders across the political spectrum, from U.K. Prime Minister Theresa May (whose spokesman said it was "wrong for the president to have done this") to opposition Labour party leader Jeremy Corbyn (who called the tweets "abhorrent, dangerous and a threat to our society"). London Mayor Sadiq Khan, who has verbally sparred with Trump in the past, condemned Britain First as "a vile, hate-fueled organization whose views should be condemned, not amplified." Even traditional Trump allies like British commentator Piers Morgan and the right-wing U.K. Independence Party (whose former leader, Nigel Farage, was friendly with the American president) were quick to condemn the tweets.
Meanwhile, though, Britain First and its platform is being introduced to readers and viewers throughout the United States, including in The Atlantic; Fransen's Twitter feed boasts of multiple broadcast interviews in the wake of the American president's retweets, including in "CBS from America."
Brendan Cox—whose late wife, the British lawmaker Jo Cox, was killed by an assailant reportedly shouting "Britain first"—accused the American president on Twitter of legitimizing "the far right in his own country, now he's trying to do it in ours." Brendan Cox went on: "Spreading hatred has consequences & the President should be ashamed of himself." (Britain First has denied having been involved in or inspired Cox's murder.)
Whatever the ultimate real-world consequences of the tweet, the group for now remains on the margins of British politics. "They're a radical-right group with a low profile in the U.K.," Rainbow Murray, a professor of politics at Queen Mary University of London, told me."For all the racism and jingoism in the U.K., we're still a bit wary of very far-right movements—partly due to our electoral system, partly due to a legacy of World War II and our pride in resisting fascism."