A 'Warped and Degrading' Culture in Westminster
With another British MP gone, party leaders vow to address the U.K.'s deepening sexual-harassment scandal.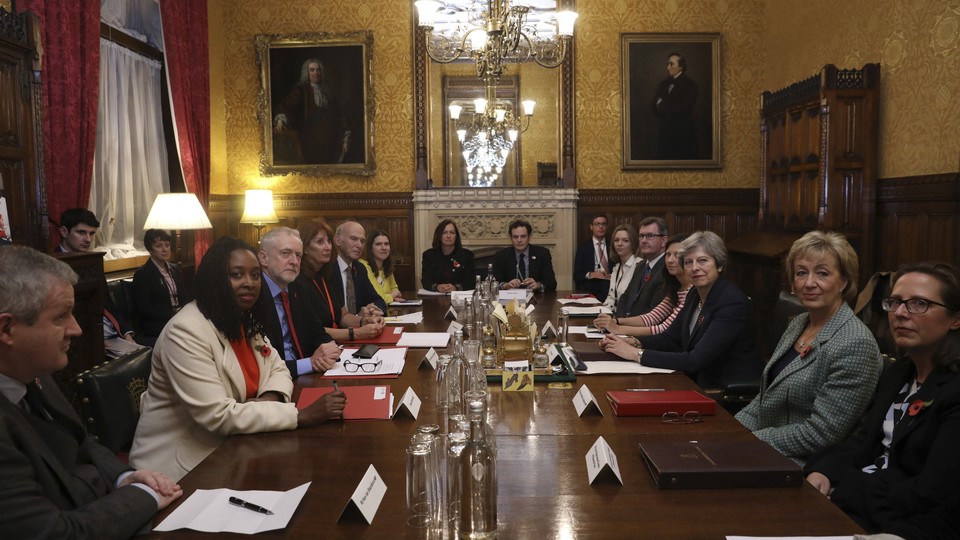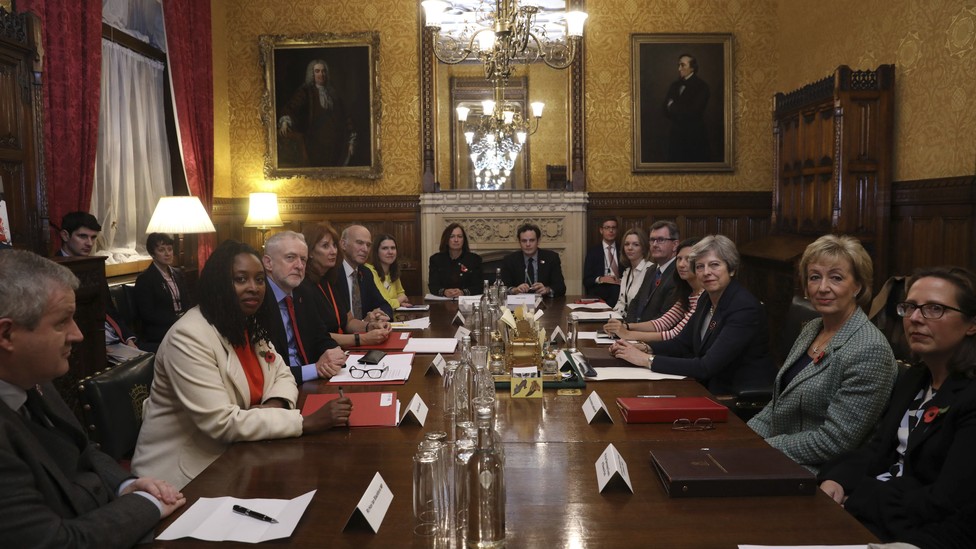 On Sunday, Downing Street announced the resignation of  Chris Pincher, the Conservative parliamentarian and government whip, over allegations that he made an unwanted advance towards former Olympic rower and Tory activist Alex Story. "Whatever may or may not have happened or been said was obviously many years before I became an MP," Pincher said of the allegations. "If Mr. Story has ever felt offended by anything I said then I can only apologize to him."
The allegations place Pincher among the dozens of powerful men who have been implicated in sexual harassment scandals following the bombshell allegations against Hollywood mogul Harvey Weinstein, a watershed moment that has prompted similar allegations to surface across industries around the world. Michael Fallon recently stepped down as Britain's defense secretary after allegations of inappropriate behavior towards a journalist surfaced. A Conservative MP was suspended, while three other members of the party were put under investigation over allegations that they violated the party's new code of conduct. The Labour Party has suspended two MPs over similar allegations and has launched an investigation into a third.
Leaders of both parties have offered forceful responses to the scandal. Prime Minister Theresa May, who held rare cross-party talks Monday with other party leaders to address the scandal, called for setting up a new system by which parliamentary staff members can report cases of sexual misconduct. "We need to establish a new culture of respect at the center of our public life," May said at an event in London. "Political parties have not always got this right in the past. But I am determined to get it right for the future," she added. Labour leader Jeremy Corbyn, speaking at the same event, criticized what he called a "warped and degrading culture in Westminster and across society," noting that "such abuse, sexism, and misogyny is sadly very far from being confined to Hollywood and the corridors of power … It is all around us."
Political scandals in Britain are, of course, nothing new. As my colleague Krishnadev Calamur reported, the country has had its fair share of them—from the storied Profumo affair (during which a British senior cabinet minister and a Soviet spy were reportedly having an affair with the same woman during the height of the Cold War) to a myriad of extramarital affairs and secret relationships. It was perhaps this history that Fallon, the departed defense secretary, was referring to when he told the BBC in the aftermath of his departure that "What might have been acceptable 15, 10 years ago is clearly not acceptable now."
Catherine Haddon, the London-based Institute for Government's resident historian, told me that while sexual harassment was never considered acceptable even 15 or 10 years ago, what has changed since is the culture around speaking up about it. "Some of the people I talked to who were working in the 1960s, 70s, and 80s said that they felt the culture was that you didn't complain and that you laughed things off," she said of her research documenting female civil service in Britain since 1979. "It wasn't so much of a supportive culture to allow you to say that this is not acceptable."
What's more, Westminster's power dynamics—much like those within other halls of government and even the private sector—make pursuing a complaint against an MP a precarious proposition. There are "a very large amount of young people coming into parliament who work for MPs, and those MPs can have a big influence over their future careers," Haddon said, noting that "some forms of patronage are still very strong in and around politics, and that obviously has a big impact on this."
Several lawmakers identified this employment structure as part of the problem. Rupa Huq, a Labour MP, told Sky News' Niall Paterson the competitive nature of politics is such that "a lot of younger people desperate to get a toehold who can be taken advantage of," a problem that is further sustained by a lack of employment resources. "There is no overarching HR department, there is no staff handbook, there is no sexual harassment procedure as there would be in any normal workplace." Tory MP Kit Malthouse echoed this criticism, noting that a change in Westminster's power structure could be a solution. "I employ my staff, I have a brilliant team of three who look after me," he said Sunday on BBC's Westminster Hour. "I think that structure creates a conflict—they don't have anywhere to go except to me as their employer … It would be more sensible if MPs' staff were direct employees of the house."
The exact solutions Westminster's party leaders will pursue remains unclear, though May announced Monday that they had agreed on the "important first step" of implementing a new grievance procedure for staff to report cases of misconduct—a solution she said should be in place by next year. Whether or not she can cling to power long enough to see such reforms go through, however, is another story entirely. Already weakened by Brexit negotiations and facing fresh scrutiny from both within and outside her party over her decision to replace Fallon with 41-year-old chief whip Gavin Williamson hasn't made those prospects any more optimistic. On top of all that, a scandal that has implicated one of her cabinet members and threatens two others. Damien Green, her secretary of state and de facto deputy, is under investigation for alleged inappropriate behavior, and her House of Commons leader Andrea Leadsom is facing accusations of allegedly not taking action when a case of sexual assault was reported to her. Some have predicted that this scandal could be May's last.
"She ran support mechanisms to try to get Conservative women further in the party and has been very supportive of female colleagues … so she certainly has a strong background in this area," Haddon said of the prime minister, before adding: "But because it's become conflated with other questions about her leadership, about the appointment of Gavin Williamson as secretary of defense—it's kind of undermined what she's said elsewhere."