Trump's Attention-Diversion Tweet Cycle Goes International
If the news-grabbing, discussion-dominating presidential social-media habit is getting routine in the U.S., it's now getting exported overseas.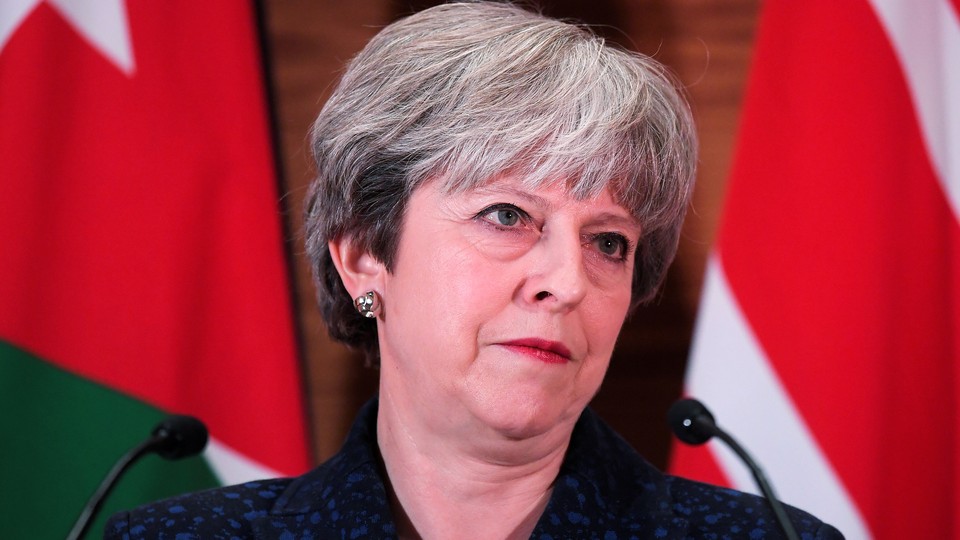 The cycle is as old as the Trump presidency: President Trump tweets; the American public reacts; the tweet and the reaction to it dominate the news and political debate; repeat. Nearly a year into the president's term, Americans are presumably starting to get used to it. Yet for the rest of the world, where the American president's tweets are not always a matter of national news, it's different.
A case in point is the United Kingdom. On Wednesday, Britons learned that Trump, or whoever was tweeting on his behalf, had promoted three videos distributed through the account of Jayda Fransen, the deputy leader of the far-right ultranationalist British political movement Britain First. The group, which advocates anti-immigrant and anti-Islam policies, was relatively obscure within British politics, but soon enjoyed international attention after the president's retweets to his nearly 44 million followers.
Trump's promotion of Britain First was met with immediate outcry from British leaders across the political spectrum, including U.K. Prime Minister Theresa May, who through a spokesman condemned Britain First's "hateful narratives which peddle lies and stoke tensions," adding that it was "wrong for the president to have done this." This brought a tweet back to May from Trump, who wrote, "don't focus on me, focus on the destructive Radical Islamic Terrorism that is taking place within the United Kingdom. We are doing just fine!"
And so the familiar cycle kept going, sucking up the political oxygen in at least two countries at once. On Thursday, London Mayor Sadiq Khan—who has sparred with Trump in the past—called on May to cancel Trump's planned state visit to the U.K. (Trump has accepted an invitation to Britain though the visit has not been scheduled.) Khan has in the past said such a visit wasn't a good idea, but went further this time. "Many Brits who love America and Americans will see this as a betrayal of the special relationship between our two countries," Khan said in a statement, adding: "After this latest incident, it is increasingly clear that any official visit at all from President Trump to Britain would not be welcomed."
British lawmakers meanwhile devoted substantial time in the House of Commons to discussing the tweets' impact—notwithstanding the gravity of the issues they were scheduled to address, including transport issues and the humanitarian crisis in Yemen, or those they could be debating, like the stalling Brexit negotiations. The Times' deputy editor Sam Coates described lawmakers' remarks as displaying "a vehemence never heard before about a U.S. president in the U.K. Parliament." While some echoed Khan's call that Trump's state visit invitation be canceled, others were more forceful. "This is the president of the United States sharing, with millions, inflammatory and divisive content, deliberately posted to sow hatred and division," Stephen Doughty, the Labour party lawmaker who called for the debate in the Commons, said. "By sharing it, he is either a racist, incompetent, or unthinking — or all three."
Even May, who also presumably had other priorities while on a three-day tour of the Middle East, was forced to address the tweets again Thursday from Amman. After delivering a speech on the U.K.'s efforts to combat the Islamic State and the longterm stability of Jordan, May answered eight questions—seven of which related to Trump's tweets. "The fact that we work together does not mean that we are afraid to say when we think the United States has got it wrong and to be very clear with them," May said, "and I'm very clear that retweeting from Britain First was the wrong thing to do." When asked if she would fire a member of her Cabinet for similar behavior, May said she has "absolute confidence" that her Cabinet members would not retweet Britain First accounts. "I'm not a prolific tweeter myself," May said, adding: "That means I don't spend all my time looking at other people's tweets, but when I feel there should be a response, I've given it."
This isn't the first time Trump's tweets have strained the "special relationship"—May and other British authorities scolded him in September after he tweeted "unhelpful" speculation about an attack on the London Tube. But the spectacle of Trump seeming to promote a far-right group in an allied country, then criticizing its leader, has provoked an even more furious reaction in the public life of one of America's most important allies. May insisted Thursday that the relationship between the two countries is one "that is there because it is in both our national interests for that relationship to be there," even as the British ambassador to the U.S. voiced concern with the White House over Trump's tweets. All the while, affairs of state were put on hold, agendas derailed, and media coverage diverted, once again, to the Twitter habits of the American president, in seemingly nobody's interest. The cycle has gone international.