Listing the Dead
The refugee crisis, even in its enormity, is happening to people one by one. An artist sets out to document them.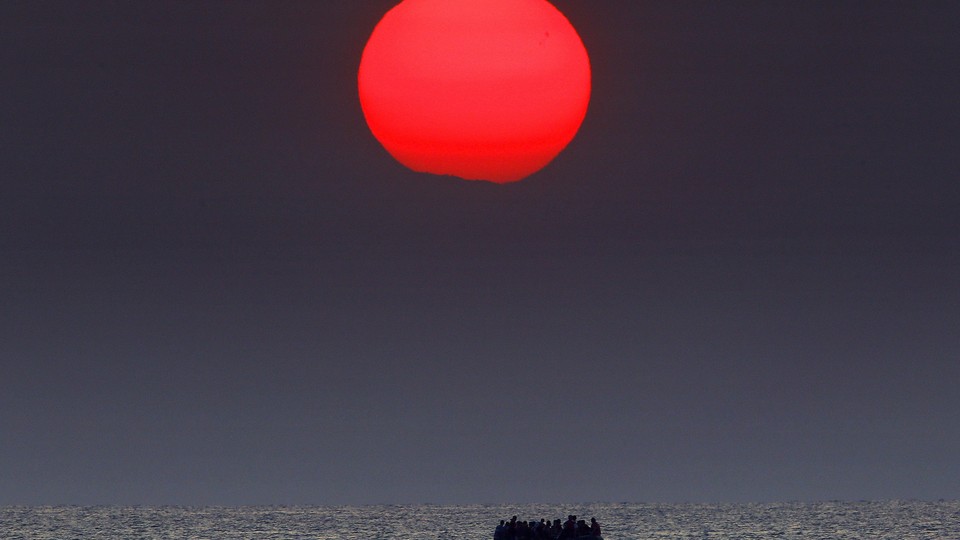 PARIS—"War happens to people, one by one. That is really all I have to say and it seems to me I have been saying it forever." That's Martha Gellhorn in The Face of War, a collection of her dispatches from war zones from the 1930s through the 1960s. I contemplated that line after getting lost in "The List," a dark compendium of the names of 33,293 migrants, refugees and asylum seekers who have died in Europe or en route there since 1993.
And then I contemplated it again when I read "The Uncounted" in the Times, a remarkable two-year investigation by Azmat Khan and Anand Gopal into the civilians who have died in northern Iraq since August 2014, when the American-led war against the Islamic State began. What they found suggests the military has been killing civilians at a much higher rate than they admit to, despite claims that the coalition air campaign has been the most precise ever conducted. Never before has our access to information been so great. And our sense of powerlessness so deep, as the horrors of war rush into our screens and newspapers and consciousness.
Or don't. "The List" was started in 1993 by United for Intercultural Action, a European network of nongovernmental organizations, drawing on information from other NGOs and the press. Since 2002, the Turkish artist Banu Cennetoglu has sought ways to diffuse the information to a wider public. "People have very short attention spans," Cennetoglu told me by phone from Istanbul, where she lives.  "Sometimes they only read things reduced to one line on the front page of a newspaper. Sometimes it's manipulated or a half conceit," she continued. "I think when you see the scale of this, when you can hold it in your hand, it's overwhelming."
It is. In its most widespread diffusion, "The List" was published November 9 in a 48-page supplement in the German daily Tagesspiegel—you can download it here—and also plastered on 24 cylinders scattered around Berlin, in an initiative driven by Cennetoglu and underwritten by Berlin's Gorki Theater as part of the city's annual Herbstsalon, a fall arts program. That's something new. "It took five years to convince or to get the support for the first dissemination in Amsterdam" in 2007, Cennetoglu said. In the past few years, with more waves of migrants to Europe, perceptions have changed.
I started poring over the list, and found it hard to stop. The most recent name is that of an unknown child from an unknown country who drowned on May 29 of this year in a boat from Libya. He, or she, is marked "N.N." or "no name." There are thousands of "N.N."s on "The List." The first name recorded is Kimpua Nsimba, who was 24 and came from what was then Zaire in 1993, and was found hanged five days after arriving at the Harmondsmith Detention Center in Britain. What was his life like? Who did he leave behind?
1998: Adrian Cretu, 17, a Romanian who died in a car crash in Austria after a chase with border police. Same year: Irini P., 20, who had been forced into prostitution and committed suicide in Thessaloniki, Greece. June 19, 2000: Lin Bin, Xue Di Di, Chen Xing Zhong, and dozens of others who suffocated in a truck being smuggled into Britain. April 23, 2007: Dozens of Senegalese who drowned when their boat sank off the coast of Morocco. The list is terribly long. How can we possibly absorb it all?
"Not knowing and not recording leads to a certain kind of indifference and normalization," Cennetoglu told me. "It just becomes a very vague, crowded 'refugee crisis,' as they say. It becomes a thing and not about people." She considers it a humanitarian crisis. Since 2015, Germany has let in more than a million refugees, which has shaken up German society and politics. For this year's edition of Documenta, the art show held every five years, Cennetoglu changed the text on the façade of the Fridericianum, the show's traditional home in Kassel, Germany to read: "Being Safe is Scary." It was a phrase Cennetoglu had seen spray-painted on a wall in Athens when she went to scout locations for the show's first-ever Athens venue. This was in March 2016, the same week the European Union struck a deal with Turkey to cap the number of migrants trying to leave. "It stayed with me for a long time," she said. "I wanted to somehow transfer it to Germany, and to the state of emergency in France, and to the state of emergency in Turkey, and whatever the price we pay to be safe, and we accept to pay to be safe, and whatever that safety is," she said.
In that passage in The Face of War, Gellhorn continued: "Unless they are immediate victims, the majority of mankind behaves as if war was an act of God which could not be prevented; or they behave as if war elsewhere was none of their business. It would be a bitter cosmic joke if we destroy ourselves due to atrophy of the imagination."
So thank you to the list-keepers. Who help keep us from atrophy and indifference. Or who try.