The Distinctive Cruelty of Killing Worshipers
A mosque attack that killed more than 300 people in Egypt stands out for its ruthlessness, but not for the sinister targeting of the faithful.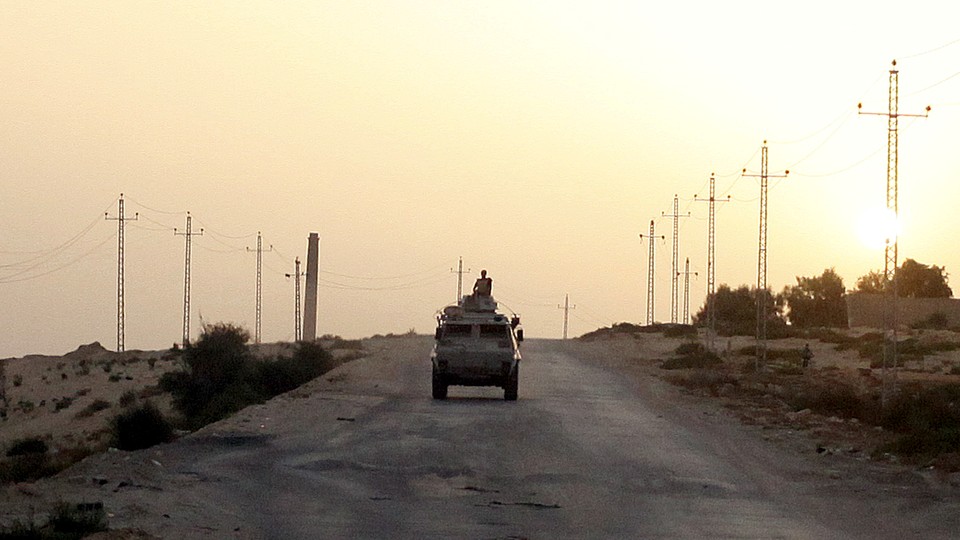 Updated on November 25 at 9:37 a.m. ET
The attack on a mosque in Egypt's Sinai Peninsula during Friday prayers appears to be the deadliest in the country's recent history. State media now puts the death toll at more than 300. It has surpassed that of the suspected airliner bombing of 2015, when a Russian jet exploded over the Sinai Peninsula in an explosion later claimed by the Islamic State. In that incident, all 224 people onboard died.
State media described a multi-staged assault in which attackers detonated a bomb during Friday prayers, shot people trying to flee, and then shot at ambulances appearing at the scene. The New York Times summarized the significance: "Even by recent standards in Egypt, where militants have blown up Christian worshipers in church pews and gunned down pilgrims in buses, it was an unusually ruthless and deadly assault."
Egypt has since 2013 dramatically stepped up a battle against militants in the Sinai Peninsula. Still, the attacks have continued, especially against the security forces that have massed in the region. In 2014, an insurgent group based there pledged allegiance to ISIS, whose strength in the Sinai a recent estimate puts at about 1,000 operatives. In perhaps their most sophisticated attack on security forces, in January 2015, fighters hit army and police bases in the northeast of the province, killing more than 30 people in some of the province's most heavily fortified areas. As Michael Horton of the Jamestown Foundation wrote in June, Egypt's ISIS affiliate is "one of the most formidable of the Islamic State franchises. … [It] has fought the Egyptian army, one of the region's more capable armies, to a standstill."
Attacks on civilians have been less frequent, but not uncommon. And they have regularly targeted worshipers at prayer. Egypt's Coptic Christians have been among the primary victims; Friday's mosque attack stands out for the faith of those targeted and the magnitude of the death toll, but not for the distinctive cruelty of murdering people gathered in the name of God. In the case of recent attacks against the Copts, as Samuel Tadros noted in April following attacks on Christian worshipers at Palm Sunday services that killed more than 40 people, "ISIS seemed to take particular delight in targeting Copts during their most joyful celebrations," including before Christmas and Easter.
Following Friday's attack, residents told the Wall Street Journal that Sufis, adherents of a strain of Islam considered heretical by the Islamic State, worshiped at the mosque targeted. There was no immediate claim of responsibility, but the attack occurred in an area with an active ISIS presence and is consistent with a strategy ISIS has pursued in Egypt. Mokhtar Awad, an expert in the Sinai insurgency, wrote in The Atlantic in April that "ISIS hopes that inflaming sectarian strife in Egypt will be the first step in the country's unraveling." Christians were the main focus of these efforts but, Awad noted, "In recent months in Egypt ISIS has also begun to take a similar tone toward Sufis, who constitute a large share of Muslims in Egypt, North Africa, and elsewhere, decapitating two Sufi clerics in Sinai and forcing others to 'repent.'"
Meanwhile, as ISIS has lost nearly all of its territory in Iraq and Syria, it has appeared to focus more resources on Egypt, where conditions favor the group's activities. In June, Horton of the Jamestown Foundation outlined how:
The Sinai Peninsula has proved to be an ideal operational environment for a determined insurgent group. ... There are three primary reasons for this. First, the peninsula is home to a relatively large population, the Bedouin, which has been marginalized and disenfranchised for decades. Second, the Sinai's rugged terrain offers ample cover for hit-and-run attacks and insurgent training, while the lack of roads makes it hard to patrol. Third, dark networks that traffic in everything from arms and drugs to people proliferate in the Sinai.
Whether or not the Islamic State claims responsibility, this latest attack is part of a steady tempo of terror. First some 30 security forces. Then 45 Christian worshipers. Then another 28. Then another several dozen security forces. Then more than 300 Muslim worshipers. Terrorists don't need much territory to take innocent lives.