Rex Tillerson's Slow-Motion Exit
The latest report about the secretary of state's possible ouster undermines his credibility as America's top diplomat.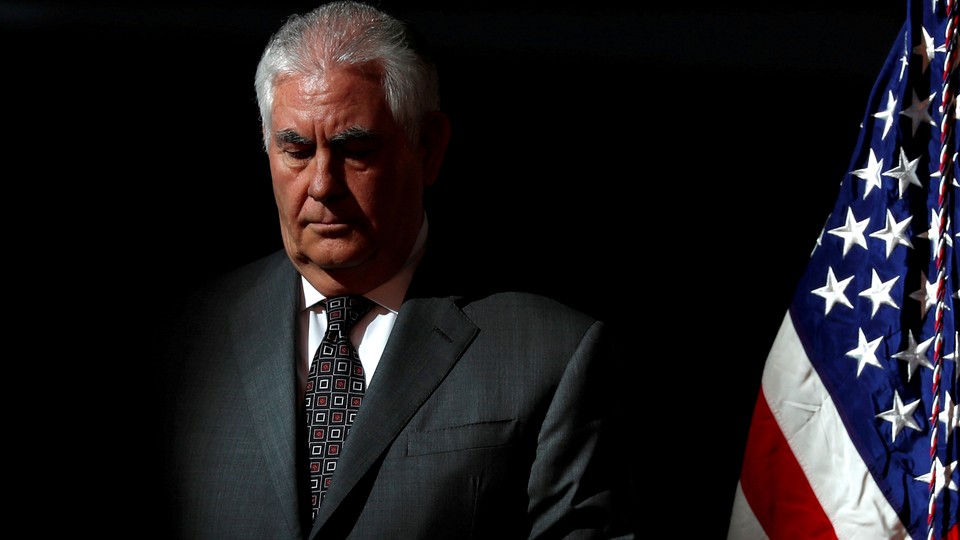 Updated at 3:14 p.m.
The president of the United States and the man he made secretary of state have been at odds almost since the beginning. Donald Trump and Rex Tillerson clashed over the Iran nuclear deal, NATO, the Qatar crisis, and North Korea. Then there were reports that Tillerson called Trump a "moron," prompting the president to challenge him to an IQ test. Taken individually, each disagreement could be dismissed. Taken together, they made Tillerson's position untenable.
The New York Times reported Thursday, citing senior administration officials, that the White House had developed a plan to force out Tillerson by the end of the year and replace him with Mike Pompeo, the CIA director. If the report, which said Trump hadn't yet signed off on the plan, is accurate, Tillerson would join the list of the secretaries of state with the shortest tenures (Elihu B. Washburne, President Ulysses S. Grant's top diplomat, resigned after 11 days; he was then named ambassador to France). Even if it's not accurate, the report further undermines Tillerson's position, and further saps his credibility: What could be worse for America's top diplomat than a leaked plan to replace him at some indefinite point in the future?
When asked about it at the White House, Trump simply said: "He's here. Rex is here."  Sarah Sanders, the White House press secretary, echoed that remark. "Secretary Tillerson continues to lead the State Department and the entire Cabinet is focused on completing this incredibly successful first year of President Trump's administration," she said. The State Department's spokesperson, Heather Nauert, said that Tillerson "serves at the pleasure of the president," and added that John Kelly, the White House chief of staff, called Margaret Peterlin, Tillerson's chief of staff, to assure her that the report of Tillerson's imminent exit was "not true."
Reports about Tillerson's departure, which have circulated for months, emerged most recently last month, when NBC News reported that following Trump's controversial remarks to the Boy Scouts of America, Tillerson had called the president a "moron" during a meeting that did not involve him. Tensions between the two men were reportedly high during this period, and Tillerson had seriously considered quitting, NBC reported, but was persuaded to stay by James Mattis, the defense secretary, and John Kelly. Vice President Mike Pence reportedly talked with Tillerson about not airing his policy disagreements publicly, NBC added. The Times's report on Thursday said Kelly had formulated the plan to replace Tillerson with Pompeo.
Reports of Tillerson's impending exit also circulated in August, when he declined to defend Trump after his controversial remarks about a white-nationalist rally in Charlottesville, Virginia. When asked about the president's values, Tillerson told Chris Wallace, the Fox News host, "The president speaks for himself, Chris."
If Tillerson's time in Foggy Bottom is indeed coming to an end, his tenure will be remembered for both its brevity and its turbulence. The former Exxon CEO's lack of government experience became a major sticking point among critics of his nomination. His close ties to Russia, where Exxon has vast business interests, were cited as a possible conflict of interest as the Trump administration became embroiled by controversy over alleged contacts between his inner circle and Russian officials. Tillerson's reorganization of the State Department also left much of its staff despondent over the future of U.S. diplomacy. He pushed back vigorously against criticisms that he was hollowing out American diplomacy this week in remarks at a forum in Washington, D.C. But on matters of policy, Tillerson has stuck to long-standing U.S. approaches, even if he has sometimes chosen different words to advocate them—and even if at times he has seemed to contradict Trump.
Tillerson said the Obama-era policy of "strategic patience" with North Korea was over—even if Trump's policy is virtually indistinguishable from his predecessor's—despite North Korea's latest test of an intercontinental ballistic missile this week. Tillerson cited concerns with the Iran nuclear deal, but pushed for its repeated recertification by Trump, who was angered by this pressure. Trump called the agreement the "worst" deal in history and ultimately, despite Tillerson's advice, sent the multination deal to Congress. Tillerson also endorsed the idea of collective defense at NATO, which the president dismissed as obsolete, and defended Qatar in its diplomatic dispute with its Arab neighbors (Trump called the nation the biggest supporter of terrorism in the Middle East).
These frequent differences of opinion notwithstanding, Tillerson insisted that his relationship with the president was good. "He calls me late at night on the weekends when something comes into his head and he wants to talk. He may call me at any moment at any time, but it is a very open relationship, and it's one in which I feel quite comfortable telling him my views," Tillerson said at a news conference at the State Department on August 1. "He and I have differences of views on things like [the Iran nuclear deal] and how we should use it. … [If] we're not having those differences, I'm not sure I'm serving him," he added.
That bond was tested after the white-nationalist rally in Charlottesville, Virginia, on August 12. Trump repeatedly compared the white nationalists to the counterprotesters who opposed their presence, going as far as to say there were "some very fine people" among them. His words prompted discomfort among some members of the administration, with Tillerson, Mattis, and Gary Cohn, Trump's chief economic adviser, distancing themselves from the remarks. But it was Tillerson's remarks on Fox News that might have been the beginning of the end for him. On August 27, Axios reported that Trump was getting "fed up" with Tillerson's thinking. A little more than a month later came the NBC reports—and more than a month after that, on Thursday, The Times's story.
After listening to Tillerson speak this week on the importance of the U.S.'s alliance with Europe, Jane Harman, the president of the Wilson Center, said to him: "I was going to ask you what you want your legacy to be, but listening to you, I don't know that that question can be answered yet. You're all over the world, you're focused deeply on the tough questions. You're headed to Europe next week. You have to come back and answer all the other questions we couldn't ask today. Was that a yes?"
"Yes, I'll be back," Tillerson said.
It's unclear in what capacity.