North Korea's Terrorism Designation Isn't Entirely About Terrorism
The country's support for such attacks is less extensive than in the past, but something else has changed.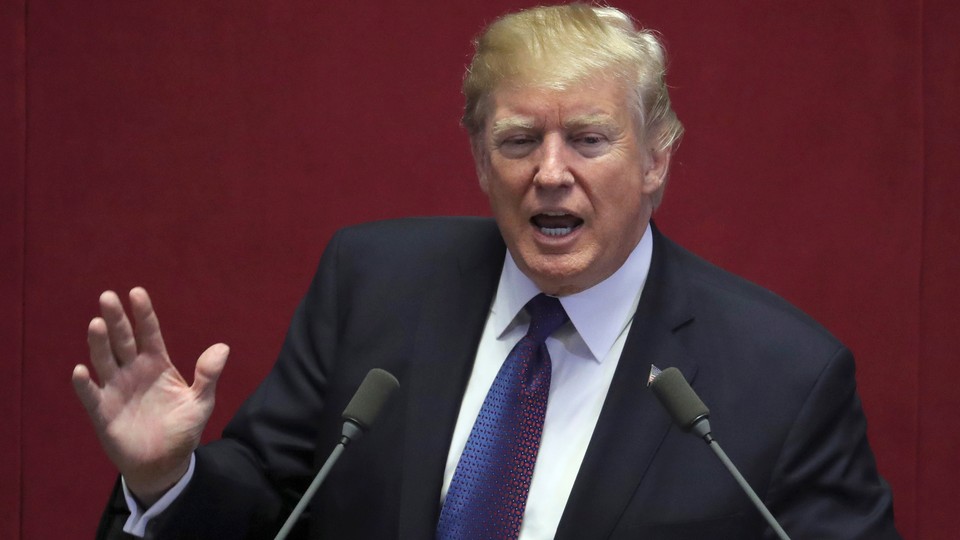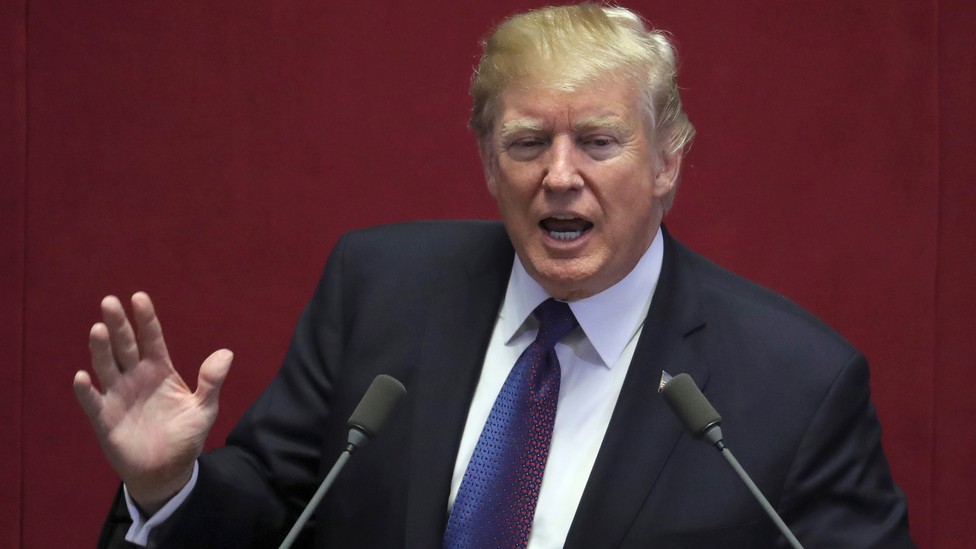 North Korea has once again been designated a state sponsor of terrorism, almost a decade after the Bush administration removed the country from the list in the hopes of salvaging talks on its nuclear program.
In practical terms, President Trump's announcement Monday, which was widely expected after the president hinted at it several times during his visit to Asia this month, will impose additional sanctions on what is already one of the most sanctioned countries on Earth. It also will likely complicate any attempts at negotiating with Pyongyang on its ballistic-missile and nuclear-weapons programs—something the Trump administration has said it's open to.
The designation could instead provoke the North to resume its missile or nuclear testing. After a flurry of such tests early in the year, North Korea hasn't conducted one since September, though the reasons are unclear. (It may have less to do with pressure from the U.S. than with the North's own winter military training schedule.) In any case, the South Korean intelligence agency said Monday that the North could conduct more tests this year. Monday's designation could give the country an impetus.
North Korea joins Iran, Sudan, and Syria as countries that have, in the words of the U.S. State Department, "repeatedly provided support for acts of international terrorism." North Korea does indeed fit this criterion, though the overwhelming majority of its support for international terrorism dates back decades. In the 1970s and '80s, the North Korean regime abducted Japanese citizens, and carried out attacks in South Korea before, during, and after that period. As my colleague Uri Friedman wrote recently, North Korea attacked the South Korean president's residence in 1968; hacked two U.S. soldiers to death near the demilitarized zone separating North and South Korea in 1976; killed South Korean officials in Burma in 1983; and sank a South Korean warship in 2010. North Korea's bombing of a South Korean airliner in 1987, which killed more than 100 people, is what first put it on the state sponsor of terrorism list. Friedman wrote: "Since 1961 … North Korea has been involved in more than 1,300 incidents that have left 89 Americans, 578 South Koreans, and 887 North Koreans dead."
But there are plenty of other countries that arguably fit this criterion too that are not on the list. Trump himself has, for example, criticized Pakistan's support, tacit or otherwise, for groups that commit international terrorism, but has stopped short of designating it a state sponsor of terrorism. Such a designation—or its removal—is inevitably a political decision subject to other policy considerations. North Korea's 2008 removal was due less to any change in behavior with regard to terrorism than as an inducement to talks. Another case in point is that of Cuba, which was removed from the list in 2015 after more than three decades on it. At the time, Cuba hadn't sponsored a terrorist attack in several years, as Jeffrey Goldberg wrote then.
But two recent high-profile incidents may have accelerated North Korea's return to the list. In February, North Korean agents assassinated Kim Jong Nam, North Korean leader Kim Jong Un's half brother, at a Malaysian airport using VX nerve agent. Then came the death of Otto Warmbier, the University of Virginia student who was sentenced to 15 years of hard labor for allegedly stealing a propaganda sign from a North Korean hotel where he was staying as a tourist. Warmbier was returned to the U.S. in a coma in June and died soon afterward. Trump expressed anger at his death.
The Trump administration has sent mixed signals on its policy toward North Korea. The president himself has said it's futile talking to the North, while his top diplomat, Rex Tillerson, and other Cabinet officials have said they hoped diplomacy would resolve the issue. On a recent visit to South Korea, Trump seemed to change his mind about talks, encouraging the North to "make a deal." Trump seemed particularly moved by the issue of the Japanese abductees (he met with their families in Japan) and by the Warmbier case. But the president's indignation notwithstanding, the designation appears to be more of a political gesture than anything else.
The State Department notes that countries that are designated state sponsors of terrorism are subject to four main categories of sanctions, including "restrictions on U.S. foreign assistance; a ban on defense exports and sales; certain controls over exports of dual use items; and miscellaneous financial and other restrictions." U.S. aid to North Korea has been limited since 2009. The U.S. already targets North Korean individuals and entities with sanctions, but the restrictions linked to Monday's action are likely to expand them further. The Trump administration is expected Tuesday to provide details of the new steps. The restrictions already imposed on the North specifically target its nuclear and missile programs, as well as entities and individuals in other countries that deal with the North's illicit activities. They have also targeted trade between North Korea and China, its largest trading partner. In addition, the North is also subject to international sanctions that prohibit the sale of military equipment and luxury goods, that target its financial system, and that ban the trade of certain commodities.
Critics of the Bush administration's decision to remove North Korea from the list of state sponsors of terrorism have complained that the North did little to stop supporting terrorism in order to earn its removal from the list. The reverse appears true of this move—North Korea's support for terrorism hasn't been significant enough in recent years to warrant its re-inclusion on the list, absent other foreign policy priorities.
The Trump administration, as a piece of its "maximum pressure and engagement" strategy, might hope the designation, and the accompanying sanctions, will compel the North to return to talks on its nuclear and missile programs or that it will serve as further punishment for its illicit programs. But for a paranoid country long used to economic hardship and which, as Russian President Vladimir Putin said, was willing to eat grass in order to achieve nuclear-weapons capability, the designation will likely be another reason it can't trust the West.