What Took North Korea So Long?
Some interpreted a mysterious two-month lull in missile testing as a hopeful sign. That was always a mistake.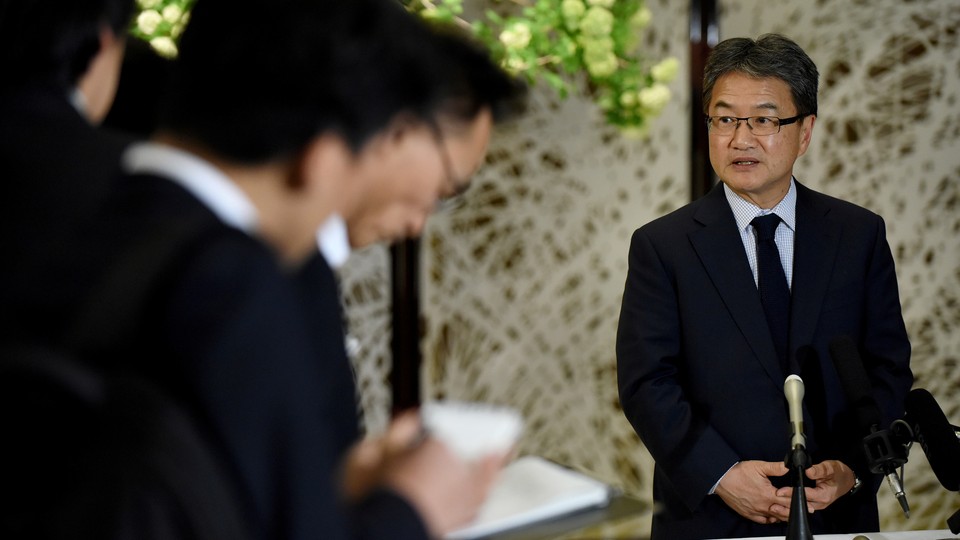 Updated on November 28 at 2:00 p.m. ET.
Joseph Yun, the U.S. special envoy for North Korea policy, remarked on October 30 that 60 days without North Korean missile tests would signal to the United States that North Korea is ready to take diplomacy seriously. On Tuesday, North Korea broke a stretch of more than 70 days without testing a missile—the previous test came on September 15. In the interim, even Secretary of Defense James Mattis said he was open to talks. Pro-Trump hawks said the deliberately heightened tensions from the U.S. policy of "maximum pressure" was bearing fruit. Pro-engagement doves said Pyongyang's quiet was a sign of its flexibility, and urged the United States to reciprocate. Both perspectives were misguided. It's now clear the crisis wasn't averted.
North Korea's relative silence the past two months was a false positive; reading it as a signal from Pyongyang ignored both the logic of the situation and what North Korea has stated publicly.
North Korea has no interest in denuclearization, and especially not in the "comprehensive, verifiable, and irreversible" formulation (known as "CVID" in wonk parlance) that the United States has long demanded. North Korea will return to diplomacy when it believes it has secured the ability to reliably strike U.S. territory with a nuclear-armed missile, but only if the topic of conversation is decidedly unrelated to denuclearization. North Korea declared the Six-Party Talks to denuclearize the Korean Peninsula "dead" in 2008, and has done so repeatedly since. Yet the United States persists in the myth that their resumption is possible.
Since Kim Jong Un came to power in 2011, North Korea has embarked on an accelerated schedule of missile testing, the purpose of which is to improve the precision, range, and diversity of North Korea's missile forces. In tandem with its improving ability to miniaturize nuclear warheads, a diverse and reliable missile arsenal gives North Korea the ability to credibly threaten a retaliatory nuclear strike should the United States or South Korea attempt to invade North Korea or assassinate Kim Jong Un. After Trump's incendiary speech at the United Nations in September, in which he threatened to "totally destroy North Korea" if attacked, Kim Jong Un responded with a statement that Trump's speech confirmed Kim's conviction that a survivable nuclear arsenal is worth any price: "the path I chose is correct and that it is the one I have to follow to the last."  We should expect nothing less; most of North Korea's history with the outside world has involved responding to pressure with pressure in kind.
This assessment of North Korea's strategic intentions matters because it implies North Korea will not modulate its pursuit of nuclear weapons in response to outside pressure, whether in the form of economic sanctions, military exercises, or hostile tweets. It therefore doesn't matter what Tillerson or Trump or Mattis says about hoping for diplomacy; as long as the United States keeps demanding what North Korea cannot and will not give, North Korea will not return to the negotiating table.
So why did North Korea pause testing missiles? There are three most likely answers, none of which has to do with diplomatic signaling. First, the fall is the harvest season in North Korea, and many parts of the North Korean military customarily perform mundane agricultural functions during this part of the year. Second, North Korea paused its missile tests according to a schedule of annual program assessment. For years North Korea has slowed missile testing in the prelude to an annual multi-month period of intense military training activity and joint maneuvers. During this calm before the storm, North Korea continues with missile program assessments of past tests; a pause in testing before the "winter training cycle" has never represented a pause in the missile program per se. Each explanation for the paucity of missile testing bears out in the historical pattern. A third, more discomfiting possibility, is that North Korea for a time believed it had achieved the progress it sought in its missile program and it didn't see an immediate need for further provocation. The state-run website Uriminzokkiri said in October that "The status of force between the DPRK and U.S. at present is fundamentally different from what was in the past Korean War in the 1950s." This may have been a reference to the nuclear balance, which has been a primary focus of its nuclear and missile programs. If North Korea achieves something approximating its desired level of success, North Korea might be ready to negotiate, but only on terms that the United States so far refuses to accept.
More important than what we didn't see from North Korea is what we continued to see—namely, North Korean confirmation that it doesn't want talks with the United States until it has rectified what it sees as an imbalance of power with the United States. From North Korea's perspective, who cares if Trump is finally ready to deal? Why should they trust the United States, especially after the administration's decision to undercut the Iran nuclear deal?
As recently as October 20, Choe Sun Hui, one of North Korea's leading diplomats and a familiar face in past nuclear negotiations with the United States, spoke at a nuclear nonproliferation conference in Moscow, repeating that the North does not seek talks with the United States as long as it's facing daily threats from Trump. She also remarked that North Korea sees its nuclear program as a matter of the country's survival, not something to be bargained away. This explains what Special Envoy Yun told reporters concerning the pause in missile and nuclear testing—"…we had no communication from them [North Koreans] so I don't know whether to interpret it positively or not. We have no signal from them." Even during the pause, North Korean media continued to threaten war against the United States and call for the death of Trump; hardly signs of a change in its position. And the day after it launched a ballistic missile over Japan in September, North Korean media stated that it seeks "to establish the equilibrium of real force with the U.S. and make the U.S. rulers dare not talk about a military option." North Korea, too, wants to negotiate from a position of strength.
None of this means that diplomacy is impossible or undesirable. A robust agenda aimed at crisis stability and forestalling further North Korean nuclear advancements is not only worthwhile, it's essential. But North Korea's pattern of missile testing isn't a harbinger of diplomacy, for good or ill; it's an ongoing statement of North Korea's strategic intentions. If the only American diplomacy on offer is talks leading toward CVID, then from where North Korea sits, there's nothing to talk about.