The Prime Minister of Lebanon's Unnerving Interview
Saudi Arabia appears ready to sacrifice the country in its reckless bid to confront Iran.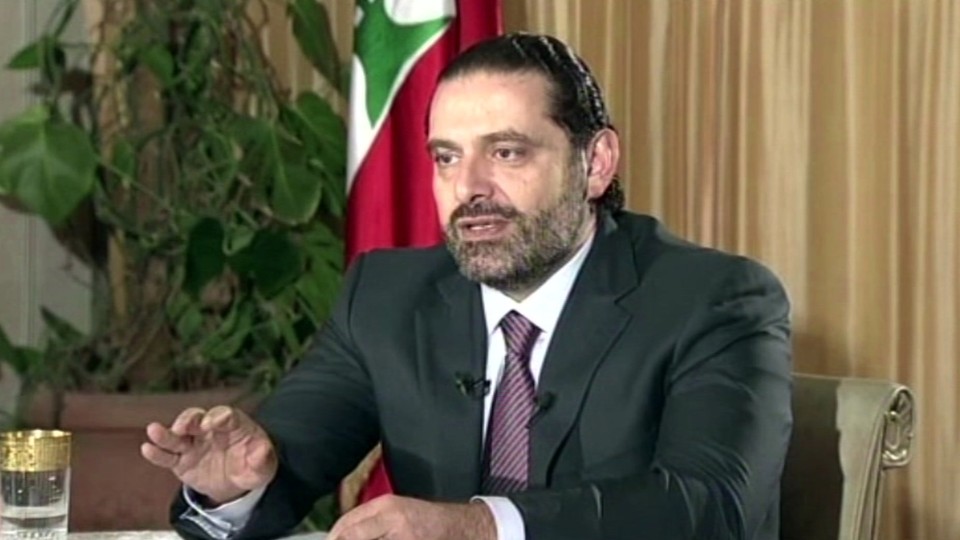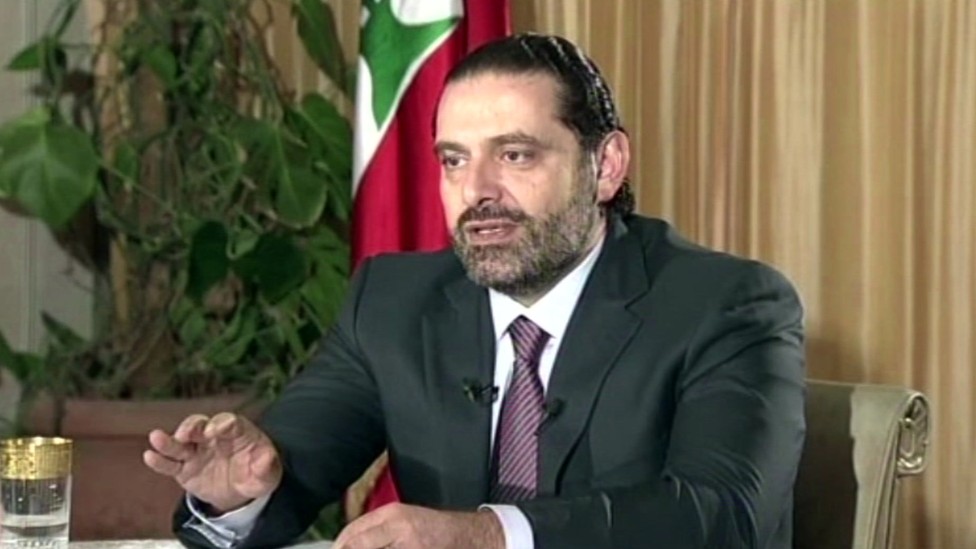 In the Middle East, the parlor game of the moment is guessing whether Saad Hariri, Lebanon's prime minister—or is it ex-prime minister?—is literally, or only figuratively, a prisoner of his Saudi patrons. In a stiff interview from an undisclosed location in Riyadh on Sunday, Hariri did little to allay concerns that he's being held hostage by a foreign power that is now writing his speeches and seeking to use him to ignite a regional war. He insisted he was "free," and would soon return to Lebanon. He said he wanted calm to prevail in any dispute with Hezbollah, the most influential party serving in his country's government.
Since Hariri was summoned to Saudi Arabia last week and more or less disappeared from public life as a free head of state, rumors have swirled about his fate. On November 4, he delivered a stilted, forced-sounding resignation speech from Riyadh. Michael Aoun, Lebanon's president, refused to accept the resignation, and Hezbollah—the target of the vituperative rhetoric in Hariri's speech—deftly chose to stand above the fray, absolving Hariri of words that Hezbollah (and many others) believe were written by Hariri's Saudi captors.
The bizarre quality of all this aside, the underlying matter is deadly serious. Saudi Arabia has embarked on another exponential escalation, one that may well sacrifice Lebanon as part of its reckless bid to confront Iran.
Foreign influence seeps through Middle Eastern politics, nowhere more endemically than Lebanon. Spies, militias, and heads of state, issue political directives and oversee military battles. Foreign powers have played malignant, pivotal roles in every conflict zone, from Iraq and Syria to Yemen and Libya. Lebanon, sadly, could come next. Even by the low standards of recent history, the saga of this past week beggars the imagination, unfolding with the imperial flair of colonial times—but with all the short-sighted recklessness that has characterized the missteps of the region's declining powers.
Saudi Arabia, it seems, is bent on exacting a price from its rival Iran for its recent string of foreign-policy triumphs. Israel and the United States appear ready to strike a belligerent pose, one that leaders in the three countries, according to some reports, hope will contain Iran's expansionism and produce a new alignment connecting President Donald Trump, Saudi Crown Prince Mohammed bin Salman, and Benjamin Netanyahu.
The problems with this approach are legion—most notably, it simply cannot work. Iran's strength gives it a deterrence ability that makes preemptive war an even greater folly than it was a decade ago. No military barrage can "erase" Hezbollah, as some Israel war planners imagine; no "rollback," as dreamed up by advisers to Trump and Mohamed bin Salman, can shift the strategic alliance connecting Iran with Iraq, Syria, and much of Lebanon.
Saudi Arabia, as the morbid joke circulating Beirut would have it, is ready to fight Iran to the last Lebanese. But the joke only gets it half right—the new war reportedly being contemplated wouldn't actually hurt Iran. Instead, it would renew Hezbollah's legitimacy and extend its strategic reach even if it caused untold suffering for countless Lebanese. Just as important, a new war might be biblical in its fire and fury, as the bombast of recent Israeli presentations suggests. But that fire and fury would point in many directions. Iran's friends wouldn't be the only ones to be singed.
Saudi Arabia's moves have gotten plenty of attention in the days since Mohamed bin Salman rounded up his remaining rivals, supposedly as part of an anti-corruption campaign. Hariri was caught in the Saudi dragnet around the same time. It seemed puzzling at first: For years, Saudi Arabia had been angry with Hariri and his Future Movement, its client in Lebanon, for sharing power with Hezbollah rather than going to war with it. Riyadh was clearly displeased with Hariri's pragmatic positions. He had learned the hard way, after several bruising political battles and a brief street battle in May 2008, that Hezbollah's side was the stronger one. Rather than fuel a futile internecine struggle, Hariri (like the rest of Lebanon's warlords) opted for precarious coexistence.
Once it became clear that Hariri could do nothing to prevent Hezbollah's decisive intervention in the Syrian civil war, Saudi Arabia cut off funding for Hariri, bankrupting his family's billion-dollar Saudi construction empire. It also ended its financial support for the Lebanese army, cultivating the impression that it considered Lebanon lost to the Iranians and Hezbollah.
Now, Saudi Arabia has steamed back into the Lebanese theater with a vengeance. It dismisses Hezbollah as nothing but an Iranian proxy, and, in the words uttered by Hariri in his resignation speech, wants to "cut off the hands that are reaching for it." In what must be an intentional move, it has destroyed Hariri as a viable ally, reducing him to a weak appendage of his sponsors, unable to move without the kingdom's permission. Mohamed bin Salman won't even let him resign on his home soil. If Hariri really were free to come and go, as he insisted so woodenly in his Sunday night interview, then he would already be in Beirut. Even his close allies have trouble believing that threats against his life prevent him from coming home, and the Internal Security Forces, considered loyal to Hariri, denied knowledge of any assassination plot.
The Saudis have fanned the flames of war, seemingly in ignorance of the fact that Iran can only be countered through long-term strategic alliances, the building of capable local proxies and allies, and a wider regional alliance built on shared interests, values, and short-term goals. What Saudi Arabia seems to prefer is a military response to a strategic shift, an approach made worse by its gross misread of reality. In Yemen, the Saudis insisted on treating the Houthi rebels as Iranian tools rather than as an indigenous force, initiating a doomed war of eradication. The horrific result has implicated Saudi Arabia and its allies, including the United States, in an array of war crimes against the Yemenis.
Hariri has clearly tried to balance between two masters: his Saudi bosses, who insist that he confront Hezbollah, and his own political interest in a stable Lebanon. On Sunday night, he appeared uncomfortable. At times, he and his interviewer, from his own television station, looked to handlers off camera. The exchange ended abruptly, after Hariri implied that he might take back his resignation and negotiate with Hezbollah, seemingly veering from the hardline Saudi script. "I am not against Hezbollah as a political party, but that doesn't mean we allow it to destroy Lebanon," he said. His resignation does nothing to thwart Hezbollah's power; if anything, a vacuum benefits Hezbollah, which doesn't need the Lebanese state to bolster its power or legitimacy.
One theory is that the Saudis removed Hariri to pave their way for an attack on Lebanon. Without the cover of a coalition government, the warmongering argument goes, Israel would be able to launch an attack, with the pretext of Hezbollah's expanded armaments and operations in areas such as the Golan Heights and the Qalamoun Mountains from which they can challenge Israel. Supposedly, according to some analysts and politicians who have met with regional leaders, there's a plan to punish Iran and cut Hezbollah down to size. Israel would lead the way with full support from Saudi Arabia and the United States. Even if this theory proves true, there's no guarantee Israel would play along. Riyadh's miscalculation in Yemen suggests it's likely to misread the situation in Lebanon and Israel.
Short of seeking actual war, Saudi Arabia has, at a minimum, backed a campaign to fuel the idea that war is always possible. While a war between Saudi Arabia and Iran wouldn't shift the balance of power back toward the kingdom, it would upend still more lives in a part of the world where the recently displaced number in the millions, the dead in the hundreds of thousands, and where epidemics of disease and malnutrition strike with depressing regularity. Short of direct war, Riyadh's machinations will likely produce a destabilizing proxy war.
If Hariri were a savvier politician, he could have used different words; he could have refused to resign, or insisted on doing so from Beirut. But he is an ineffective leader in eclipse, unable to deliver either as a sectarian demagogue or a bridge-building conciliator. Saudi Arabia's plan to use him to strike against Iran will fail. Just look at how willfully it has misused and now destroyed its billion-dollar Lebanese asset. It's a poor preview of things to come in the Saudi campaign against Iran.