The Future of Kenya's Democracy Is Hanging in the Balance
Civil-society crackdowns. Police killings. A restive electorate. Can America's top ally in east Africa ward off authoritarianism?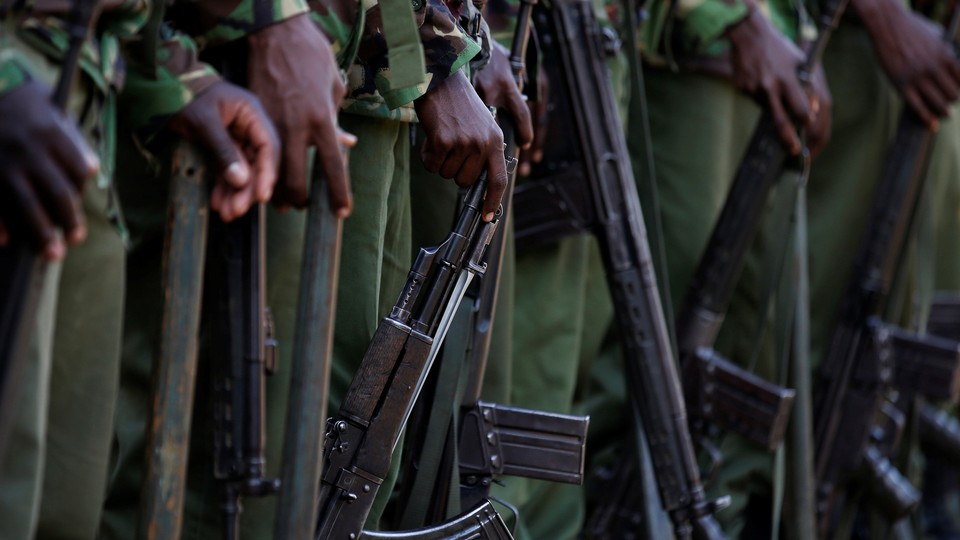 NAIROBI, Kenya—The police officers, dressed in their military greens, were so well-armed they could have been preparing for a war. On the morning of October 26, they secured a perimeter around a polling station at Olympic Primary School in Kibera, Nairobi's largest slum, to safeguard what would be Kenya's second presidential election in three months. In September, the Supreme Court had thrown out the results of the August 8 election over alleged irregularities and illegalities, a decision widely hailed as a milestone for judicial independence in Africa.
But the triumph of the court's decision was short-lived. Few people came to the school to vote on October 26, a sharp contrast from August 8, when throngs of Kenyans had lined up to cast their ballots. Instead, angry protestors who questioned the vote's credibility lobbed rocks and bottles at the compound, and then retreated into a maze of low-rise shanties. A group of young men heaved a makeshift battering ram into one of the school's walls.
In large part, they were responding to Raila Odinga, the opposition candidate running against incumbent President Uhuru Kenyatta. Odinga had withdrawn from the October election and called for a boycott of the polls after accusing the Independent Electoral and Boundaries Commission (IEBC) of failing to implement reforms needed to ensure a free and credible election. Odinga's criticism of the IEBC resonated in Kibera, where he enjoys widespread support.
Down the street from the school, 17-year-old Beatrice Ouma stood with her neighbors to monitor how the IEBC conducted the vote. "I'm waiting to see who voted there because when they [release] the results I will know what I saw," she told me. She planned to count the number of voters entering the polling station so she could compare her tally to the commission's official numbers. Like many Kenyans, Ouma had lost faith in the system after a divisive election season that tested their country's democratic resolve.
Four days after the election, Kenyatta was declared the winner with over 98 percent of the vote. But his victory has been tainted by accusations of illegitimacy. Only 39 percent of eligible voters participated, down from 80 percent on August 8. Two new petitions have been filed to the Supreme Court, citing an unfair election process and calling for the results to be annulled and the vote to be rescheduled for a third time.
As the cornerstone of East African democracy, Kenya is an important economic and political force in the region and a critical U.S. ally in the fight against terrorism. But worrying signs, including a crackdown on press and civil society, police killings committed seemingly with impunity, and threats and attacks on election officials and judges, suggest that Kenya may be veering off its democratic path.
Since October 26, the Kenyan parliament has taken an unscheduled three-week recess, at the request of the opposition coalition, due to the political turmoil. Odinga is advocating for a six-month interim government to examine and curb presidential powers. Kenyans, meanwhile, have taken to the streets to fight signs of creeping authoritarianism. Recent weeks have seen protests, rallies, and an opposition-led economic boycott of government-affiliated companies, including telecom giant Safaricom. There's even some limited talk of secession. "In our view, [calls for secession] are manifestations of discontent with the situation and the way the country is being run. There are indications that people are beginning to feel that they are being ignored," Odina's spokesman Dennis Onyango said. "I wouldn't take it lightly."
"One of the big fears is that … we'll settle into an authoritarian status quo. That happens in other African countries," said anti-corruption activist John Githongo, who chairs the board of a civil society organization called AFRICOG. One worrying sign: Since the August vote, at least five civil-society organizations have received letters from Kenya's NGO coordination board, threatening to revoke their licenses and requiring them to defend their activities.
Police killings are another ominous sign. After the August election, violent protests broke out across the country. At least 126 people were injured and 37 were killed, most of them shot by police, the Kenya Human Rights Commission reported. And those were only the reported cases from the first election.
Thirty-one-year-old Ruth Khavere, a housecleaner and single mother of two from the Luhya tribe in Western Kenya, lost her 19-year-old brother to violence in August. Her brother and father were crossing a street in broad daylight when they were shot by unknown assailants. Khavere's father survived surgery, but her brother passed away two days later. His girlfriend gave birth to their first and only son that very night.
When Khavere's family requested that the hospital provide them with the bullets extracted from the bodies, they were informed that they had been thrown away. Then, another doctor told them two police officers had stopped by and collected the bullets to open an investigation. Khavere decided not to pursue the case. "I didn't want to go to the police station because of money. They demand money to help us, and I don't have money to waste. Even if the police did or did not do it, they will not agree and they will not help," she said.
Another victim of the crisis has been Kenya's judicial independence. Several judges and election officials have been intimidated and killed since the election process began. The gruesome torture and murder of election official Chris Msando before the August vote was followed by the injury of the bodyguard of the deputy chief justice of the Supreme Court in a suspicious roadside shooting on October 24. The following day, the Supreme Court lacked a quorum to vote on a last-minute petition to postpone the election. Only two of the seven justices were in attendance.
Some see these developments as indications that Kenya's institutions are failing. Before the October vote, the IEBC was mired in crisis. Senior election official Roselyn Akombe fled to the United States, citing security concerns. The commission's CEO, Ezra Chiloba, then announced he was going on leave for three weeks for family reasons. And commission chairman Wafula Chebukati voiced concerns over the body's ability to hold a free, fair, and credible election, although he walked this position back after the voting had concluded in what appears to have been an effort to boost confidence in the projected results.
This disarray is all the more worrying because Kenya's laws and constitution should serve as a line of defense against election tampering and violence—but the recent uptick in violence has put them to the test. Over the past 10 years, Kenya has rewritten its constitution and electoral laws to try to prevent a repeat of the post-election violence of 2007 and 2008 that killed over 1,200 people and displaced over 500,000. "What people want their leaders to do now—what they indicated by refusing to be part of that farce of an election [on October 26]—is to let the systems that we voted to build in 2010 do the jobs that they were designed to do. That includes the judiciary, the IEBC, the police service, the executive and the legislatures," political analyst H. Nanjala Nyabola told me.
In fact, some Kenyans are viewing this election as a chance for their country's electoral process to be reinforced through legal means. "The election has provided an opportunity for Kenya to test its nascent democracy," Sekou Toure Omondi, a Ph.D student at the University of Nairobi, told me. "It's good that a section of Kenyans are talking of strengthening democracy through constitutional amendments to address the ethnic nature of Kenyan politics."
But many voters believe that the new laws are being ignored by Kenya's elite political families—the Kenyattas and the Odingas—who are vying for power at any cost. "Everything that has happened demonstrates the extent to which we have a ruling elite in Kenya that is determined to continue living as if we have never passed a new Constitution," Githongo said.
Most Kenyans are desperate for life to return to normal after months of economic hardship and political turmoil. That is the case for Ruth Khavere. "I don't care who will be president because they don't bring us anything to eat. ... So if Raila will be president, or Uhuru, it doesn't change my life," she said. "Elections are not about what Kenya wants. It's about who wants to be president more."