Prosecuting Terrorists in Civilian Courts Still Works
So why does Trump appear to favor military commissions?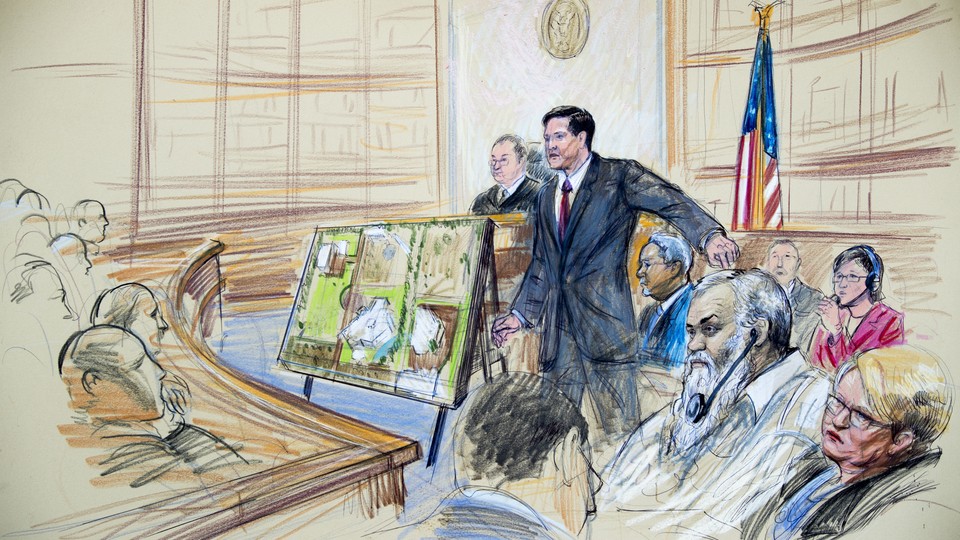 On November 15, the defense rested in the trial of terrorism suspect, Abu Khattala, the alleged conspirator behind the 2014 attack in Benghazi, Libya, which resulted in the deaths of U.S. Ambassador Christopher Stevens and three other Americans. The evidence against Khattala presented before the D.C. federal court includes reports of his anti-American statements, videos from the attack, and information provided by a witness who claims to have been paid $7 million to help befriend Khattala and arrange his capture. The jury in his trial is likely to produce a verdict some time this week.
Given the notoriety of Khattala's case, one might think it would garner greater notice. Yet his trial lasted seven largely uneventful weeks. Jury selection, evidence presentation, witness testimony—all proceeded with the recognizable regularity of criminal trials in federal court. The press and the public took scant notice.
Once, terrorism trials in America like Khattala's stoked considerable fear. In 2011, the Department of Justice moved the trial of the 9/11 co-conspirators from a federal court in New York City to Guantanamo Bay's military commissions, following a public outcry and protest from then-mayor Michael Bloomberg and then-police commissioner Ray Kelly and a subsequent congressional ban restricting the defendants from leaving Guantanamo for their trial. In hindsight, their fuss was unnecessary: Since then, terrorism trials in New York and elsewhere have proceeded efficiently under standard courtroom procedures, from jury selection through sentencing. Meanwhile, the trial for the 9/11 defendants has yet to receive a starting date.
This fall, four terrorism trials, including Khattala's, have taken place in four separate federal courthouses, with others pending, with little notice. Last month, a jury in New York City found Ahmad Rahimi guilty of planting bombs in Manhattan in 2016. In another case in September, a federal court found Muhanad Mahmoud Al-Farekh guilty of, among other things, participation in an attack on a U.S. military outpost in Afghanistan in 2009. Likewise, a federal court in Boston just convicted its first terrorism defendant since Dzhohkar Tsarnaev, the Boston Marathon bomber, on several charges related to a plot to kill Americans on behalf of the Islamic State.
These cases are, notably, all holdovers from the Obama years. It remains unclear whether President Donald Trump and Jeff Sessions, his attorney general, will bring the full array of terrorism cases—involving citizens, non-citizens, those apprehended in the United States, and those apprehended abroad—to court. But the president has been making his feelings about the courts known, casting into doubt whether they will remain a viable venue for terrorism prosecutions.
After 29-year old Sayfullo Saipov, an Uzbek national with permanent-resident status, attacked and killed civilians in New York City on Halloween, Trump asserted that the courts were "a joke and a laughing stock" when it came to terrorism prosecutions. "We need quick justice, and we need strong justice, much quicker and much stronger than we have right now," he said. Yet by the next day, Saipov had been arraigned in federal court. While Trump ultimately backed down, acknowledging that the federal courts were indeed quicker than "the process" at Gitmo, his administration has yet to declare a formal policy about cases like Saipov's.
For years, the Justice Department has worked to ensure that terrorism suspects wind up in federal court and not in military commissions, and certainly not in indefinite detention without facing charge or trial (as is the case with the 41 detainees still held at Guantanamo Bay). Continuing a Bush-era trend, prosecutors under Obama took terrorism cases to trial efficiently.
At times, the courts allowed the prerogatives of national security to justify exceptions that departed from conventional criminal procedure and substantive law. Judges, for instance, permitted the government to substitute summaries for classified materials favorable to the accused, as opposed to the actual documents themselves. In several cases, they also admitted into evidence the fruits of electronic surveillance—material drawn, for example, from warrantless collection of Americans' communications—whose constitutionality remains contested and in some respects still undecided by the appellate courts. In several cases, federal judges tolerated lengthy military detention for questioning before indicting suspects.
Why did the federal courts permit procedural departures? Because, as I have observed in my 14 ​years of studying and writing about these proceedings, their priority was to prove that they were flexible enough to handle any difficulties presented by terrorism cases. During his confirmation hearing, Deputy Attorney General Rod Rosenstein, a career federal prosecutor, signaled his preference for using federal courts for terrorism prosecutions, a sentiment that has up to now been widely shared inside the Justice Department. Even when terrorism defendants chose to represent themselves or refused to appear in court, their trials proceeded with little interruption or delay. Overall, the results have been consistent​, if sometimes uncomfortably so​. Terrorism cases tried in federal court have produced harsh results: Sentences exceed the national average and acquittals remain virtually impossible.
Under Obama, the Justice Department's determination to keep terrorism prosecutions in federal court even wound up expanding its mandate beyond U.S. borders. In Obama's second term, the Justice Department tried two individuals accused and convicted of crimes which took place on the battlefield in Afghanistan. In 2015, in a Virginia federal court, Russian national and Taliban fighter Irek Ilgiz Hamidullin was found guilty of conspiring to attack Afghan police and U.S. armed forces in Afghanistan. Similarly, this year, Ibrahim Suleiman Adnan Adam Harun, aka Spin Ghul, was found guilty in a Brooklyn court on charges of involvement in a 2003 lethal attack on U.S. troops in Afghanistan. By contrast, under Bush, those accused of killing Americans on the active battlefield were sent to Guantanamo.
The preponderance of terrorism indictments during Obama's second term involved alleged ISIS-linked extremists, as a study of prosecutions of ISIS supporters by Fordham Law School's Center on National Security has shown. These were primarily American youth, arrested on U.S. soil. The majority were no older than 25; most did not have criminal records. Few, if any, had ever met face-to-face with a member of ISIS. At times, these cases of home-grown terrorists were treated differently than those aimed at non-U.S. citizens captured abroad. Authorities and defense attorneys, for instance, often drew a distinction between die-hard extremists committed to jihad for life and young men seemingly gone astray. In addition, no senior ISIS figures have been prosecuted in U.S. courts.
Now, under Trump and Sessions, things may be shifting. Sessions has repeatedly declared his opposition to closing Guantanamo. Trump, similarly, has embraced the idea of sending Americans to reside among the "bad dudes" at Gitmo. Under current law, U.S. citizens cannot be sent to Gitmo. Trump and Sessions have also rejected the idea of trying terrorists in civilian court. "It is the responsibility of the military to protect the United States from those who attack us," Sessions explained at his confirmation hearing, expressing a preference for the use of military commissions over federal civilian trials to prosecute terrorists. In so doing, he is reviving an age-old battle over whether terrorism constitutes an act of war or a crime.
At the very least, some in the legal community worry that terrorism trials, especially for non-citizens without ties to the United States captured abroad, may soon be a thing of the past. Nick Lewin, until recently the deputy chief of the criminal division in the Southern District of New York, perhaps the most prestigious legal venue for international terrorism cases, sees a dismal future in this regard. "I'd be surprised if the current administration brings a single international terrorism case in civilian court," he told me.
Several cases in limbo since the Obama era will serve as test cases for the Trump strategy on foreign-terrorist prosecutions. One involves Umm Sayyaf, the wife of a key member of ISIS who was reportedly killed by U.S. forces in 2015. She was brought into U.S. custody in 2015, and has been held abroad ever since. Even though a criminal complaint was filed against her in U.S. federal court in 2016, much remains unknown about her case—namely, her specific whereabouts in Iraq, and whether or where she will be tried. Another suspect named Abu Khaybar, an al-Qaeda member thought to be in U.S. custody in Yemen as of this February, is also apparently awaiting a decision on whether he will be prosecuted and, if so, in which forum. Especially telling will be the way events unfold in the case of the American citizen who was captured in Syria in September, and whom the Trump administration has labeled an "enemy combatant." The name, whereabouts, and eventual judicial destination of this individual are still unknown. As an American citizen, he can't be brought to Guantanamo under current law. Currently, there is no other venue for trying an enemy combatant.
Meanwhile, as protests against the use of the federal courts for terrorism trials persist, the deluded idea of using military commissions as a viable alternative continues to pick up momentum. Since their creation in 2006, the military commissions have successfully convicted five individuals, versus over 500 al-Qaeda- and ISIS-related defendants in civilian courts. The most significant military commissions trials—that of the 9/11 co-defendants and of Abd al-Rahim al-Nashiri, the alleged mastermind of the attack on the USS Cole in 2000 that killed 17 American servicemen—have yet to receive a start date.
The system is rife with dysfunction. In late October, Marine Brigadier General John Baker, the chief defense counsel for the military commissions, was held in contempt of court and put into military custody for relieving the defense team for al-Nashiri due to ethical issues that remain classified. Baker was eventually released by another Gitmo official whose authority to do so has been questioned by some, including Michel Paradis, a civilian appellate lawyer on Baker's staff. Although Baker has been released, the civilian lawyers on the case are still refusing the judge's order that they return to the case. To hold the military commissions up as an option for any future trials defies logic.
Under Trump, terrorism trials in federal court, especially ones solely foreign in nature—those involving foreign defendants accused of terrorist acts or plots committed abroad—could grow weak or even become obsolete. Or perhaps the courts will defy Trump and others, and prevail. Either way, the country finds itself again embroiled in heated debate over what they assumed was a long-settled question.