'Germany Is Becoming More Normal'
Berlin suddenly looks unstable—just like a lot of other places.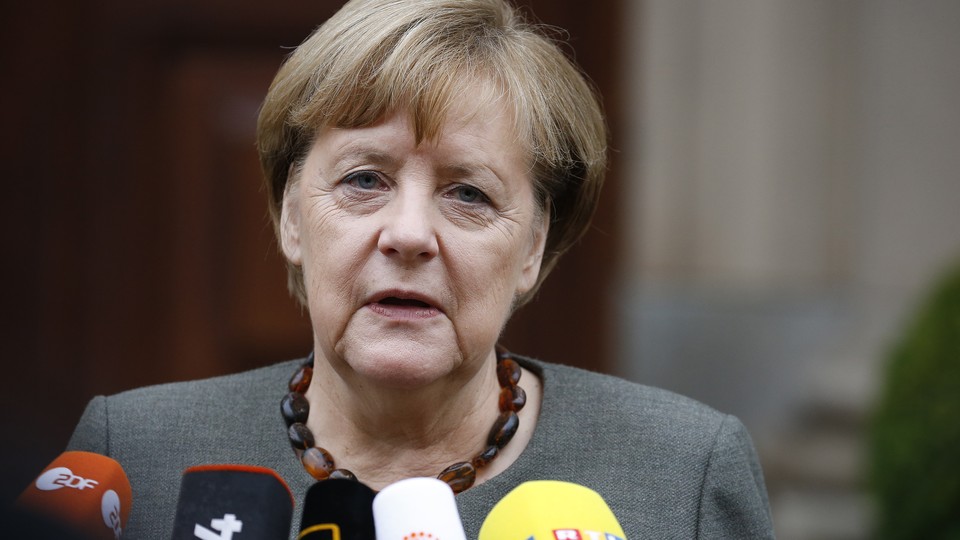 Angela Merkel is traditionally known as Germany's "safe pair of hands," but when government-coalition talks unexpectedly collapsed late Sunday night after just four weeks, her future as the country's chancellor was suddenly in question.
It began just before midnight local time, when the pro-business Free Democrats (FDP) party announced that it would no longer take part in coalition talks to form Germany's next government. Though Merkel's center-right Christian Democratic Union (CDU) party and its Bavarian Christian Social Union (CSU) sister party won the largest share of votes during the country's general election in September, they failed to win enough seats to govern on their own. Having ruled out forming a coalition with the far-right Alternative für Deutschland (AfD), the third-largest party, Merkel's party entered into coalition talks with two smaller parties, the pro-business Free Democrats (FDP) and the Greens, in hopes of forming a "Jamaica" coalition (called Jamaica because the parties' colors of black, yellow, and green, respectively, correspond to those of the Jamaican flag).
Addressing reporters late Sunday night, FDP leader Christian Linder attributed the failure of the proposed Jamaica coalition to a lack of common vision or trust among the parties, noting that "it's better not to govern than to govern badly." Merkel called the collapse of talks "regrettable" but insisted her party would act responsibly in the national interest, in an apparent dig at the FDP. Others were less restrained. One lawmaker in Merkel's party dubbed the FDP a "circus troupe devoid of substance," while another praised it sarcastically for its "well prepared spontaneity."
With Jamaica no longer an option, Germany is faced with three choices: The first is a minority government, formed by Merkel's CDU/CSU party in coalition with either the FDP (which would leave the government 29 seats short of a majority) or the Greens (short 42 seats). Though that's not impossible, Marcel Dirsus, a political scientist at the University of Kiel, told me this option would be alien to both Merkel's leadership style and the country as a whole. "For historical reasons, Germans are very skeptical of minority governments because it reminds people of the Weimar period," he said, referring to the post-World War I period between 1918 and 1933 known for its political instability. "For somebody like Angela Merkel, it's not in her style of governing to run a minority government because she's not exactly a big gambler." And a minority government would certainly be a gamble for Merkel—effectively denying her the authority she needs to push through reforms both at home and within the eurozone. "She's somebody who doesn't just embody stability, but I think she also likes stability herself."
A second option would involve a return of the Social Democrats (SPD), Merkel's former "grand coalition" partner, to the government. While such a coalition would easily command a parliamentary majority, it's one the center-left SPD ruled out in September after its poor showing in the country's general election—which delivered its worst-ever result more than half a century—and one it rejected again Monday, reaffirming that it would rather have new elections altogether.
This brings us to the last, and perhaps most drastic, option: new elections. But calling for new elections is hardly easy, nor would it be Merkel's decision to make (though she said Monday that she would be open to the possibility if a coalition was not possible). Instead, the country's Basic Law requires that German President Frank-Walter Steinmeier first nominate Merkel as chancellor, after which she would be required to earn a majority of votes in the German parliament, or Bundestag, before she could be reinstated. Only if she were to lose three attempts at such a vote would Steinmeier be able to dissolve the Bundestag; then new elections would have to be held within 60 days. Though a recent poll found that 68 percent of Germans would favor of new elections if Jamaica coalition talks fail, it's an option Steinmeier appears keen on avoiding, noting in a statement Monday that the parties' responsibility to form a government "cannot be simply given back to the voters."
But even if it were, there is no guarantee it would lead to a different outcome. "According to the polls, German voters would not make very different choices," Ulrich Speck, a German foreign policy expert and and a senior research fellow at the Elcano Royal Institute, told me. "We might have new elections and the results may be the same."
No matter which option gets picked, Germans—and the rest of Europe—lose. "If you want to get things done and you want decisions to be made, you need a stable government in Berlin," Dirsus said, citing as examples French President Emmanuel Macron's proposed eurozone reform and ongoing Brexit negotiations addressing the U.K.'s impending departure from the European Union. "A strong Merkel would have been helpful in that. The schadenfreude is misplaced."
Speck said this latest salvo in German politics raises the question of whether Germany can remain the European anchor of stability, especially in a post-Merkel era. "The German party system has been quite solid and stable … but now it looks like Germany is somehow also entering the kind of new political landscape where traditional parties struggle to really find themselves," he said. "We suddenly look to a post-Merkel world and are wondering whether Germany can continue this stability that she brought with her safe pair of hands—especially in times of geopolitical changes."
But in another way, the collapse of talks isn't really a watershed at all. "In a sense," Dirsus said, "Germany is just becoming more normal. It would be a mistake to over-interpret what is happening. This is not Trump, this is not Brexit. Merkel is weakened, but she's still in power. … Germany … [is] still very far removed from some of the things that we see around us."