Is Catalonia Using Schools as a Political Weapon?
The complicated question of language and nationalism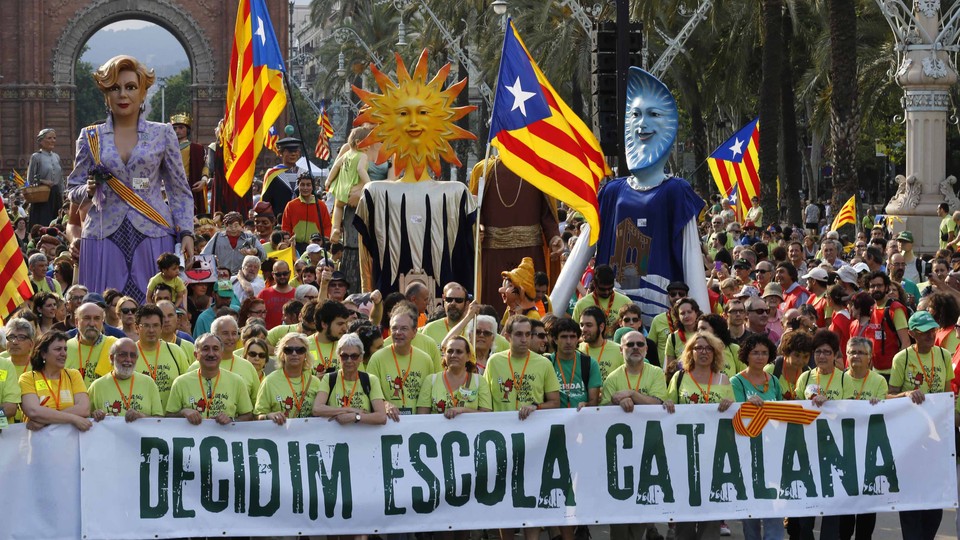 In 1983, the parliament of Catalonia passed a law that would help the region assert its identity, and its autonomy, relative to the rest of Spain. It made Catalan the region's official language—this after the language was banned for four decades under the dictatorship of Francisco Franco, who had died in 1975. In the words of a 2014 report from the Catalan Ministry of Culture, the policy "constituted the basis on which the population of Catalonia would become one sole people, free of dynamics differentiated by language."
In addition to mass media, schools would also become a key vehicle for the propagation of the Catalan language. The 1983 law required that public schools in the region use Catalan—a romance language similar to Spanish that is today spoken by some 9 million people—as the primary mode of instruction. This and similar policies aimed to reclaim the Catalan identity that Franco had attempted to annihilate. And now that Madrid has suspended Catalonia's autonomy following the region's contested declaration of independence, scholars argue the sacredness of Catalan identity is key to understanding Spain's most serious constitutional crisis since the end of Franco's regime. Meanwhile, a region whose leaders pushed for full independence from Spain now finds itself stripped, at least temporarily, of the powers it did have, including control over its education system.
Spanish nationalists have blamed Catalan-language instruction as a sinister force for fostering separatist sentiments. But the question of language and identity is much more complicated, as is Catalonia's history of using its classrooms to foster unity.
* * *
In Spain, minority languages like Catalan (which is spoken by roughly 17 percent of the country's population), Galician (7 percent), and Basque (2 percent) are known as lenguas propias, their "own language." The lengua propia label "conveys this view of the worth of the language as private and particular, rather than public and generic," explained the University of California, San Diego, anthropologist Kathryn Woolard in a 2005 paper on Catalan identity.
So-called "minority languages" play a role in identity for communities all over the world—from Canada's Gaels in Nova Scotia to Colombia's Wayuu tribe to Hawaii's Pidgin-speakers. Sometimes that role is explicitly political. Schools are often leveraged as vehicles to sustain and promote the minority language, as was the case in Oakland, California, whose district in the late 1990s passed a now-defunct resolution officially recognizing African American Vernacular English, or Ebonics, as black students' primary language. And if language could be a tool for enhancing solidarity, it could, in the words of the 2016 study "Political and Linguistic Identities in an Ethnic Conflict," just as effectively serve as a "powerful tool for social discrimination."
Spain's central government in Madrid may have acted on this logic as part of its efforts to either promote Spanish unity or suppress Catalan nationalism, depending which side you're on. In 2013, the Spanish Ministry of Education, Culture, and Sports proposed a controversial education reform targeting the country's autonomous communities that included changes to schools' "linguistic model." The new policy diluted Catalonia's language-education law, mandating that schools conduct some instruction in Castilian, i.e., "standard," Spanish, and requiring that the regional administration pay for a student's private schooling if she requested a Spanish-only education. Then, in 2015, the country's Supreme Court ruled that at least 25 percent of instruction in Catalonia's schools had to be in Spanish, and that subjects taught in the majority language should include core academic areas.
These rules could be framed as educational-equity measures designed to ensure Spanish-speaking students in Catalonia could have the opportunity to learn in the language they best understood. Indeed, a government census conducted in 2013 found that 36 percent of Catalonia's population 15 and older listed Catalan as the language with which they identify, compared to 48 percent who said it was Castilian Spanish.
But elsewhere, the discussion of Catalan schools had a different subtext. Spain's Congress considered a motion earlier this month aimed at stamping out "ideological indoctrination" and "nationalist hatred" in Catalonia's schools. And Madrid's Ministry of Education has since September sent two notices to the Catalonian government requiring it to address alleged incidents of indoctrination in schools, alluding to dozens of cases. These concerns tend to center on things such as curricula and teachers' messaging, but some observers suggest it's impossible to divorce those anxieties from the fact that language identity is the cornerstone of education in Catalonia. In an interview with El Mundo, Jordi Cantallops, the education inspector in Barcelona, argued that indoctrination in schools happens in large part through the language-immersion program. "For decades an exclusive identity concept has been promoted, Catalanization, with linguistic immersion, or rather linguistic imposition, with Catalan as the only vehicular and communication language in the centers," he wrote in Spanish.
"Catalonia has the dubious honour of being the only place in the Western world where the majority of the population do not even have the option of enrolling their children in schools that teach in their native language" of Spanish, wrote Nacho Martin Blanco, a journalist and political-science professor at the University of Barcelona, in an Al Jazeera op-ed opposing secession. In Spain's Basque Country, by contrast, parents are allowed to choose what language their children are educated in.
Yet a recent working paper by the political scientists Mattia Guidi and Yannis Karagiannis found a moderate, though limited, correlation between one's linguistic identity and her political view, based on street surveys of some 1,000 Catalan adults in 2013. Sixty percent of Catalan speakers in Barcelona supported secession, for example, while 17 percent of them were against it; similarly, 62 percent of the city's Spanish speakers opposed secession, while 9 percent supported it.
Perhaps more important than public schools' language policy in shaping kids' political views is their parents' political views. As María José Hierro, a political-science lecturer at Yale who's studied national identity in multinational contexts, wrote in a 2015 paper, the more Catalan-oriented mothers felt, the less likely their children were to identify themselves as primarily Spanish. Given significant residential socioeconomic and ethnic segregation, Hierro found that where one lives has a significant impact on youths' political views, too—children living in neighborhoods with high concentrations of immigrants, for instance, were less likely to say they identified themselves as "more Catalan than Spanish" or as "only Catalan." What's more, parents can steer their children into more- or less-Catalan-oriented education settings by, say, sending them to a school in a different neighborhood or opting for a private or public-private school.
"It's hard for me to believe that this [Catalonia's education system] is going to have an effect today on people's political-identification feelings," said Hierro, who's originally from the city of Salamanca in Spain's Castile and León region and whose husband is Catalan. She attributed the pro-secession sentiments in recent years not to schools but to the growing animosity between different political factions in the country.
Some data suggest that, despite the the successive victories of the independence referendum and the parliamentary independence vote, pro-secession sentiments slightly declined in the months leading up to the referendum. Indeed, the scholars and Catalans I spoke to fervently dismissed the possibility that language was serving as a political dividing force and that the region's schools are perpetuating pro-secession sentiments. After all, Catalan-language education has been in place for decades, and the immediate origin of the current political crisis arguably dates back only two years, to the 2015 regional election victory of separatist parties vowing a new push for independence. Catalonia is relatively affluent, and it's one of Spain's most cosmopolitan regions. Foreign-born residents account for 14 percent of the region's population—and that's on top of all the residents who migrated or are descendents of those from elsewhere in Spain. Virtually everyone in Catalonia (98 percent) speaks Castilian Spanish, while census data from 2011 suggest that just under three in four residents can speak—and slightly more than than half can write—Catalan.
Robert, a 33-year-old Barcelonian whose dad is Catalan and whose mom is from another region in northern Spain, said he and his family members converse in both Catalan and Spanish; he uses the former with his dad and the latter with his mom, taking a similar approach in social situations depending on his interlocutor's preferred language. When I asked him how he identifies, he said: "I consider myself from Barcelona first and foremost. I have Catalan identity, and I have Spanish identity. I don't have any inner struggle. … Until now, I haven't seen that [mixed] identity as an issue." (Robert, who works in Bogotá, Colombia, requested that his last name not be included because his job requires that he be politically neutral.)
The Catalan-instruction policy "will be attacked and has been attacked on and on by Spanish nationalists as a totalitarian practice," the Barcelona-based historian Enric Ucelay-Da Cal told me. "But it's vastly exaggerated." According to Ucelay-Da Cal, who was born in the U.S. to Spanish (though not Catalan) parents and currently teaches contemporary Spanish history at Barcelona's Universitat Pompeu Fabra, the Education Ministry has in the policy's 30-plus years of existence received very few complaints from families requesting that instruction instead be delivered in Spanish. "People my age who studied under the Franco regime, we were pumped full of information promoting a national spirit," Ucelay-Da Cal, who says he doesn't have a position on secession, continued. "We didn't come out as [pro-Franco patriots]; we came out as loathing the Franco regime."
Robert, who attended an escuela concertada, a privately run public school, expressed similar sentiments. "Language wasn't an issue at all; it wasn't even in the list of top-10 concerns for teachers or students," he said. "Only people who haven't been educated [in Catalonia], only people who don't live there, and only people who live there but have a political purpose say that" there's indoctrination in schools. It only becomes an issue when there's a popular movement for independence, he continued. "If you're a region that has two official languages, you can't just teach in Spanish because Catalan would disappear." Similar concerns about language obsolescence often underpin programs promoting language-immersion education elsewhere.
Joan Faus, a 30-year-old Barcelonian journalist, said Catalans' language diversity shouldn't be leveraged to advance political goals. "Language should be one thing," he said, "and politics should be another."
In a recent op-ed encouraging anti-secession Spaniards not to scapegoat Catalonia's schools for the current conflict, Lluís Orriols, a political-science professor at la Universidad Carlos III de Madrid, acknowledged, writing in Spanish: "There is little doubt that education has always been an important instrument at the hands of States to promote national identity among citizens." But "the data do not seem to support the thesis that intervening Catalan education is an effective solution to defuse the independence movement."
According to Orriols, what looks like a groundswell in pro-secession sentiments in Catalonia owes itself to myriad factors, including the economic crisis that's dogged Spain for years and, in the eyes of Catalans, disproportionately affected them. And even so, it's not clear that secession itself has broad popularity among Catalans. Polls gauging residents' opinions on independence have more or less found that fewer than half of them favor it, and the winning independence referendum saw just a 43 percent turnout.
Ultimately, it's less that language has politicized the issue than that partisans have politicized language. A more dramatic version of this is playing out in Ukraine, where a conflict between the government and pro-Russian separatists is grinding on despite a 2015 ceasefire. One of the first bills passed by the newly formed Ukrainian parliament after popular demonstrations ousted the pro-Russian president from Kiev in 2014 was to retract the Russian language's official status—a dangerous move that "mixed political processes with ethnic, linguistic identity," according to the San Francisco State University linguist Anastasia Smirnova, who's from Ukraine and co-authored the study on language as a tool for solidarity and division. (The vast majority of the population in Eastern Ukraine identifies Russian as their language of choice.) "What started as a pro-democracy movement in Ukraine could end up as an ethnic conflict," she said. "While there seems to be a psychological predisposition on the part of various social groups to focus on language when defining their group identities, political movements easily take advantage of such psychological predispositions and exacerbate them in directions that are not necessarily aligned with natural language divides."
When asked about what all this could mean for Spain, Hierro, the Yale political scientist, said she wasn't optimistic. "I'm very sad," she said. "We are all related. We all have very many friends from one side and the other, but when you talk with them they don't seem to empathize with what you have seen or experienced or what you feel regarding the conflict, and then it turns very personal and very harmful. … Then there's the frustration and the anger with the politicians' inability to solve the situation and to get us back where we were before," she said. "We are divided, but at the same time we were not."