Robert Mugabe's Inner Circle Implodes
Could a real plan to succeed Zimbabwe's nonagenarian ruler emerge from his apparent ouster?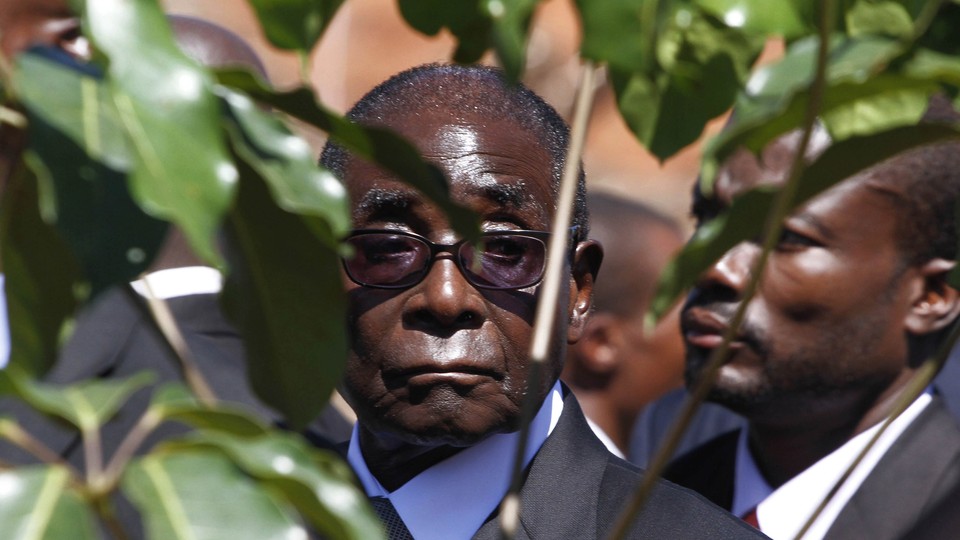 Robert Mugabe, the only head of state that Zimbabwe has ever known in its 37-year existence, is this morning under house arrest. Although the military insists that this is not a coup, it has all the hallmarks of one: The army controls the television station and the airport, and has confined the president and his family to their mansion. Unconfirmed reports suggest that leaders of one faction of the ZANU-PF, the ruling party, are being rounded up and arrested. However the next few hours and days pan out, it seems clear that the days of Robert Mugabe ruling Zimbabwe are at an end.
The immediate events that precipitated the military intervention all revolve around the question of who will follow the 93-year old Mugabe. For several years, two camps have jostled over the right to succeed him, one led by his wife Grace and the other by Vice President Emmerson Mnangagwa. Then, a week ago, the scales appeared to tip toward the first lady when the vice president was fired and publicly castigated for showing "traits of disloyalty." Humiliated and fearing for his life, he fled the country.
But Mnangagwa, a stalwart Mugabe ally since before independence in 1980, has long been tight with the security forces, especially General Constantine Chiwenga, a military chief. The balance of power shifted on November 13 when Chiwenga held a stunning press conference in which he publicly vowed to step in to protect the revolution. Less than 48 hours later, the military was on the streets and Mugabe was under house arrest.
Although Mnangagwa's dismissal was the immediate spark for the coup, Zimbabwe's political crisis has been accelerating in recent months as the economy crumbled. Cash and basic goods are again in short supply. Unemployment is above 90 percent. Up to a quarter of the population has voted with its feet by leaving the country. The origins of the collapse date back to at least 2000, when Mugabe unexpectedly lost a constitutional referendum to consolidate his power. He and his cabal—including Mnangagwa and Chiwenga—decided they would never lose an election again, and treated the growing labor-union-based opposition movement as the enemy.
Although today's events may technically be Zimbabwe's first coup, it's not the first time the army has stepped directly into politics. ZANU-PF is dominated by veterans from the liberation war. Influential civilian positions in the government have been methodically filled by retired military, who enrich themselves thanks to their connections and position, and in return ensure the Mugabe camp political control over the country.
This is also not General Chiwenga's first foray into politics—and arguably not his first coup. In 2008, Mugabe lost an election to the opposition's Morgan Tsvangirai and was preparing to concede, when Chiwenga stepped in. He insisted that Mugabe stay and fight a second round, and unleashed a lethal wave of violence against the opposition to ensure a Mugabe victory. At least 200 people were killed, hundreds more went missing, and tens of thousands of people were forced from their homes. To avoid further violence against his supporters, Tsvangirai pulled out of the election and sought refuge in the Dutch embassy.
So what now? Emmerson Mnangagwa is widely expected to return to the country and likely will claim, with Chiwenga's backing, to be the savior of the nation. But the former vice president is no paragon of liberal democracy. He was the chief architect of a massacre of some 20,000 civilians in the 1980s, an episode known as Gukurahundi. Mnangagwa is also implicated in billions of dollars in missing diamond revenues.
This troubled history all points to the tremendous risks of a transition going awry. For now, the dispute in Harare is an internecine fight among elites within Mugabe's inner circle. But the main actors have repeatedly shown a willingness to commit mass violence against civilians for political gain. Warning signs of potential atrocity abound.
A more optimistic scenario is that the military could, under pressure from neighbors and the international community, quickly step aside and introduce an inclusive transitional authority ahead of new elections next year. That might restore faith in democracy and encourage Zimbabwe's educated diaspora to return to help to rebuild.
Zimbabwe nearly tried this once before, from 2009 to 2013, when a notional coalition ran the government. The economy recovered strongly and things briefly looked promising. But Mugabe and company never ceded any real power. And they took full control again in 2013, plunging the country back into crisis. With Mugabe sidelined today, perhaps this time, a true coalition can succeed.