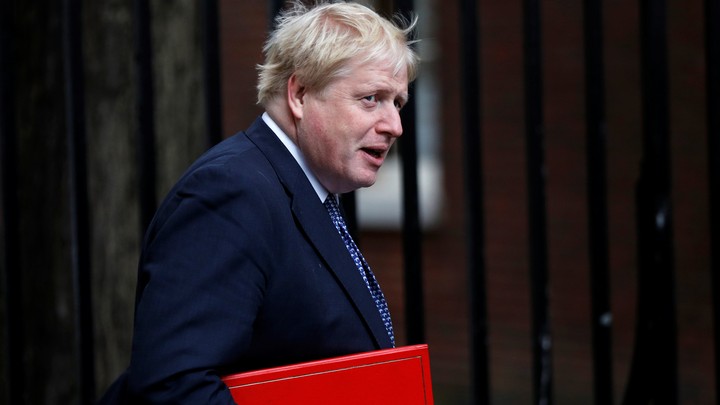 Sorry seems to be the hardest word—especially if your name is Boris Johnson.
On Monday, the British foreign secretary made a second attempt at apologizing for comments he made about Nazanin Zaghari-Ratcliffe, a dual British-Iranian national currently serving a five-year sentence as a political prisoner in Tehran. Johnson had claimed Zaghari-Ratcliffe was "simply teaching journalism" when she was arrested in 2016 for allegedly plotting to "topple" the Iranian regime. Zaghari-Ratcliffe, a charity worker with the Thomson Reuters Foundation, had insisted along with her employer that she was in Iran on vacation; Iranian authorities seized on Johnson's comments as evidence she was in the country for "anything but a holiday." They have threatened Zaghari-Ratcliffe with new charges of spreading "propaganda against the regime," which carries an additional five-year sentence.
"The British government has no doubt that Mrs. Zaghari-Ratcliffe was in Iran on holiday and that was the sole purpose of her visit," Johnson said Monday. "I apologize to Mrs. Zaghari-Ratcliffe and her family if I had inadvertently caused them any further anguish."
Johnson's original response to the gaffe—arguably his most serious diplomatic blunder since taking on the role of foreign secretary in July 2016—was less apologetic. After facing backlash from fellow lawmakers and multiple calls to resign, Johnson conceded last week that his comments about Zaghari-Ratcliffe "could have been clearer," though he stopped short of retracting them altogether. "My point was that I disagreed with the Iranian view that training journalists was a crime, not that I wanted to lend any credence to Iranian allegations that Mrs. Zaghari-Ratcliffe had been engaged in such activity," he told lawmakers in the House of Commons. It was only after renewed calls for his dismissal, including appeals for Prime Minister Theresa May to fire him amid last week's cabinet reshuffle, that Johnson offered a second, fuller apology.
Johnson is known for his proclivity for diplomatic gaffes, and this is hardly the first he has made while representing the U.K. abroad. In a visit to Myanmar in September, the foreign secretary was caught on a hot mic reciting the opening lines to Rudyard Kipling's "Mandalay" before Andrew Patrick, the U.K. ambassador to Myanmar, could inform him that reciting a poem reminding their hosts about decades of British colonial rule was "probably not a good idea." ("The temple bells they say / Come back you English soldier," said Johnson, before Patrick intervened.) He faced further backlash and calls to resign just one month later when he told an audience at this year's Conservative Party conference that the Libyan capital of Sirte had the potential to become the next Dubai, before adding: "The only thing they have got to do is clear the dead bodies away." In neither case did Johnson offer an apology.
But for all the missteps Johnson has overcome in the past, this latest gaffe is "of a different order," Catherine Haddon, the resident historian of the London-based Institute of Government, told me, noting that "there's a difference between gaffes where it's considered damaging to his reputation—and by extension, the reputation of the British government—and things that have an impact on somebody's life like it does in this case."
It's also different because of its context. For while a similar mistake would almost certainly have resulted in Johnson's firing had it occurred "in 'normal' times," the last couple of weeks in Westminster do not qualify as normal times. Not only did May lose and replace two members of her cabinet, but an ongoing investigation into Damien Green, her secretary of state and de facto deputy, raises the chances of another cabinet reshuffle. It's a level of uncertainty that has paradoxically played in Johnson's favor. "Trying to discipline Boris Johnson right now would … take everyone back to the chaos in the cabinet," Rainbow Murray, a professor of politics at Queen Mary University of London, told me last week. "He might get away with it for the simple reason that [May] can't withstand anymore disruption right now."
Luckily for Johnson, calls for his resignation are now being replaced with calls for him to rectify the situation. Richard Ratcliffe, Zaghari-Ratcliffe's husband, wrote in an open letter Monday that it would not be in his wife's interest for him to resign, urging Johnson instead to seek diplomatic protection for his wife—a move that would involve elevating Zaghari-Ratcliffe's case from a consular issue to a state-to-state one. "Nazanin is being held because she is British and is being used as a bargaining chip against the U.K., now justified by your words," Ratcliffe said, adding: "I want you to solve this mess created in your name."
Though Downing Street confirmed Monday that the government is considering diplomatic protection as an option, there is no guarantee such a move will compel Iran to free her. As former foreign secretary Malcom Rifkind noted Monday in The Guardian, "The British government has distanced itself from President Trump's hostility to the Iran nuclear deal. ... That resolve could weaken if Zaghari-Ratcliffe is not released. If her jail sentence was actually increased, as some fear, it would now be the worst crisis in British-Iranian relations that we have had for some years."
We want to hear what you think about this article. Submit a letter to the editor or write to letters@theatlantic.com.