Australia and the Global Spread of Same-Sex Marriage
This century has seen laws allowing such unions spread rapidly—but not widely.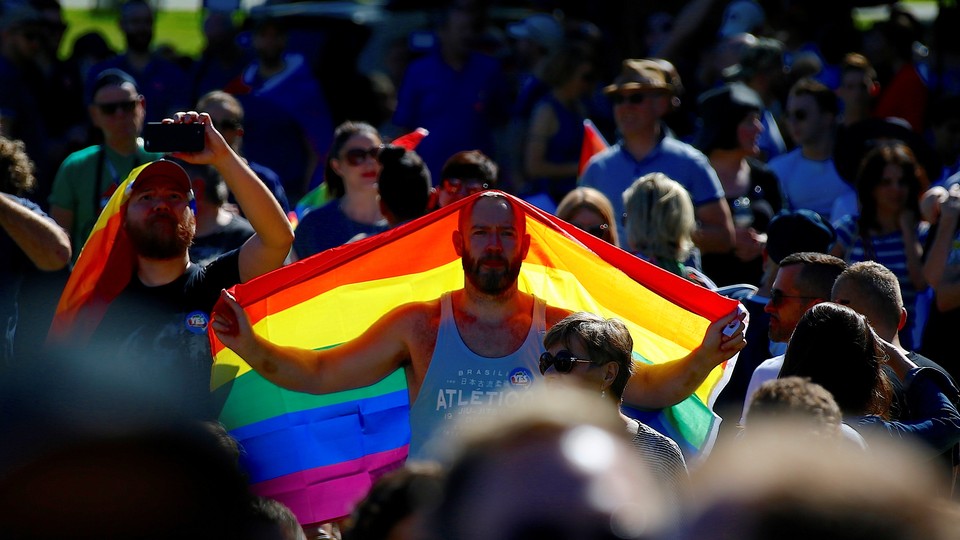 This year's vote in Australia in favor of same-sex marriage will ultimately make the country the 26th in the world to legalize such unions. The worldwide trend began nearly two decades ago when the Netherlands voted in 2000 in favor of letting same-sex couples marry; most recently, Germany became the latest country to pass same-sex marriage legislation this summer.
While the legalization of same-sex marriage has spread rapidly in the 21st century, it hasn't spread all that far. In Europe, just 15 countries have legalized same-sex marriage. Though Chile is among the latest countries to put forward legislation to legalize same-sex unions, it's one of the few Latin American countries to do so, joining Argentina, Brazil, Columbia, Uruguay, and parts of Mexico. Taiwan this year became the first and only place in Asia where same-sex marriage is legal. South Africa, too, is the sole place on the continent where same-sex unions are recognized.
But unlike countries where the issue was hotly contested (like the U.S., where it took more than a decade for same-sex marriage legalization to apply to all 50 states), Australia's story with same-sex marriage is different—in large part because support for it is not new. Whereas a majority of Americans still opposed same-sex marriage a decade ago, the same cannot be said for Australians—57 percent of whom were polled to support legalizing same-sex marriage in 2007.
And support has only grown since. In a vote Australian Prime Minister Malcolm Turnbull called "unequivocal and overwhelming," the results from the country's nationwide postal survey released Wednesday found that approximately 61.6 percent of those who took part in support changing the law to allow same-sex couples to wed, with 38.4 percent voting against. The vote offered the clearest reflection of the country's stance on the issue to date, with a participation rate of 79.5 percent—a higher turnout than achieved by both the Brexit referendum (72.2 percent) and the 2016 U.S. presidential election (58 percent).
And while this week's decision certainly puts Australia closer to likeminded countries where same-sex marriage is already legal—including  New Zealand, Canada, and parts of the United Kingdom—it's worth asking, given Australian public opinion on the matter: What took them so long?
"We would have been in company had we done this a long time ago, in terms of nations which have a similar sort of heritage and value systems," Alex Oliver, the director of the diplomacy and public opinion program at the Sydney-based Lowy Institute, an independent think tank, told me. "There was a fairly tortured political process behind it, which is why I think it took us so long."
Indeed, much of the debate surrounding the issue of same-sex marriage in Australia had less to do with whether to allow same-sex couples to marry, and more with how the government should pursue the process of legalization. As I reported back in September 2016, it was Turnbull, himself a same-sex marriage proponent, who advocated the issue be put to a referendum. Several proponents of same-sex marriage, however, disagreed with the prime minister, arguing that parliament should move to legalize same-sex marriage without a public vote. The government ultimately agreed to hold a non-binding postal survey on the issue. Unlike most voting in Australia, this vote would not be compulsory.
"This was a complete experiment for Australia," Oliver said. "It was voluntary and it was postal. … In that context, the result was a pleasant surprise for the 61.6 percent who voted 'Yes'—it's a 23-point margin, so if you were voting in a general election that would be an astonishing margin."
But it didn't feel like a cruise to victory for proponents of same-sex marriage. In fact, Oliver said the national survey, which spanned from September 12 to November 7, was "pretty tortuous." She wasn't the only one who thought so. As New York Times Australia bureau chief Damien Cave noted Wednesday, some voters—particularly those supporting the 'Yes' campaign—found the overall experience to be an "incredibly harmful" and "ugly process."
"Not only was [the survey] unnecessary from a constitutional and a legal point of view, but it was also very controversial in that it enabled public campaigning both for and against same-sex marriage," Amy Maguire, a senior lecturer at the University of Newcastle Law School, told me, noting that some of the rhetoric aired during the vote (including controversial ad campaigns like this one, which warned that a 'Yes' vote in favor of same-sex marriage would have a negative impact on children), contributed to public discourse that "at times has been quite ugly." It was in anticipation of such discourse that some same-sex marriage proponents, including opposition Labour Party leader Bill Shorten, called on the government to forego a vote, which they predicted would be divisive and costly. They weren't wrong—the cost of the survey totaled approximately 122 million Australian dollars ($97 million).
"Parliament has the power under our constitution to change the Marriage Act and has already exercised that once this century," Maguire said, referencing the 2004 amendment that defined marriage as "the union of a man and a woman to the exclusion of all others." She added that despite high levels of support for same-sex marriage across the country, opposition within the government likely made changing the law through parliament impossible. "With the current government, we needed a circuit breaker. There was an obstinate refusal to follow a parliamentary route in saying that the opinion polls that have been taken on this over recent years have all reflected public support for same-sex marriage at almost exactly the point where it was measured in the survey."
When I asked Oliver if she thought a legislative route without a public survey could have secured the same outcome, she said it was not "by any means guaranteed," noting that while the proponents of same-sex marriage far outnumbered those against in Australian society, the issue was nonetheless divisive. "There's no downplaying how serious an issue this was," she said. "That 38.4 percent—a good proportion of them felt pretty strongly about it."
And there's no indication those opposed to legalization will be tempering that opposition anytime soon. While spokesman Lyle Shelton said the 'No' campaign would accept the result of the survey, he suggested their efforts would now turn towards the wording of the legislation. "We will now do what we can to guard against restrictions on freedom of speech and freedom of religion, to defend parents' rights, and to protect Australian kids from being exposed to radical LGBTIQ sex and gender education in the classrooms," he said.