The Road to Making America Great Again Runs Through Asia
The secret to putting America First may lie in the continent's rising middle class.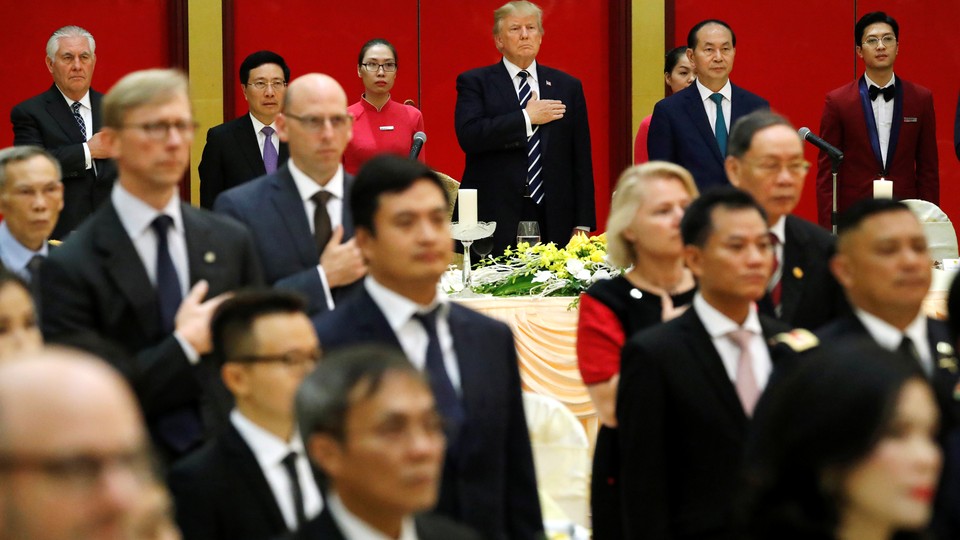 Back when Donald Trump was busy firing people on The Apprentice, corporate brands across America were busy "hiring" his show to advertise their wares. The list included Pepsi, McDonald's, Cheetos, KFC, Kellogg's Frosted Mini-Wheats, Wendy's, Yoplait, Subway, Visa, and Ford, to name just a few. Many of the companies that own those same brands, like PepsiCo (also owner of Cheetos) and Yum! Brands (owner of KFC, Pizza Hut, and Taco Bell), have surely been watching President Trump's ongoing trip to Asia with interest, because they understand a fundamental truth undergirding the global economy: Asia will drive future growth, anchored by a rising middle class hungry for consumer goods. American brands positioned to capitalize on that growth will survive and thrive.
Amid now-President Trump's talk of winners and losers in the global economy and his pledges to make America great again by "winning" on trade and paring back the massive China trade deficit, one factor is often discounted. The rise of the East could, in fact, benefit the companies and peoples of the West. When President Barack Obama introduced his rebalance to Asia (aka, the "Asia Pivot"), he based the idea on the understanding that the world's political and economic center of gravity was shifting east. Too often, however, even in the Obama era, the Asia pivot was seen as a policy of containment of China, or a welcome respite from a fractious Middle East.
Multinational companies, however, see the rise of Asia for what it is—a massive opportunity. Companies ranging from Unilever and Nestle, to Coca-Cola and Johnson & Johnson, are experiencing their fastest growth in emerging markets, particularly among middle-class consumers. The vast majority of those consumers reside in the Asia-Pacific: some 1.5 billion today, and a projected 3.5 billion by 2030, according to Homi Kharas, a scholar at Brookings who focuses on the global economy. The Kellogg Company seemed to speak for everyone in its 2016 annual report: "Our success in emerging markets is critical to our growth strategy." If it fails, the company noted, its results will be "materially and adversely affected." To make Kellogg, well, great again, it needs to ride the emerging-markets wave.
Most American multinationals understand the necessity of tapping new areas of consumption growth around the world, and, as the S&P notes, it's in the emerging markets. And there is no more important part of that story than Asia's growing middle classes. As Kharas noted, of the next billion entrants into the middle class worldwide, 88 percent of them will be Asian. Asian consumers will account for the overwhelming majority of new middle-class spending through 2030, to the tune of some $29 trillion. Ford, for instance, sold its millionth car in the Asia-Pacific last year.
As the potential of Asian markets expands, American companies are seeing a decline at home. Companies like Pepsi, Subway, and Ford, are seeing their sales in North America flat line. As American millennials increasingly shun big name, older brands of the sort that advertised on The Apprentice in favor of smaller, local, or organic brands, it's no wonder that the Kellogg Company wants to build its emerging-markets portfolio.
The Asian expansion is in full force. McDonald's will storm China with some 2,000 new restaurants by 2021, bringing its total there to 4,500. China is well on its way to becoming the number two global market for the Golden Arches, according to the company's CEO, Steve Easterbrook. If McDonald's hits its goals, it will be within striking distance of KFC, which already has more than 5,000 restaurants in China. Yum! Brands, the Kentucky-based parent company of KFC as well as Pizza Hut and Taco Bell, earned about half of its global revenues from China last year. Starbucks is also chasing the Chinese middle class, aiming to double its number of locations there from 2,500 to 5,000 by 2021. That's almost two branches launching every single day for the next four years.
The larger point: U.S. companies that create jobs and drive growth in Americans' stock portfolios are finding their most rapid growth in Asia. Apple is on pace to generate some $45 billion in revenue from what it calls greater China (including Hong Kong, Singapore, and Taiwan) in fiscal year 2017. "We are very bullish on China," Apple CEO Tim Cook said on a recent earnings call. "We continue to see a middle class that's booming there." Apple also reported strong quarterly earnings this month on the back of China growth.
This is the part of the story that Trump missed with his "America First" economic nationalist speech at a Pacific Rim summit in Vietnam on Friday. "We are not going to let the United States be taken advantage of anymore," he said. "I am always going to put America first." This idea—that the world is running circles around America—can hardly be reconciled with the story of corporate America: the biggest, richest, most global, innovative, and dynamic private sector in the world, its products found in every corner of the planet. There are only two countries in the world where the Coca-Cola Company does not do business: North Korea and Cuba. Coca-Cola-stan spans the globe. If Facebook were a country, its user base would make it the largest country in the world. Some of America's top companies, from Apple to Walmart, have market capitalizations putting them on par with entire nations.
With numbers like these, corporate America can hardly cry foul. Yes, there are areas where tariffs and bans need lifting. But to dismiss the global trading system as one big "globalist" con job as top Trump ally Steve Bannon does and Trump regularly implies fails to take into account the more than 20 million jobs in the United States attributable to exports and foreign investment, according to Commerce Department figures. Last year, China invested $46 billion in the United States, a record-shattering year, according to the Rhodium Group, a New York-based consultancy. Rhodium also noted that China's investments help fuel economic growth and create jobs.
Of course, every president will need to negotiate the best deals. One area where jaw-boning has worked is beef exports. The Trump administration has resumed U.S. beef exports to China after a nearly decade-and-a-half ban due to a bogus Mad Cow disease claim by China. America's "Beef Belt," stretching from Texas to Montana, hailed the China opening. During Trump's Asia tour, a major Chinese online retailer announced plans to buy up to $1.2 billion of beef and pork from the United States.
Say what you will about the Middle Kingdom, but when Americans go to sleep at night, they better hope they don't wake up to an economic implosion in China. China today is the world's largest consumer of energy, metals, movies, most commodities, and even beer. When its economy slows, it brings down the wider Asia-Pacific region and has ripple effects felt from Argentina to Angola to, yes, the United States. China has become systemically important to the global economy—too big to fail.
The same goes for Asia writ large. Consider the S&P 500, the bellwether index of corporate America. Some 8.5 percent of all sales among S&P companies go to Asia, more than Europe. Asia is also the world's largest importing region, accounting for 36 percent of all global imports. The United States and European Union, combined, account for 31 percent of imports. By 2020, there will be more smartphone users in Southeast Asia than in the United States. And in South Asia, dizzying change is afoot. Every second, three Indians log onto the internet for the first time, and Pakistan has become a hot growth market for U.S. companies.
In a world where more than half of global GDP hails from emerging markets, America's fortunes are increasingly tied to the rest of the world, especially Asia. Indeed, of the 10.7 million American jobs supported by exports, nearly a third of them are supported by exports to the Asia-Pacific region, larger than Europe or North America.
President Trump may not realize it, but Asia may be a vital anchor for the "Make America Great Again" economic renaissance he promised. Asia's rising middle-class consumption could, ironically, become an important piece in the rebuilding of America's own faltering middle class. The "woe-is-us" story of America getting exploited by the world is wearing thin.