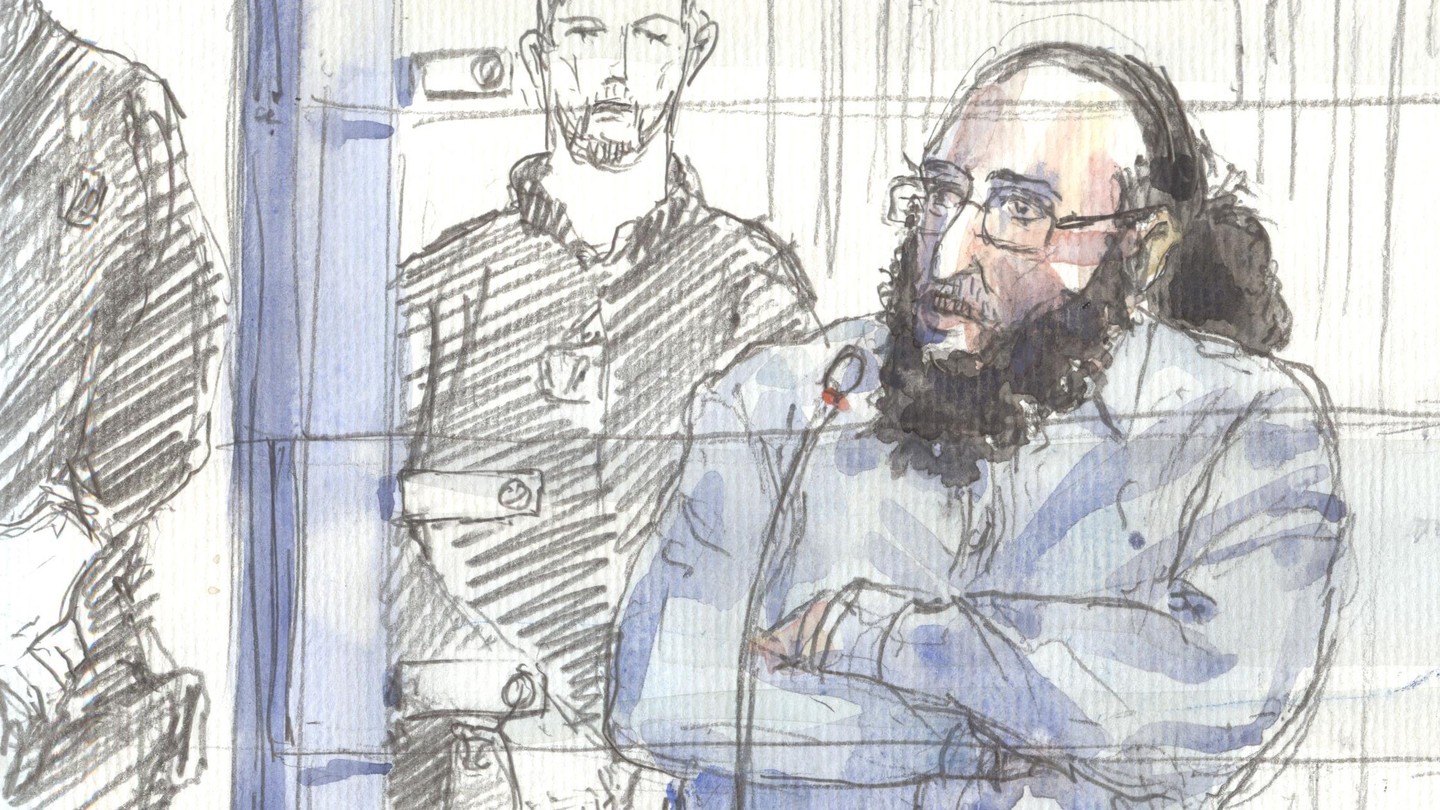 A Terrorist's Brother—and France—on Trial
Even before the verdict was handed down, it was clear the proceedings were about much more than Abdelkader Merah.
PARIS—Shortly after 6 p.m. on Thursday November 2, in a packed, silent courtroom thrumming with emotion and anticipation, France's highest criminal court found Abdelkader Merah guilty of criminal terrorist conspiracy and sentenced him to 20 years in prison. Not to a life sentence, as the public prosecutor had asked, since the court acquitted Merah on charges of complicity. The conspiracy in question was the one carried out by his younger brother, Mohammed, who, in a 10-day spree in March 2012, murdered three French paratroopers, all of North African origin and two of them Muslim, in southwest France, and later, a rabbi and three children outside a Jewish school in Toulouse, before being killed by police in a commando raid several days later.
One of the worst targeted attacks on Jews in France since the Second World War and also the first jihadist attack on French soil since the mid-1990s, Mohammed Merah's rampage was seen as a massive intelligence failure—it came during a turf war between French intelligence services under then-President Nicolas Sarkozy and in an election season. It was also seen as a wake-up call. The attacks marked the beginning of a terrible new season, one that would, alas, blossom in 2015 and 2016 when 239 people died in a series of terrorist attacks in France, some masterminded by other pairs of blood brothers.
As the first big terrorist trial to take place since that new wave of attacks, the Merah trial has been seen here as hugely symbolic, a chance to put a face to a more widespread phenomenon, even an opportunity for national catharsis. The mixed verdict, after a five-week trial that had been intensely covered in the French media, drew a complicated, unsettled response. Distraught families of the victims—Jews and Muslims alike—said it didn't go far enough; the state prosecutors plan to appeal. The scholar Gilles Kepel, who has been tracking Islamic radicalism in France for decades, said that not handing Abdelkader Merah a life sentence would be seen as "a sign of weakness" by jihadists currently serving time in French prisons—which in recent years have themselves become incubators of the murderous ideology—and that some jihadists and their fans would now see Merah as "a hero."
And yet there were the facts of the case. Or the lack thereof. The panel of judges—the case was deemed of such importance that professional judges and not a popular jury should adjudicate—said they had not found enough material evidence to convict Abdelkader of direct involvement in his brother's attacks. Having attended this trial, I can say that this ruling seems coherent with what I heard presented in court. The judges ruled that Abdelkader had been an ideological influence on Mohammed, which was beyond a doubt to anyone. The charge of criminal terrorist conspiracy is a vague and therefore problematic one, as Abdelkader's lawyers were quick to point out. His defense was led, with fierce and melodramatic skill, by France's most famous and media-savvy defense lawyer, Éric Dupond-Moretti, nicknamed "The Acquittor" and known for taking on celebrity cases—one concerned a soccer champion and a sex tape; another a young black man beaten by French police. The day after the verdict, Dupond-Moretti said Abdelkader Merah had become "the incarnation of absolute evil," but that if the court had convicted him without evidence, terrorism would have won.
Even before the verdict was handed down, it was clear the trial was about more than Abdelkader Merah, who has been in pre-trial detention since his arrest just days after his brother died in March 2012. In quiet Toulouse-accented French, with a full, wispy beard and long curly hair pulled back in a ponytail, he had taken the stand and declared himself an "orthodox Muslim"—h­e refused the term "Salafist"­—who respected the law of Allah and not that of the French state. He openly proclaimed his affinity for al-Qaeda, even as he said he had not been complicit in his brother's actions. (Among the evidence the judges cited in their ruling was a wealth of jihadist material found in Abdelkader's possession, as well as his contacts with other known French jihadists, including the brothers Jean-Michel and Fabien Clain, the latter of whom, according to French investigators, claimed the Islamic State's responsibility for the 2015 attack on the Bataclan concert hall.)
It was hard to ignore the symbolism of the venue. The trial was held, past two sets of metal detectors, in the Court of Assise's Salle Voltaire, named for the great Enlightenment defender of separation of church and state and of freedom of speech and freedom of religion, in the centuries-old Palais de Justice on the Île de la Cité in the very heart of Paris. The palais abuts La Sainte-Chapelle, built by King Louis IX in the 13th century to house his collection of Christian relics, including the crown of thorns brought back from the Crusades. It is the same compound where Marie Antoinette was imprisoned before being taken to the guillotine, where Flaubert was tried, and acquitted, on obscenity charges for Madame Bovary, where Captain Alfred Dreyfus was eventually found innocent of treason and Marechal Pétain, the governor of France's Vichy regime, found guilty of it and sentenced to death. (France abolished the death penalty in 1981, under Socialist President François Mitterrand.)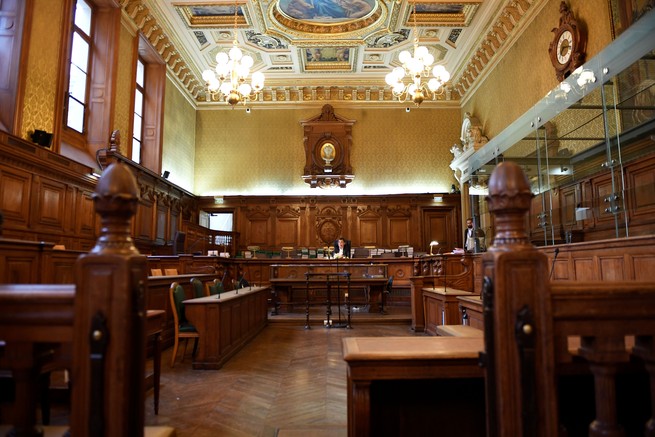 For weeks I sat in the Salle Voltaire, listening to the rapid-fire testimony, watching the lawyers in their long black robes and white frilly collars rest sometimes with their heads on the desk during the long hearings, or whisper in each other's ears, as if they had stepped out of a drawing by Daumier. I would look up sometimes at the ornate rosettes and scales of justice decorating the high ceiling, or a wall-sized painting of a royal coronation in the presence of red-robed cardinals, or at the marble woman's head crowned with laurel leaves, the embodiment of Justice— unless it was Marianne, the symbol of France?—in her gilt-backed alcove above the ornate dais where the judges sat. Below them were artists doing illustrations, including Charlie Hebdo's Laurent Sourisseau, known as Riss, who was shot and wounded in the attack on the satirical newspaper in January 2015, and who arrived at court with sometimes as many as four state-appointed bodyguards.
With every day it became clearer to me that Abdelkader Merah—and a second defendant, Fettah Malki, who was handed a 14-year sentence for providing Mohammed Merah the weapons later used in the murders—weren't the only ones on trial here. France itself, everything that had contributed to create that courtroom, was also on trial: Its justice system, its rule of law, its intelligence gathering, its police, its education system, its troubled inner cities, its failures of "integration," its centralized and often imperious state institutions, its tradition of Cartesian logic, its republican ideal of citizenship that does not bow to ethnic or religious identity. The trial made clear just how entrenched the problems are—disaffected young men and women who cross the line from delinquency to Islamic radicalism—and just how hard it is to fight them in the courts.
The trial was also a lesson in how all history is family history. Two Muslim mothers, both wearing headscarves, took the witness stand. One was Zoulikha Aziri, the mother of Abdelkader and Mohammed, who had emigrated to France from Algeria and raised her five children in Toulouse, mostly on her own, in a household filled with chaos, violence, drugs and occasional calls to social services—as well as anti-Semitic hatred, one son testified. (Soon after her divorce, her ex-husband was sent to jail on drug-dealing charges.) On the stand, Aziri contradicted her earlier testimony as well as that of several of her children, denying there had been any violence at home. When the courtroom grew agitated, Dupond-Moretti, the defense lawyer, responded that Aziri had lost a son, too—eliciting a furious response from the families of the victims and their lawyers.
Two other Merah siblings also testified: Aicha, a hairdresser who has not embraced radical Islam, but didn't say anything to incriminate her brother Abdelkader; and Abdelghani, who in 2012 published a book, My Brother, the Terrorist: One Man's Denunciation of Islamism. Abdelghani said that his mother and Abdelkader had called his former partner and the mother of his son a "dirty Jew" and a "dirty French woman" because she had some Jewish ancestry. The former partner also testified, as did the son. He said Mohammed had showed him videos of beheadings and tried to recruit him as a young teenager before his mother got wind of it and broke ties. Another Merah daughter, Souad—whose family described her as the most devout of the siblings—attempted to go to Syria with her four children in 2014 and is now believed to be in Algeria. She was not under investigation. In a separate trial, her ex-husband was charged with criminal terrorist conspiracy and sentenced to nine years in prison on October 20 after returning from Syria. (Kepel has compared the Merah family to the House of Atreus.)
Aziri was in sharp contrast to the second mother: Latifa Ibn Ziaten, whose son, Imad, a 30-year-old paratrooper, was the first soldier killed by Mohammed Merah, after Merah lured him to a parking lot on the pretext of wanting to buy his motorcycle, then shot him in the head point blank and filmed it with a GoPro camera. Since her son's death, Ibn Ziaten, 57, who emigrated to France from Morocco at 17 and worked for 25 years in the kitchen of a public school cafeteria, has become an activist (and the subject of a documentary), traveling to French schools to encourage tolerance. Taking the stand, in a quiet, emotional voice, she excoriated Abdelkader Merah, who had testified that he hoped his "little brother," as he always referred to Mohammed, was now in paradise. "When someone kills in cold blood, he is not in paradise. Not in Christianity or Judaism or Islam," Ibn Ziaten had said. "That is not my Islam, Mr. President," she added, addressing the presiding judge. Even in this hallowed hall of the French secular state, Islam, too, was in a sense on trial.
A trial is a closed universe, a series of facts presented before a jury. But at every turn, the outside world pushed in. During the trial, the Islamic State's Syrian capital of Raqqa fell to coalition forces. France's Defense Minister said she thought it was "for the best" if European fighters for the Islamic State died far away in Syria instead of coming home. Indeed, the Merah verdict will be seen as a reference, if not a precedent, for future trials of fighters returning from the front, trials that will also hinge on charges of criminal terrorist conspiracy. This week, President Emmanuel Macron signed a new anti-terrorism law that normalizes some of the emergency measures put in place after the attacks of November 13, 2015, including house arrest without charges and warrantless searches. The day before the verdict, vandals defaced a memorial plaque for Ilan Halimi, who had been tortured and killed in Paris in 2006 by a group of youths in a case that judges ruled was not motivated by anti-Semitism. (In the Merah case, the judges ruled that Mohammed Merah had chosen his targets based on their religions; he saw the Muslim soldiers fighting for France as apostates.) The day of the verdict, the lead story in Le Monde was an investigation on the rise in anti-Semitic incidents in France in recent years.
It was impossible not to think of those bigger questions when also considering the details of the Merah case, painstakingly gathered by investigating magistrates over five years. Why had Mohammed, on a 2010 trip to Afghanistan that resulted in his being questioned by Afghan and American forces, tried to reach Abdelkader during his trip? Why did the two brothers reconcile weeks before the attacks, after a lengthy falling-out, and what did they talk about when they met? Did Abdelkader, who embraced a strict form of fundamentalist Islam in 2006—after serving a prison term for stabbing his other brother Abdelghani—and who said he listened to al-Qaeda sermons on his iPod, help Mohammed steal the Yamaha scooter he used in the attacks?
In short, where is the line between admiration for a murderous group and complicity in murders? The trial is "a very interesting reminder of the analytical difficulty when you think about radicalization on the one hand and terrorism on the other," François Heisbourg, a special advisor at the Foundation for Strategic Research in Paris and an expert witness for a 2016 French government report on counterterrorism, told me before the verdict. "Terrorism is an action," he said. "Radicalization is a state of mind." The trial—and verdict—hinged on that subtle yet fundamental distinction.
The trial was also a long repudiation of the notion of the "lone wolf" theory put forward by the Sarkozy government at the time of Mohammed Merah's attacks. (Another lesson of the trial: The political toxicity of intelligence.) Back then, Bernard Squarcini, the head France' intelligence services, told Le Monde that "there's no appearance of a network." Taking the stand on October 19, Squarcini, now out of public office, reversed himself entirely, saying he had no doubt that Abdelkader Merah had aided and abetted his brother, and that both were part of a wider network. Mohammed's attacks had happened in an election season, two months before Hollande, a Socialist, defeated Sarkozy with the help of votes from France's minority populations.
Squarcini was contradicted by the informative and detailed testimony of Christian Balle-Audui, a former head of intelligence for the Toulouse region, who said that his team had had Mohammed Merah on their radar for years—because of his forays to Afghanistan, Pakistan, Syria, and Egypt—but after his rampage struggled convince Squarcini's office in Paris that the attacks had likely been committed by an Islamist, rather than someone from a right-wing group, the theory favored at the outset by Paris. (Under Sarkozy, France centralized intelligence gathering to Paris, reducing the clout of local intelligence. Since the attacks of 2015 and 2016, France has since been re-building its territorial intelligence operations.)
Balle-Audui depicted the rougher areas of Toulouse as a place at the intersection of petty criminals and jihadists—they called them "Islamodelinquents," he said—where foreign-born imams began preaching hatred in the 1990s and a code of silence ruled the streets. Christian Etelin, one of Malki's defense lawyers, who for years has defended juvenile delinquents in Toulouse, told me he first met Mohammed Merah in 2007 or 2008 when he represented him in a trial for stealing a woman's bag.
Some moments in the trial were almost comical. At one point, a lawyer for the plaintiffs claimed that Abdelkader Merah, from his glass-walled box, was turned toward Mecca. "I think he's actually turned toward the court," the presiding judge said. A journalist opened a compass app on his phone to check the direction of east. "You talk a lot about emirs," the presiding judge said to Merah at one point. "And you talk a lot about the penal code," Merah quipped back. When the state prosecutor questioned why Merah had dozens of jihadist tracts on his bookshelf and on his computer, Dupond-Moretti grew indignant. "I've read Sade but that doesn't mean I endorse him," he said. There were ironies, sometimes grotesque ones. In their closing arguments, a few defense lawyers compared the trial to the special Vichy tribunals that tried communists and Jews during the Second World War. In his closing arguments, Dupond-Moretti pointed out that three of Hitler's deputies were acquitted in the Nuremberg Trials.
One of the most painful days was October 25, when the families of Mohammed Merah's seven victims testified. In addition to Imad Ibn Ziaten, Mohammed Merah had killed two other paratroopers near their barracks: Mohammed Legouad, 23, and Abel Chennouf, 24. A third, Loïc Liber, from Guadeloupe, survived, but is paralyzed. He testified via audio feed from his hospital bed. A few days after shooting the paratroopers, the attacker drove his scooter to the Ozar Hatorah school in Toulouse at the start of the school day and opened fire, killing Rabbi Jonathan Sandler, 30, a teacher at the school, and his children, Gabriel, 4, and Arieh, 5, as well as another girl, Myriam Monsonego, 7.
The testimony of their loved ones began with Samuel Sandler, who lost his son and two grandchildren, and who had attended almost every day of the trial.* He spoke of how in 1943 his grandmother and other relatives had been arrested and deported. "I consoled myself that never in France would they again kill children because they were of the Jewish faith," Sandler said. "It causes great suffering for the plaintiffs to keep hearing the assassin's name. I won't pronounce it, because I don't want to give him a certain kind of humanity." The attack had destroyed his family, he said. A daughter had moved to near Paris, but after the 2015 attacks on Charlie Hebdo and a kosher supermarket, she had moved to Jerusalem. A witness to the attacks outside Ozar Hatorah, Nicolas Ranson, said he'd tried to save Myriam Monsonego, giving her mouth-to-mouth resuscitation, but had failed. His son had also watched her die. He had moved his family to Israel. "I have a taste of blood and vomit in my mouth," he said "I will always have it."
Two sisters of Mohammed Legouad spoke about how proud their brother was to have joined the military. "I've heard a lot of talk about Islam. I grew up with Islam," Ahlem Legouad said, her long red-hennaed hair flowing uncovered down her back. "That's not Islam, that's simply a cover for a religion called terrorism." Her sister, Radia Legouad, was next, with a quiet rage. "I also had a little brother. But he represented France, he didn't kill people," she said. "Jihad means combat. The only combat I ever learned about was the internal one, against hate." Other family members of the slain soldiers spoke, with bitterness, about the insensitivity of the French police. When authorities first contacted Albert Chennouf after his son was killed, "The first thing they said to me was 'Mr. Chennouf, did your son, did Abel, do drugs?'" he said. Relatives of Ibn Ziaten also said they were asked the same thing.
That day, the courtroom came to feel like a funeral. Sober gendarmes looked down at their feet, seasoned reporters live-tweeted through tears and a court artist cupped her hand over her mouth and ran out of the room, crying.
A few days later, I spoke to Latifa Ibn Ziaten, who had come from her home in Rouen, in Normandy, along with the police protection that has followed her since she began traveling France as an activist. Sitting at the trial every day was painful, she told me, but even more painful was a day she spoke to schoolchildren in the rough Toulouse neighborhood where the Merah family is from. "One young boy said to me 'Mohammed Merah is a martyr,'" she told me. "'He's a hero of Islam who brought France to its knees.'" (Medhi Nemmouche, who opened fire at the Jewish Museum in Brussels in May 2014, cited Mohammed Merah as an influence.) We spoke before the verdict, and Ibn Ziaten had told me she was hoping for a strong message from the court since "Unfortunately, some young people don't believe in justice anymore."
When the judge read the verdict on Thursday evening, I was sitting in the press box and looked out toward the victims' families. Djemaa Legouad, whose son Mohammed was killed by Mohammed Merah, and Latifa Ibn Ziaten sat next to each other in the front row, holding hands, their headscarves framing their round, tear-stained faces. Sometimes their lips moved, as if they were praying. After the court was adjourned, and the impact of the verdict began to settle, I approached Ibn Ziaten tentatively and asked what she thought. She shook her head from side to side. "It's not enough," she said. "They won." Across the room, Abdelkader Merah leaned down from the glassed-in box and shook hands with Dupond-Moretti, his lawyer, then patted him on the shoulder. I gave Ibn Ziaten my last tissue, and she accepted it. I asked if she would continue traveling around France to speak in schools. "I am never going to stop," she said. Eyeliner was running down her cheek. She gave me a hug. Other people approached and asked her thoughts. "They're dangerous. They don't leave a trace," she said of the jihadists. "In 15 years he'll be out. We need to look at the prisons, too."
Seven dead, one gravely wounded, five years of an investigation, five weeks of a trial. Today, scores of cases from the 2015 and 2016 terrorist attacks are winding their way through the French courts. This sad chapter is not over for France, and Ibn Ziaten will not be the last mother to shed bitter tears.
---
*This article originally misidentified Samuel Sandler as Gabrial Sandler. We regret the error.