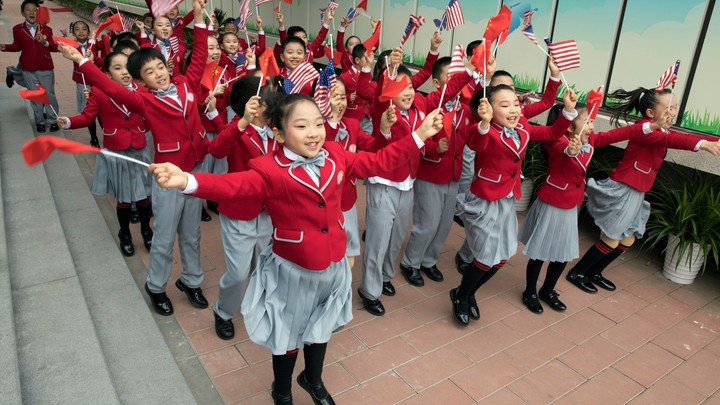 What We're Writing
Donald Trump Heads East: The president is on an official visit to Asia this week, the longest of any U.S. president since 1991. He showed an unexpected amount of support for U.S. alliances in the region, both with Japan and with South Korea. But questions remain about how the U.S. will deal with a nuclear North Korea: The Trump administration's policy toward the Hermit Kingdom has earned both praise and criticism for its unpredictability. Trump also went to China, where observers hoped that President Xi Jinping would confront Kim Jong Un—but Beijing and Washington still have fundamental disagreements on the outcome they want for the Korean peninsula.
A Takeover in the Palace: Saudi Arabia saw a major power shift this week, one that has been years in the making. Crown Prince Mohammed bin Salman had 11 high-ranking businessmen and politicians arrested in a high-stakes gamble for consolidated power in the kingdom. He may also have had a hand in the resignation of Lebanese Prime Minister Saad Hariri. Lebanon has become a proxy battleground for Saudi Arabia and Iran, as has Yemen, where a Saudi-led coalition is struggling to defeat a rebel insurgency.
The Paradise Papers: On Sunday, a new leak of private financial information exposed the offshore assets of more than 120,000 individuals and entities. They also revealed that Russian entrepreneur Yuri Milner used Kremlin-connected funds to make large investments in Facebook and Twitter, highlighting the problematic relationship between government money and media in Russia. While the Papers sparked outrage, the backlash against countries that enable tax avoidance may not be justified: Virtually every country is a tax haven in some way, including developed countries.
---
Snapshot
China has built the world's largest radio dish meant to search for extraterrestrial intelligence—a pursuit the U.S. has sidelined. Read about what would happen if China made first contact here.
---
Quoted
"In my lifetime, I've not seen the U.S.-Japan alliance more highlighted, vital, and well-fortified than now," China scholar Orville Schell told Uri Friedman in a piece about Trump's unlikely defense of U.S. alliances in Asia.
"The scandals mean the government is in crisis, [but] it's not as though they mean that Theresa May's authority has been sapped massively—because she didn't have a huge amount already," John Springford of the Centre for European Reform told Yasmeen Serhan in a story about the British cabinet.
---
Our Long Read of the Week
Rachel Donadio, The Atlantic's global culture editor based in Paris, attended the trial of Abdelkader Merah, the brother of the infamous terrorist who, in 2012,  killed three French paratroopers and, later, a rabbi and three children outside a Jewish school in Toulouse. Read about how the trial forced France to confront itself here.
For weeks I sat in the Salle Voltaire, listening to the rapid-fire testimony, watching the lawyers in their long black robes and white frilly collars rest sometimes with their heads on the desk during the long hearings, or whisper in each other's ears, as if they had stepped out of a drawing by Daumier. I would look up sometimes at the ornate rosettes and scales of justice decorating the high ceiling, or a wall-sized painting of a royal coronation in the presence of red-robed cardinals, or at the marble woman's head crowned with laurel leaves, the embodiment of Justice—unless it was Marianne, the symbol of France?—in her gilt-backed alcove above the ornate dais where the judges sat. Below them were artists doing illustrations, including Charlie Hebdo's Laurent Sourisseau, known as Riss, who was shot and wounded in the attack on the satirical newspaper in January 2015, and who arrived at court with sometimes as many as four state-appointed bodyguards.

The trial made clear just how entrenched the problems are—and just how hard it is to fight them in the courts.
---
What We're Reading
The Convert, by Abigail Pesta, tells the story of Tania Joya, the former wife of the senior-most American fighter in ISIS, who escaped Syria and made a new life for herself in Plano, Texas. Read our profile of Tania's former husband, John Georgelas, here, and watch Tania's testimony on video here. (Via TexasMonthly)
Tragedy of the Common, by J.B. MacKinnon, explores the debate in nature conservancy over the preservation of common species—and explains that, counterintuitively, these species are more likely to go extinct. (Via Pacific Standard Magazine)
When Russian Trolls Attack, by Yulia James and Sophia Jones, tells the stories of female victims of violence in Russia, and their courageous efforts to bring attention to their cause, at the expense of their safety and online privacy. (Via Backchannel)
We want to hear what you think about this article. Submit a letter to the editor or write to letters@theatlantic.com.