Migrants in Spain and Water in Colombia: The Week in Global-Affairs Writing
The highlights from seven days of reading about the world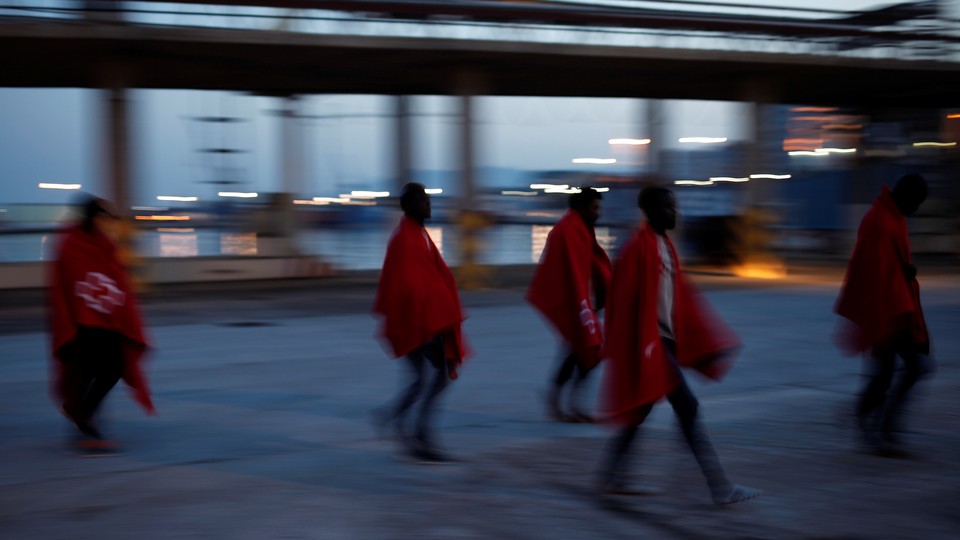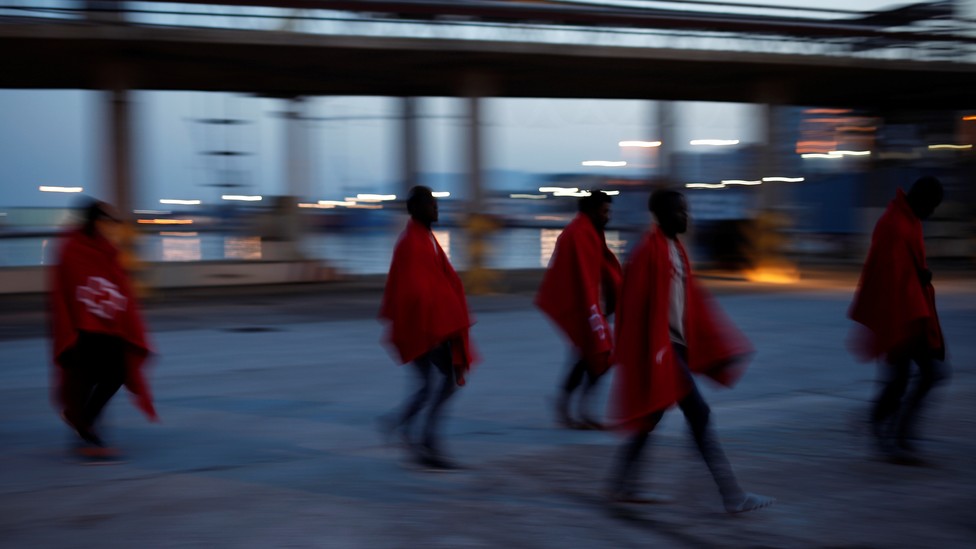 Rescuing Migrants from a Couch in Galicia
Gregory Beals | Foreign Policy
"Over the past four years, De Andrés says she has built a network of about 3,000 refugees and volunteers without ever leaving her hometown of Vigo. She calls it "Red Alert"—a play on red, the Spanish word for net or network.
De Andrés is not a trained aid worker, but her collaborative efforts to track people attempting to cross the eastern Aegean have helped shine a light on urgent cases, providing assistance to those in need. Proactiva Open Arms, the Spanish lifeguard NGO that has plucked thousands of refugees from rubber rafts in the eastern Aegean and the Mediterranean Sea, credits her with having saved many lives."
* * *
Water, Water, Everywhere
Allie Wist | Roads & Kingdoms
"The most popular beverage on Isla Grande is Kola Román. Created in 1865 by Carlos Román Polanco, the signature electric-red liquid is found in every store and is even used in classic Colombian dishes like platanos ententación–plantains simmered in a sauce made from cola and cloves. Another classic soda, Inca Kola, has a champagne-like color and tastes like overly sweet bubblegum.
Isla Grande is a resort destination. Bottled water is shipped to the island, but the cost is astronomically higher than soda and most of it goes to the hotels—12 in total—and to the daily tour groups that come from Cartagena. The water locals do receive, which is pumped into underground wells, is usually labelled as non-potable and must be boiled before consumption. Residents line up with battered jerry cans to buy into the cash pool that pays for their water allotment."
* * *
North Korea Is No Longer the Hermit Kingdom—but How Long Will China Be Its Lifeline?
Brook Larmer | The New York Times
"The West can't seem to shake the image of North Korea as the Hermit Kingdom. Diplomatically and culturally, the place is indeed isolated, and its state ideology of juche, or self-reliance, reinforces the feeling that North Korea is going it alone. But the country is not cut off economically, at least not yet. Over the past decade, as the Kims père and fils pursued their nuclear program, North Korea's external trade boomed, more than doubling in volume. Economists believe that the country's trade dependency has risen to higher than 50 percent, just shy of the global average."
***
A New Chapter for the Disastrous United Nations Mission in Haiti?
Edwidge Danticat | New Yorker
"I spent the first twelve years of my life in an impoverished neighborhood in Port-au-Prince called Bel Air, where many Aristide supporters live. My 81 year-old uncle, a minister, had called this neighborhood home since the 1950s, and was there on September 30, 2004, when protests began on the 13th anniversary of the first coup d'état. In response, the Haitian national police and minustah soldiers conducted joint raids in Bel Air that led to dozens of mostly unreported injuries and deaths. The following month, UN soldiers and Haitian riot police climbed up to the roof of my uncle's church and killed some of his neighbors below. My uncle was forced to flee to Miami, where he died in the custody of U.S. immigration officials after being denied asylum."
* * *
Doctor and Advocate: One Surgeon's Global Fight for the Rights of Rape Survivors
Fabíola Ortiz and Megan Clement | Pacific Standard
"Dr. Denis Mukwege opened his hospital because he wanted to bring down maternal mortality in the Democratic Republic of the Congo. But the first case he saw was a survivor of gang rape.
Mukwege, a gynecological surgeon, says he remembers the case clearly. 'It was a woman who had been raped by many people, and her genitals were torn. She arrived with very, very serious injuries.'
After that first operation in September of 1999, he saw more and more victims of extreme sexual violence come through Panzi Hospital's doors. He says his team operated on 45 women in the first three months.
'I had the impression that this was an enormous number, because I'd been in the region for a few years, and I'd never seen this before,' he says. 'It wasn't until 2000 that I understood that this was normal, and I began to call on the international community.'
Today, Mukwege, 62, is renowned as a pioneer in the field of gynecological surgery, and there is growing awareness worldwide that rape is used as a weapon of war in conflict."