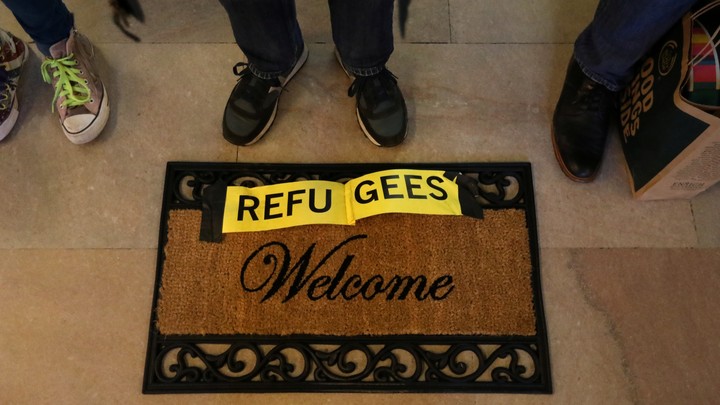 Updated at 2:36 p.m. ET
The Trump administration issued an order Tuesday that resumed the resettlement of refuges in the United States, but said the applications of citizens from 11 "higher-risk" countries would be considered on a case-by-case basis during a new 90-day review period. The administration has so far declined to name the countries officially and publicly but two officials—one from the administration and the other from an advocacy group—separately confirmed that the countries were Egypt, Iran, Iraq, Libya, Mali, North Korea, Somalia, South Sudan, Sudan, Syria, and Yemen. All of those countries—except North Korea and South Sudan—are predominantly Muslim.
Six countries on the list—Iran, Libya, Somalia, Syria, Yemen, and North Korea—were not a surprise: They were also on the latest version of the administration's travel ban that was announced last month and is currently blocked by the courts. But that travel ban also included the citizens of Chad and Venezuela. Tuesday's refugee list, on the other hand, included the citizens of Iraq, Mali, Sudan, South Sudan, and Egypt. The restrictions imposed last month were an outright ban on travelers—but not refugees—from those countries. Tuesday's announcement does not constitute a formal ban. Rather, the administration said refugees from these countries would be considered on a case-by-case basis for the next 90 days. But Henrike Dessaules, the spokeswoman for the International Refugee Assistance Project, told me: "Under current vetting procedures, citizens from those countries already undergo additional security screening. What the administration is doing is effectively pausing these additional security checks." These security checks, known as security advisory opinions, are already backlogged, she said. Consequently, resettlement from the 11 countries that require these checks will be on hold as well, she said.
Egypt is one of the closest U.S. allies in the Middle East and both the recipient of large amounts of U.S. foreign aid as well as a buyer of U.S. military equipment. The U.S. recently lifted its longstanding sanctions on Sudan, citing the government's positive steps in addressing concerns about terrorism and human-rights violations. (Sudan was also removed from the travel ban.) South Sudan, the world's newest country, is embroiled in a civil war. Mali, one of the world's most unstable countries, is an active base of operations for Islamist militant groups. The U.S. Green Berets who were killed last month in Niger were operating close to the border with the country's porous border with Mali. The U.S. will subject refugee applicants from these countries to additional scrutiny for the next 90 days.
The 11 nations on Tuesday's list made up a significant proportion of refugees accepted by the U.S. in the last fiscal year, which ended September 30. Of the 53,716 refugees accepted by the U.S. in that time, 23,357 were from the 11 listed countries (about 43 percent), according to data maintained by the State Department's Refugee Processing Center. The breakdown of the number of refugees accepted from each of the 11 countries in the last fiscal year is as follows: Egypt, 9; Iran, 2,577; Iraq, 6,886; Libya, 3; Mali, 6; North Korea, 12; Somalia, 6,130; South Sudan, 176; Sudan, 980; Syria, 6,557; and Yemen, 21.
While the Trump administration might justifiably cite security as its reason for the additional screening of refugees from the countries affected, the security situations in those countries is precisely why people are fleeing. In the last fiscal year, for example, many of those admitted from the 11 countries were non-Muslims, and in some cases, particularly vulnerable to persecution by Islamist groups. Others, including Muslims, are, of course, fleeing oppressive regimes and face almost-certain death if they return home. U.S. officials and refugee advocates have previously pointed out how refugees being resettled in the U.S. go through more rigorous security scrutiny than any other category of visitors to the country. (No refugee has committed a terrorist act in the U.S.)  
A spokesman for the Department of Homeland Security declined to confirm the countries, citing "law enforcement sensitivities." A State Department official cited the same reason for why the "the list of 11 countries is not publicly available."
Both Iraq and Sudan were included in President Trump's initial travel ban that prohibited the citizens of seven majority-Muslim countries from entering the U.S. on any visa category. (That ban, which was the subject of multiple successful legal challenges, was ultimately replaced by the restrictions travel announced last month—restrictions that themselves were put on partial hold by a court in Hawaii.) That initial ban in January did two other things: It suspended all refugee admissions and barred Syrian refugees indefinitely. Tuesday's decision lifts those restrictions.
Last month, the Trump administration announced it would allow up to 45,000 refugees to come to the U.S. in fiscal year 2018, which began October 1. The figure was the lowest refugee cap announced since President Reagan signed the Refugee Act in 1981. As I reported at the time, U.S. presidents have, on average, set a ceiling of 95,000 refugees per fiscal year—but the actual numbers allowed in vary, and can be significantly lower, as they were in the years following the attacks of September 11, 2001.
Less than 1 percent of the world's 22.5 million refugees will be placed in a third country (about 225,000). The vast majority of them will return to their homes when the unrest that has displaced them ends, or they end up living in camps for decades. The U.S. is the largest recipient in absolute numbers of refugees around the world, and it's also the top donor to refugee causes, but the Trump administration's refugee policy unveiled Tuesday was criticized by U.S. groups that advocate for refugees.
"This is remarkable. The administration has had more than six months to review this policy under the March EO [executive order on travel], and they've come back in October to re-impose what will largely be seen as another unreasonable ban that primarily affects Muslims," said Eric Schwartz, the president of Refugees International, a group that advocates for refugees. Although the move announced Tuesday is not a ban, refugee advocates say it is tantamount to one because of the additional security requirements that are often time-consuming.
"I hope they at least have the decency to be transparent about what they are doing, and name the nationalities affected," Schwartz said. "It is a cynical and tragic manipulation of administrative process, and conflicts with U.S. values and interests."
That view was echoed by other groups, as well. Mark Hetfield, president and CEO of HIAS, the Jewish refugee-resettlement organization, said the new rules "will not make us safer. What they will do is create additional, unnecessary burdens for individuals who have been forced to flee for their lives and are searching for safety."
Olivia Enos, a policy analyst at the Heritage Foundation in Washington, who co-authored a recent report on the U.S. refugee-resettlement program, told me it was "understandable that you have a heightened review process for certain countries, especially if the circumstances on the ground mean that the government isn't able to keep a log of all their prospective information."
But she added: "I don't think it means that people from these countries have a lesser chance of getting here. I think it may take a little bit longer. You will see religious minorities, and Muslims, from these communities able to be resettled, and this is much better than the alternative of having them banned altogether— which I think was the fear early on."
We want to hear what you think about this article. Submit a letter to the editor or write to letters@theatlantic.com.