America's Traditional Allies Once Again Condemn Its Policy
An improbable source of European unity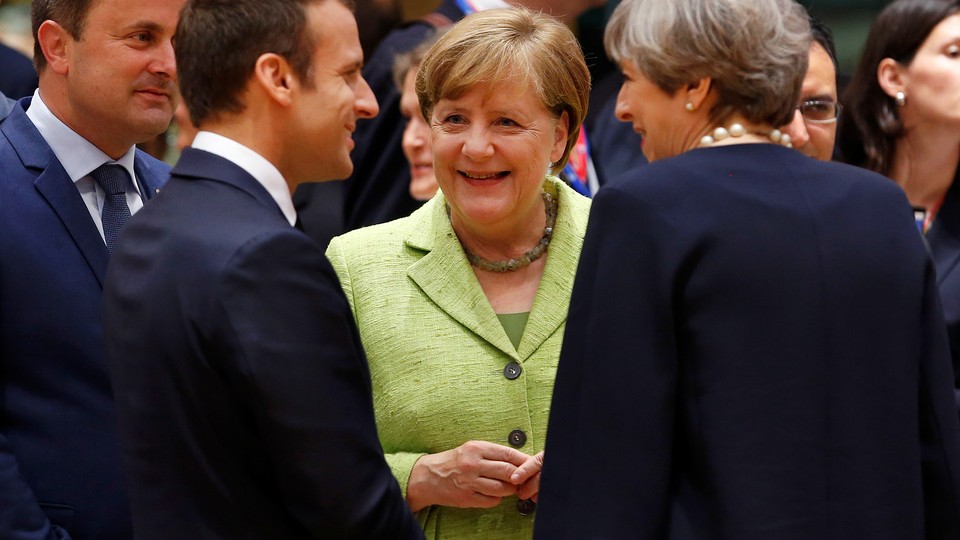 It was only moments after President Trump decertified the Iran nuclear deal, sent it to Congress to tighten restrictions on the Islamic Republic, and threatened lawmakers and international partners in the deal that if "we are not able to reach a solution … then the agreement will be terminated." The European Union's foreign-policy chief, Federica Mogherini, was hitting back, saying the Joint Comprehensive Plan of Action is "not a bilateral agreement. It does not belong to any single country. And it is not up to any single country to terminate it."
The leaders of Britain, France, and Germany, who otherwise struggle to find common ground on issues like Brexit, issued a joint statement in which they said they "take note of" Trump's decision "and are concerned by the possible implications."
"We encourage the U.S administration and Congress to consider the implications to the security of the U.S. and its allies before taking any steps that might undermine the JCPoA"—the Joint Comprehensive Plan of Action, as the Iran deal is formally known—such as re-imposing sanctions on Iran lifted under the agreement," they added.
It's becoming a pattern with the U.S. relationship with Europe, forged through two world wars, cemented by American values and largesse in the years after World War II when Europe was in ruins, and strengthened through the idea of collective defense against possible Soviet aggression during the Cold War. Since Trump assumed office in January, he has abandoned the Paris climate accord, in addition to criticizing free trade—a cornerstone of the U.S.-created world order of the past seven decades.
In each of those instances, Europe and its leaders have pushed back. The reasons for this are both political and cultural. European parties from across the political spectrum support multilateral diplomacy to tackle the impact of global challenges such as climate change and terrorism.
The strongest reaction in Europe was perhaps to Trump's withdrawal from the Paris climate agreement, a significant achievement that involved most of the world's countries, including China and India. (The U.S., with its withdrawal, joined only Syria and Nicaragua as parties outside of the deal.) Trump said he would seek to renegotiate it—much like he has wanted to do with the Iran deal. The Europeans in a joint statement at the time dismissed any such idea: "We deem the momentum generated in Paris in December 2015 irreversible, and we firmly believe that the Paris agreement cannot be renegotiated, since it is a vital instrument for our planet, societies and economies," the leaders of Germany, France, and Italy said. (They've also maintained the Iran deal is not open to renegotiation.)
French President Emmanuel Macron said at the time Trump had "committed an error for the interests of his country, his people and a mistake for the future of our planet." He continued: "There is no plan B because there is no planet B."
And while calling for "fair" trade, Trump has signaled that he wants, among other things, to limit steel imports—reverting to a seemingly protectionist policy that businesses view with alarm. Europe has not only threatened retaliation, but signed a free-trade agreement with Japan, which risks diverting trade profitable to American businesses.
Angela Merkel, the German chancellor, has perhaps been Trump's most vocal critic on a range of issues. Shortly after Trump's first executive order banning all refugees and visitors from seven predominantly Muslim countries—an order that has since been revised after being blocked by the courts—Merkel, under whose leadership Germany took in more than 1 million refugees at the height of the Syrian civil war, told Trump: "The Geneva refugee convention requires the international community to take in war refugees on humanitarian grounds. All signatory states are obligated to do" so.
Her spokesman added Merkel was "convinced that the necessary, decisive battle against terrorism does not justify a general suspicion against people of a certain origin or a certain religion."
After the tenor of Trump's remarks in May at the NATO and G7 summits, Merkel  said: "The times when we could fully rely on others have passed us by a little bit; that's what I've experienced in recent days. We Europeans must really take our destiny into our own hands."
Which brings us back to Friday's announcement by Trump that he was sending the JCPOA to Congress so it can take stronger action against Iran. Both Mogherini and the joint statement by British Prime Minister Theresa May, Merkel, and Macron noted the JCPOA was the eventual result of more than a decade of negotiations. European officials point out that it was they who started negotiations with Iran back in 2002 when the Islamic Republic was discovered to have a clandestine nuclear program. Those talks gained momentum only after the Obama administration joined them, resulting in the 2015 nuclear deal.
If the U.S. leaves the deal, which at this point is by no means assured, European leaders have said they will continue to abide by the multilateral agreement with Iran—and, presumably, continue to make common cause against reversals in U.S. policy.