Are Trump's Tweets Undercutting U.S. Diplomacy?
Beyond apparent policy disagreements between the president and Rex Tillerson, the State Department struggles to absorb mixed signals.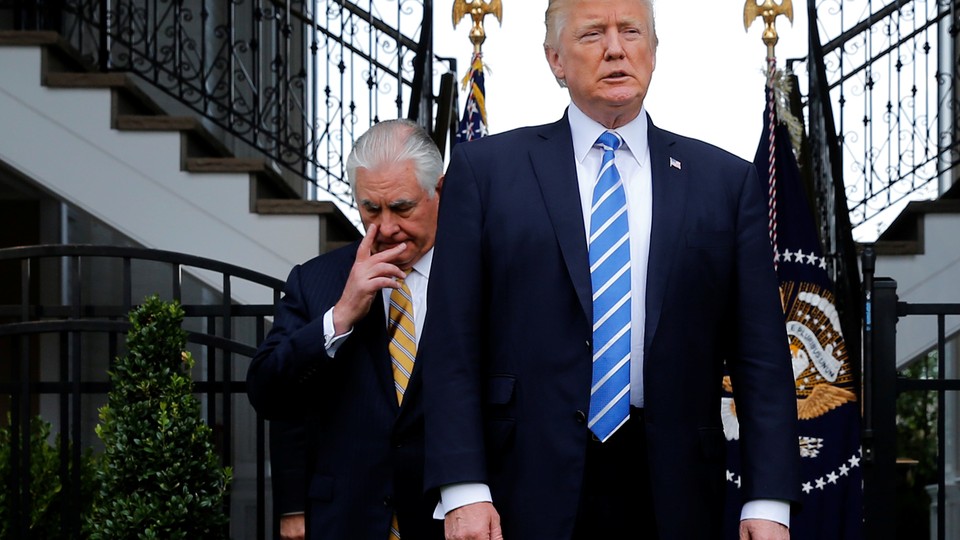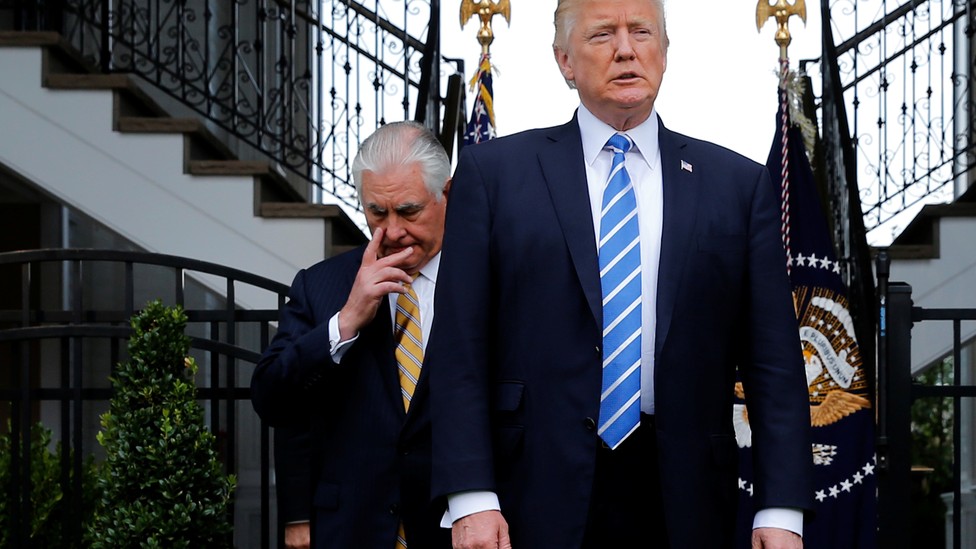 President Trump's tweets Sunday, declaring it a waste of time to try to negotiate with North Korea, appeared to contradict the sentiments of his own chief diplomat, who is at least formally taking the lead on the administration's North Korea policy. It wasn't the first time the two men seemed to express different positions on significant foreign-policy issues. But there's a deeper story beyond whatever temperamental or policy gulf may exist between Trump and Tillerson as individuals—and that is how the contradictions affect the sprawling foreign-policy apparatus Tillerson is supposed to run.
"One can never be sure whether the policies we're working on will be supported by the president or not," a State Department official, who was not authorized to speak to the press and asked for anonymity, told me. "It creates a great deal of uncertainty and obviously further harms morale in an environment in which morale is already very low."
The official U.S. policy toward North Korea has been one of "maximum pressure and engagement," which has included, on the pressure side, Trump's threats and two new rounds of UN Security Council sanctions to add to the six previous rounds of such sanctions. U.S. engagement has received less emphasis, at least publicly, though back-channel contacts between the U.S. and North Korea have been ongoing. On Sunday, during meetings in Beijing, Tillerson publicly acknowledged these contacts, and made further remarks some interpreted as indicating he was seeking formal negotiations, though he never said so explicitly. "We ask, 'Would you like to talk?'," he said. The State Department was quick to clarify that no formal negotiations were ongoing and that the North Koreans had shown no interest in such talks in any case. Then came Trump's tweets:
...Save your energy Rex, we'll do what has to be done!

— Donald J. Trump (@realDonaldTrump) October 1, 2017
Being nice to Rocket Man hasn't worked in 25 years, why would it work now? Clinton failed, Bush failed, and Obama failed. I won't fail.

— Donald J. Trump (@realDonaldTrump) October 1, 2017
And along with the tweets came the perception that Trump was once again publicly contradicting his own chief diplomat—not to mention his own administration's stated desire for "engagement." (Although James Mattis, the defense secretary, told a Senate hearing Tuesday, "I do not see the divergence as strongly as some ... have interpreted it.")
Meanwhile at the State Department, reports about poor morale have abounded since Tillerson assumed his position in February. The secretary was described as aloof, his plans to reorganize the State Department were criticized, and the Trump administration's proposal to cut the department's budget by 30 percent was met with horror. A hiring freeze at the department, combined with the fact that most of the senior positions requiring Senate confirmation are still vacant, have also resulted in multiple news reports about dysfunction. Added to all this is the perception that Trump doesn't care about the work the State Department is doing. The president has not only appeared to contradict Tillerson publicly on Qatar, NATO, and Iran—besides North Korea—he has also appeared to suggest that his "America First" message is not simpatico with multilateral cooperation with America's traditional allies. At one point, he thanked Russia for its expulsion of U.S. diplomats in retaliation for a similar step by the Obama administration, as well as its seizure of Russian compounds in the U.S., because, in Trump's words, "we're trying to cut down our payroll."
Another State Department official I spoke to, who was similarly not authorized to speak to the press and so spoke anonymously, said early reports of Tillerson's positive dynamic with Trump had given people in the department hope that "Trump would learn from Tillerson what diplomats do—build alliances so that America does not have to act alone against countries like North Korea."
"But," the official added, "Trump does not seem to care about alliances and therefore does not care about diplomacy. That was obvious from his budget, obvious from his disparaging comments toward diplomats serving in Russia, and obvious from the stiff arm he has given Tillerson on North Korea."
Eliot Cohen, who was a counselor at the State Department from 2007 to 2009, wrote Monday in The Atlantic that  Tillerson should resign following Trump's tweets. The "humiliation of one more senior staff or cabinet member may not seem like a big deal. But it is," Cohen wrote, adding: "His boss has publicly and mockingly stripped him of his credibility as the chief diplomat of the United States. As an envoy, he is useless, because he will speak only for himself and the tiny embattled coterie of aides that surround him. Having taken a pickaxe to the department entrusted to his care, his departure would do the battered State Department some good, as well as enabling him to salvage what remains of his dignity."
Ambassador Laura Kennedy, who served at the State Department for four decades until 2015 under both Republican and Democratic administrations, told me that while she's critical of Tillerson's running of the State Department, she gives "Tillerson some real credit for sticking with" his North Korea diplomacy "stoically." Kennedy said that it's not unusual for a president to disagree with his secretary of state—she cited the example of Colin Powell's tenure at the State Department during the administration of President George W. Bush—but said the manner of Trump's tweets could have long-term implications for U.S. diplomacy.
"Certainly there's cases where the presidents go a different way policy-wise than, say, a secretary may be pushing. That's why the president is the president," she said. "But this is supposed to be done within the councils of the interagency process within the Cabinet."
Kennedy added: "For the president to deliberately and flippantly taunt his secretary of state undercuts that secretary of state, and it also introduces an element of childishness and pettiness that's very much at variance with the needs of projecting our leadership throughout the world."
But Trump's supporters—and indeed some media accounts—say the president is adhering to President Nixon's "madman theory" of foreign policy, in which the 37th American president wanted the nation's enemies to believe he was insane and hence capable of anything. By tweeting publicly and apparently impulsively about important foreign policy and other matters, they argue, Trump sends a signal to U.S. interlocutors that he is unpredictable, intimidating them into making concessions. Kennedy said she does not buy that argument.
"If you trying to have somebody else think you're mad and unpredictable, then you wouldn't be telegraphing that this is your strategy," she said. "And also it presupposes the other person [in this case North Korea's Kim Jong Un], it seems to me, is a rational actor who would take that into account. I think the president and some of his folks are good at this reality-TV theorizing on how to make a deal, but I just don't think it's borne out by history or diplomacy. A lot of it, frankly, comes across ... to interlocutors around the world ... as bluster."